Legacy games
We pick out some Brady-Manning classics from down the years
By Graeme Mair
Last Updated: 16/01/14 8:55am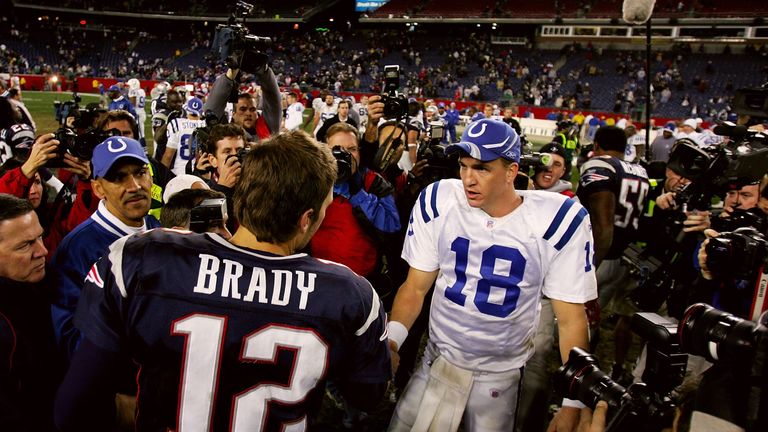 Brady and his New England Patriots travel to Mile High to face Manning's Broncos, the 15th - quite possibly final - meeting of the two outstanding quarterbacks of their generation.
Born 17 months apart, Manning was a college star and picked first overall in the 1998 draft by Indianapolis, while Brady's development came later and his career did not take off until the stars aligned for him during the 2001 season in New England.
Most great sporting rivalries - Ali-Frazier, Nicklaus-Palmer and Prost-Senna for example - have developed in individual sports. Brady-Manning is different in that they have become similarly linked despite playing a team game, albeit from the most influential position.
Brady holds the edge 10-4 overall, and 2-1 in the play-offs, while Manning - who has spent the last two seasons in Denver after 14 years with Indianapolis Colts - has superior individual statistics and set a new league record of 55 touchdown passes this season, breaking Brady's mark of 50 from 2007.
We take a look back through the archives and pick out the key encounters.
September 30 2001, regular season, Indianapolis 13-44 New England, Gillette Stadium
The first meeting came less than three weeks after the 9/11 terrorist attacks and was Brady's first career start. His chance came because Drew Bledsoe had been injured by a hit from New York Jets linebacker Mo Lewis the previous week. There was little in the performance to suggest the Patriots had found their quarterback of the next decade and beyond. Brady was solid, not spectacular - no touchdowns or interceptions, 13/23 passing for 168 yards - and New England's crushing win was instead built on their running game and defence. Antowain Smith and Kevin Faulk combined for three touchdowns on the ground, while Manning had a nightmare day, throwing pick-sixes to Otis Smith and Ty Law among his three interceptions. Brady finished the season as Super Bowl MVP, it was just the start.
November 30 2003, regular season, New England 38-34 Indianapolis, RCA Dome
Fast forward two years and both men brought teams with 9-2 records to the RCA Dome for what turned into a passing clinic. Brady completed 26-of-35 attempts, while Manning threw four touchdowns but was ultimately denied by a goal-line stand from the Patriots' defence late in the fourth quarter. Trailing by four points, Manning had driven 47 yards in six plays to earn a first down at the New England one-yard line with 40 seconds and one timeout remaining. But the Colts could not finish the job; Edgerrin James was stopped twice on running plays, Manning threw incomplete aiming at Aaron Moorehead before Willie McGinest stuffed another James run up the middle on fourth down to seal New England's victory.
January 18 2004, AFC championship game, Indianapolis 14-24 New England, Gillette Stadium
Their paths crossed again in the AFC championship game later that season and it was a familiar tale of woe for Manning, who was intercepted four times - including three times by Law. The Colts were held scoreless until the third quarter as again Brady produced an efficient performance and let his defence do the rest. Brady's solitary touchdown pass was to David Givens at the end of a six-minute drive on his first possession but thereafter the Patriots were limited to five Adam Vinatieri field goals, although that was more than enough.Three weeks later and Brady's Patriots were celebrating their second Super Bowl triumph in three years.
January 16 2005, divisional play-off, Indianapolis 3-20 New England, Gillette Stadium
This was New England coach Bill Belichick's masterpiece as, without three key members of his defence due to injury (lineman Richard Seymour and starting corners Law and Tyrone Poole) he came up with a plan to ensure Manning's play-off frustrations continued. On this occasion Manning - whose team had averaged 33 points per game in the regular season - could do little about it as he was kept off the field for lengthy periods. The Patriots held the ball for almost 38 minutes, Corey Dillon carrying 23 times for 144 yards and Brady found 10 different receivers among his 18 completions. The only touchdown pass of the match was a five-yard Brady to Givens effort in the third quarter and the Patriots QB went in himself from a yard after yet another clock-eating drive to round off the scoring. It was not much of a rivalry at this point; Brady led the series 5-0 and would shortly add his third Super Bowl ring.
November 7 2005, regular season, Indianapolis 40-21 New England, Gillette Stadium
Manning finally earned his first win over Brady at the sixth attempt and maiden victory in Foxborough on the eighth visit. It was fully deserved, slicing up the injury-hit Patriots with 321 passing yards and three touchdowns. James had 104 yards on 34 carries and there were 100-yard receiving days for Marvin Harrison and Reggie Wayne as Indianapolis extended the league's only unbeaten record to 8-0. They would eventually get to 13-0 before finishing 14-2 and losing their play-off opener at home to eventual Super Bowl champions Pittsburgh.
January 21 2007, AFC championship game, New England 34-38 Indianapolis, RCA Dome
Trailing 21-6 at half-time in front of their own fans, the Colts - who had gone 8-0 at the RCA Dome during the regular season - were heading for yet another play-off failure. What followed was one of the great comebacks in NFL history as Manning's offence scored 32 points in the second-half, beginning with a 76-yard, 14-play touchdown drive. The Colts still trailed by three points with under four minutes remaining but Manning, starting from his own 20-yard line, marched his team upfield ending with Joseph Addai running in the clinching touchdown from close range.
November 4 2007, New England 24-20 Indianapolis, RCA Dome
Someone's '0' had to go at the RCA Dome the following season as the 8-0 Patriots rolled into town to face the 7-0 Colts. New England trailed 20-10 with less than 10 minutes left but Brady threw touchdowns to Wes Welker and Faulk. Five plays after Faulk's go-ahead score, New England recovered a Manning fumble to complete the turnaround. They went on to finish the season 16-0 and reached the Super Bowl, where New York Giants denied Brady and Belichick a perfect ending.
November 15 2009, New England 34-35 Indianapolis, Lucas Oil Stadium
The new state-of-the-art Lucas Oil Stadium played host to a pass-happy affair, both quarterbacks throwing more than 40 times and combining for seven touchdowns. The last of those was the game winner from Manning to Wayne with 16 seconds remaining. Leading by six points with just over two minutes remaining and faced with fourth-and-two on their own 28-yard line, New England eschewed the obvious punt and opted to go for it. Belichick's bold call backfired as Faulk was stopped inches short of a first down after Brady's swing pass to his right. That gave Manning a short field and enough time to to work with, four plays later Wayne was leaping high in the end zone to make the grab.