Kap in hand
Kevin Cadle is expecting San Francisco to get their season back on track with a win over Indianapolis.
Last Updated: 20/09/13 11:46am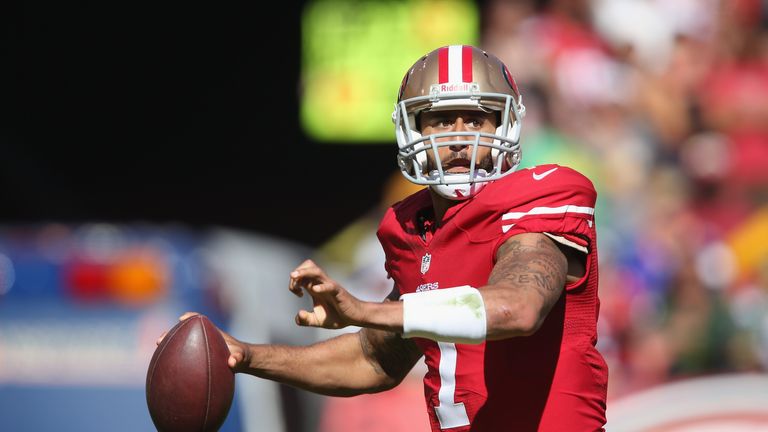 The second part of our live double header on Sunday brings together two play-off teams from last year, Indianapolis Colts making the trip to San Francisco 49ers.
Both stand at 1-1 for the season and come into the game on the back of a defeat, the Colts going down 24-20 at home to Miami and the Niners beaten 29-3 in their NFC West divisional battle at Seattle.
Our NFL anchorman Kevin Cadle previews the game and makes his prediction.
Indianapolis Colts @ San Francisco 49ers - Sky Sports 3 HD from 9pm
At the end of this ball game one of these teams will have a losing record so, even though we're only in week three of the regular season, this is an important match-up.
Reigning NFC champions San Francisco got run over by Seattle last weekend and will be hungry to put things right in front of their own fans.
I'm expecting Colin Kaepernick to have a big game against a decent Indianapolis defence - but one that has struggled with Oakland's Terrelle Pryor and Miami's Ryan Tannehill during the first two weeks.
Kaepernick is better than both of those and has plenty of good receiving options, not least new arrival Anquan Boldin who had 13 catches for 208 yards in the week one win over the Packers.
Indianapolis quarterback Andrew Luck will be up against his former Stanford head coach Jim Harbaugh, a tough assignment for both men.
I interviewed Luck in London earlier this year and was impressed; he knows what the game is all about, works hard and is highly competitive.
Some much-needed help has arrived in his backfield this week in the shape of Trent Richardson, Cleveland's former first-round draft pick who Indianapolis made a bold trade move for.
It remains to be seen if Richardson can slot straight in but, one thing is for sure, he is a major upgrade to their running game.
Kev's call: San Francisco has the better all-round team I expect them to get their season back on track with a Kaepernick-inspired victory.