Kevin Cadle previews Sunday's opener
The NFL returns to Wembley on Sunday! Kevin Cadle previews the Vikings against the Steelers.
Last Updated: 27/09/13 1:27pm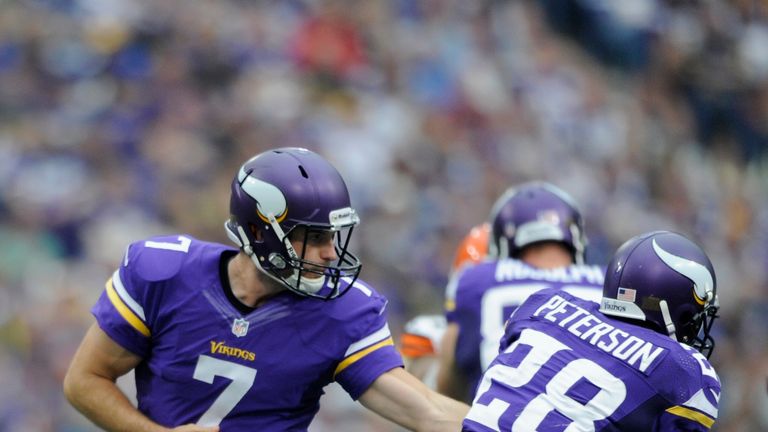 Both franchises are still looking for their victory this season, so one team will finally see their '0' go on Sunday evening in front of the Sky Sports cameras.
Ahead of the London battle, Sky Sports' NFL anchorman Kevin Cadle gives his thoughts on both teams and offers up a prediction...
Pittsburgh Steelers @ Minnesota Vikings - Sky Sports HD2 from 5.30pm
Somebody is going to come out of this game with their first win of the season.
I think these two teams are ready for Wembley - the change will do both of them very good. I did wonder if it would benefit the Minnesota Vikings the most because they got here early, but then St Louis got here early last year and they went on to get drubbed.
What it clear is that both of these teams need a change of fortune.
So what's gone wrong for the Steelers this year? How about offense, defense and special teams. It's been the whole caboodle. In truth, it has mainly been their offense - they haven't been able to put enough points on the board because of a lack of consistency
They lost their top running back, Le'Veon Bell, early in the season, so their running game has been off. They had already by then lost wide receiver Mike Wallace to the Miami Dolphins, so it's perhaps not surprising that the offense has been out of sync.
As for the other side of the ball, it seems they're trying to find their way. They keep talking about how old the defense was, so they are trying to bring new guys in. The problem is those new guys aren't stepping up to the same level as the players they've replaced.
Quarterback Ben Roethlisberger has won a couple of Super Bowls with this team, so he can light it up. It's just that the other players on Pittsburgh's roster need to now step it up so their quarterback can take advantage of this porous Minnesota defense.
Put simply, Pittsburgh hasn't been competitive as we know the Steelers normally are.
The Vikings, in contrast, have been in each and every one of their games this season. It's always come down to the last possession with them, and that has been their downfall.
Last week they lost in their home opener to a Cleveland Browns team that had just traded away their best player, so to get out of town is probably one of the best remedies they can have for their predicament right now.
Their quarterback, Christian Ponder, has been up and down. They do, though, have Adrian Peterson - and he is a megastar.
Last year he managed the second highest rushing total for yards ever, and he is undoubtedly the main threat of the Minnesota offense. He carried them to the play-offs last season and if he maintains his current levels then he's a future hall of famer with the possibility of going down as one of the greatest players at his position.
Peterson will definitely bring star power to Wembley this weekend.
Kev's call: The great thing about the NFL is it really is a case of any given Sunday - what happened last week, last month and even last season does not matter come kick-off. I like what the Vikings have done this year so far - they've been competitive in every game and have only gone down in the last few minutes. I think they get their first win of the season.