NFL: Sky Sports Kevin Cadle thinks New Orleans Saints will beat New England Patriots
The New Orleans Saints will remain unbeaten after their trip to the New England Patriots, says Kevin Cadle.
Last Updated: 11/10/13 2:47pm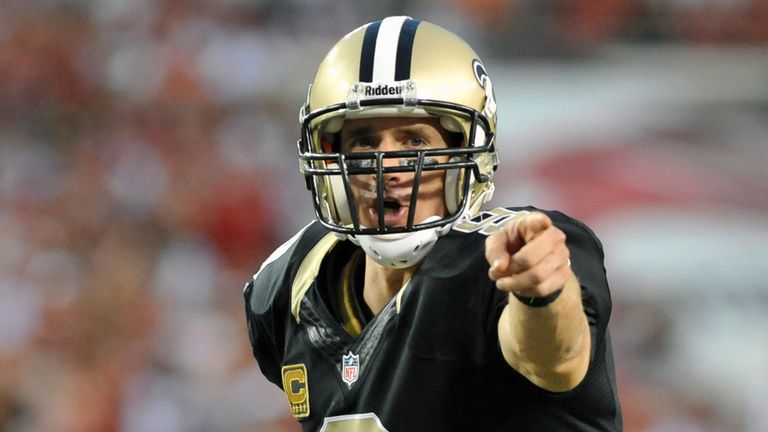 Tom Brady and his Patriots lost their first game of the season last week and look to be struggling with a number of injuries, but Drew Brees and the Saints are unbeaten as they arrive in Foxborough.
The Saints are the form team, but it's a tough road trip and if Rob Gronkowski is back will that be enough for the Pats to get it done? Kevin Cadle previews the game...
New Orleans Saints @ New England Patriots Sky Sports 2HD 9pm
It's so is hard to win in New England, that's the first thing we need to say before anything else.
The Saints are undefeated and are probably playing better defensive football than the Denver Broncos are playing right now.
You've got a great quarterback with Drew Brees, talented receivers and probably the best tight end in the game but don't forget defence will have to play a part at some time in the season and they're definitely doing well on that front.
The Patriots lost last week but as we keep saying, when you have a quarterback like Tom Brady you know anything can happen.
This is one of those games where Drew Brees has a confident level and he knows he's matched up against Tom Brady.
And regardless of what they say, Brees in the back of his mind and Brady in the back of his mind they're thinking it's me against him.
One thing helping Tom Brady is Rob Gronkowski, their star tight end, should be coming back this week and that's going to help because they have a lot of young receivers.
We've talked about the defence of the New Orleans Saints, the Saints will go after Brady now they're playing a lot better defence this year than they were last year.
The defensive coordinatror Rob Ryan will definitely be looking forward to going up against Tom Brady and Bill Belichick and that New England team so I like what New Orleans is bringing to the game despite it being a road game for them.
The New England Patriots were very lucky early in the season with the teams they had to play. The Buffalo Bills with a rookie quarterback, New York Jets with a rookie quarterback so things kind of fell in place for them early in the season.
Cadle's Call: I like the Saints, I just think they have the balance. When you talk about a complete football team with a very good football coach you have to look at the New Orleans Saints.