Jacksonville may have a big say in how the NFL Draft develops, says Simon Veness
Simon Veness says he can see Jacksonville becoming a major player ahead of the NFL Draft.
Last Updated: 04/04/13 11:14am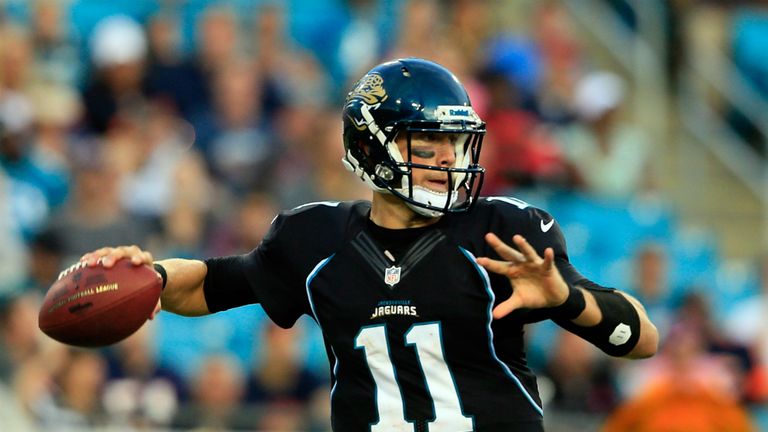 It is all part of the frenzied process of just keeping up with the Joneses (in the non-Jerry sense) as teams jockey for position ahead of the Draft on April 25. If you snooze, you lose, in terms of building a roster that you can then put the finishing touches to via the annual Radio City Music Hall extravaganza.
With very few exceptions (and I'll come to those in a minute, Green Bay and Jacksonville fans), there has been a veritable explosion of free-agent turnaround, especially in the Quarterback Corner, where it's often hard to keep up with the latest comings and goings.
Seriously, you need a scoring chart or, at the very least, a turnstile, to track the Who's Who at places like Oakland, Arizona, San Francisco, Kansas City, Buffalo, Cleveland, Tennessee and New York Jets, where quarterbacks have come and gone faster than the latest B-list contestants on I'm A Celebrity - Get Me Out Of Here.
And it's not just signal-callers who have been all the rage, either. Defensive linemen (the likes of Detroit's Cliff Avril, now at Seattle, and Michael Johnson, recently franchised by Cincinnati) and defensive backs (such as Baltimore's Ed Reed, who is now a Texan, and Dashon Goldson, who has switched from one city by the Bay - San Francisco - to another, Tampa) have also been in high demand.
In fact, of ESPN's Top 50 Tracker, fully 20 of that free agent quota have been D Linemen or DBs, while another nine are offensive linemen and eight are linebackers. Heck, there has even been a punter (Kansas City's Dustin Colquitt) listed in that exalted company, with the Chiefs making their fourth-down specialist the richest in history at his position, with a megabucks five-year deal worth $18.75million.
Even keeping track of individual teams can be a challenge just now, with the likes of Atlanta, Miami and Baltimore into double-digits in terms of their hirings and firings, while even normally staid New England are pushing double figures, along with (unsurprisingly) Philadelphia, Oakland and Kansas City - three of several teams with an urgent 'new broom' mentality.
Two outfits that are right at the back of the queue, though, in all the free agent frenzy, are the Packers and Jaguars, franchises at opposite ends of the gridiron spectrum.
Sitting pretty
Green Bay have decided they are pretty happy to sit pat on what they have, with the only meaningful departures being those of top wideout Greg Jennings, who has chased some significant dollars to Minnesota, and back-up tight end Tom Crabtree, now bidding to kick-start his career with the Buccaneers.
Not a single realistic new arrival has stirred the waters around Lambeau Field (presuming they have an ice-breaker, as things are still pretty chilly in the wilds of Wisconsin at this time of year), and that sits perfectly well with team leader Aaron Rodgers, who insists he likes where their offence is sans Jennings, as he still has all of Jordy Nelson, James Jones, Randall Cobb and Jermichael Finley to throw to - hardly a Skid Row of the receiving world.
Green Bay also have some significant players returning from injury in 2013 and their Draft position is pretty solid, with eight picks in all, including three from 25-100 where this year's pickings are expected to be at their richest.
So, fear not, Packers fans - there are no rumblings of discontent down Lombardi Way, and this is a team that failed only against the novelty of Colin Kaepernick when it came to the play-offs, and you have to think they won't be fooled that way twice.
Of more interest are the humble Jaguars, 'Wembley's team' for the next four seasons, who have been equally quiet on the acquisition front. They have been happy to let several key men from recent seasons hit the Free Agent queue - notably cornerback Derek Cox, receiver Laurent Robinson and running back Rashad Jennings.
Admittedly, that's not a Who's Who of startling talent, but, with another dozen players all being declared surplus to requirements, there is clearly another major broom (and not of the Basil Brush variety) being wielded in this corner of Florida.
Owner Shahid Khan and general manager David Caldwell have maintained something of an inscrutable smile about their low-key dealings so far, with only faint hints of the overall plan to (possibly) build a new offence around Blaine Gabbert or (possibly) go in a new direction altogether.
It will be fascinating watching come April 25, when the Jags have seven picks to play with but, more importantly Nos. 2 and 33 and four overall in the first 100.
There have been precious few insights for the legion of Draft-niks to go on to date - clear evidence of how close to their chest Messrs Khan and Caldwell are playing things - but it is clear this is a huge Draft for the franchise.
Short-term planning
After the misery of last year's 2-14 campaign, they were left with the most ground to make up on the rest of the league (along with Kansas City, who have been especially aggressive in free agency under new boss Andy Reid), and, with a new head coach in the lightly heralded former Seattle defensive coordinator Gus Bradley, they are in danger of being labelled the NFL's lame ducks before we even get to the pre-season.
With a recent history of failure and trouble filling their stands, Jacksonville badly need a short-term boost. But they are also intriguingly poised to get it.
Sitting at No 2, they are fully capable of taking the best available talent at that spot, and giving either the offence or defence a major shot in the arm, and following up with significant acquisitions in the early second and third round, too.
Equally, they are well-placed to parlay that top pick into several others and, with the air of mystery which the front office is currently displaying, you wouldn't be at all surprised if they did.
That, ultimately, is the delicious sense of theatre that is playing among Jags faithful right now and, while they might not fully appreciate the sense of 'Will they? Won't they?', it is potentially a winning (or, at least, improving) hand they are holding.
All will, of course, be revealed when Roger Goodell steps to the podium on April 25 and utters the near-immortal words, "And with the second pick, the Jaguars select...." But don't be surprised if little Jacksonville don't have a big say in how things develop in every direction.