Alex Ferguson on the NFL bringing a franchise to the UK or Ireland
Alex Ferguson debates who would be perfect hosts should the UK welcome a franchise from the NFL.
Last Updated: 07/06/13 2:29pm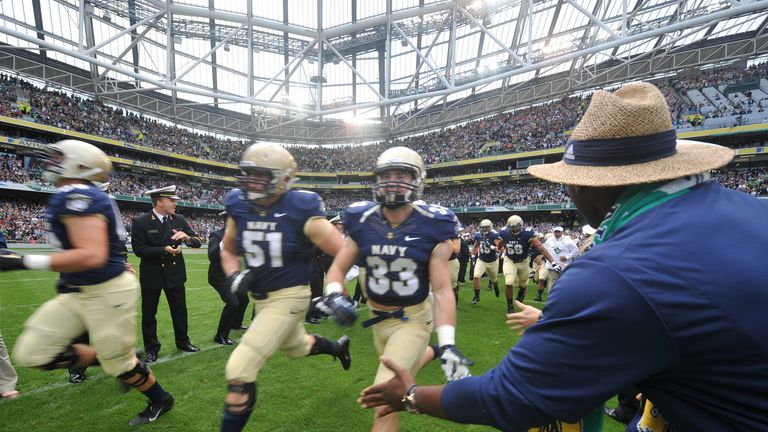 In the NBA, LeBron James and the Miami Heat kicked the Indiana Pacers out of the NBA play-offs, and then kicked off their finals series against the San Antonio Spurs on Thursday night.
In Major League Baseball, there have been revelations that some of the game's biggest names may soon serve 100-game bans for using performance-enhancing drugs.
And in the NFL, the powers-that-be are looking to give London yet another game - and maybe the UK its own NFL franchise.
Alex Ferguson looks into this and analyses 10 stadia that the NFL franchise could play in...
First of all, it's important to say that if the NFL DO decide to give London its own franchise, it won't be greeted with unilateral support from NFL Fans UK.
The reason is simple: Many British fans support teams and are already 'mature' in their support of a team. A new NFL franchise might get them excited, but changing a Denver Broncos fan who's grown up on watching John Elway (and last year, Peyton Manning) into a London Jaguars fan is going to be pretty hard work.
Secondly, London fans better be prepared for the fact that the NFL might not be as loyal as they are used with, say, their Premier League teams. NFL teams move from place to place on a whim, and we wouldn't be surprised to see if London is simply used as bait to get a team to the Los Angeles area, where it's quite frankly a travesty that a team that once hosted two franchises hasn't seen a professional game (bar Super Bowls) since 1994.
Their new stadium in LA has already been agreed by the city council, and in true American fashion, the naming rights have been sold to Farmer's, one of the country's biggest insurance companies. Farmer's Field should come online in 2016, if work doesn't go overboard.
According to some reporters, London has what Los Angeles doesn't at the moment: stadia. And if Los Angeles develops its own stadium, then we could see the NFL move from Jacksonville-to-London-to-Los Angeles in the space of about half a decade - a move that's good for absolutely nobody.
Anyway, here's my top nine stadia that I could see NFL games getting played in...
1) Wembley Stadium
First of all, London's arena has been a fantastic host to the NFL's International Series games since 2005, where we've seen some of the NFL's biggest teams play a game at the vaunted National Football Stadium. In 2013, we're going see the Pittsburgh Steelers play the Minnesota Vikings, as well as the Jags play the San Francisco 49ers. It's been a great sale for random fan and ever-important corporate citizen alike, and the games are going to be sold out in 2013 as well. The NFL has a home at Wembley. So why change it? And it also helps the FA, who could do with some extra monies that it might pocket in agreeing to loan the stadium, to help re-balance its books.
2) Croke Park, Dublin
It was in with a shout of being a home to NFL Europe before Wembley got in the way in 2011- so why not have the Jags playing a game or two in the Emerald Isle? Also, the park has hosted American football (the Pittsburgh Steelers and Chicago Bears in 1997, as well as Notre Dame's games in 1988, 1989 and 1996). Notre Dame isn't called the 'Fighting Irish' for nothing!
3) Twickenham Stadium
Might sound stupid, but the home of rugby's field is 157 yards long by 70 metres wide. That can easily take in the size of a NFL field, which is only 120 yards long and 53.3 metres wide. Plus, it's a family-friendly atmosphere and got great transport links. Plus, the Twickenham turf will be more used to the treatment NFL players will give it, thanks to the rough-and-tumble of rugby.
4) The Olympic Stadium
With West Ham likely to be ensconced in the new stadium in 2016-7, the LOC could really do with a team there for the time in between. Who better than the London Jaguars? This could mean that during the time, they could pretty much have the stadium to themselves (bar a couple of rugby games during the World Cup), giving the Jags a home, and giving LOCOG some much-needed revenue back. Plus, there's the whole Olympic thing going for it, which will definitely attract the tourists (By the way, if you HAVEN'T been to the Olympic Stadium yet, GO!!).
5) Millennium Stadium, Cardiff
Same reasons as Twickenham - and it's not as though the Stadium's not un-used to hosting matches other than Welsh rugby. The Millennium is a fantastic venue for ANY sporting event, and can definitely host one or two Jaguars games during the season. And as for atmosphere? Is there any better sporting stadium in Britain when the roof's closed in terms of ambience? I don't think so. Aesthetically, there's no prettier stadium in the British Isles, folks.
6) Murrayfield, Scotland
The NFL has had fantastic support north of the border thanks to the Scottish Claymores, who were in NFL Europe from 1995 to 2004. Most home games for the Claymores were played at Murrayfield during that time, before there was a ground share with the football spot down the road - Hampden.
7) Stadium mk, Milton Keynes
Home to League One football team MK Dons, but as a stadium, you can't argue with it - it's nicer than a lot of Championship and Premier League stadiums this writer has visited. First of all, the transport links are fantastic. Secondly, there isn't a bad seat in the stadium viewing-wise. Thirdly, the fact that the stadium's 32,000 should make it a full house week in, week out.
8) Old Trafford, Manchester
This might make Manchester United fans cough up in their soup, but it's not as though Old Trafford hasn't hosted things other than football. For crying out loud, rugby league's biggest event, the Super League Grand Final, has been played there every year since 1998. The pitch will be used to being beaten up, and Manchester's one of Britain's great cities. Plus, the silly comments made about the lack of atmosphere in Jacksonville might, er, carry on in Manchester.
9) The Aviva Stadium, Dublin
Okay, the Aviva Stadium is not int he UK, but please name another stadium other than Wembley that's hosted a big-time American Football game in the past decade. Nope? Well, the Aviva Stadium hosted Navy's game against college football superpower Notre Dame last season in front of 49,000 fans. Americans love their Irish roots, and they'll be able to visit them going to see the Jaguars play. They've shown that they can host American Football without a hitch, and like Scotland and Wales, would definitely welcome the American dollar. But it's also a great stadium with great sightlines.
10) The choice is yours!
Where would YOU like to see a NFL team play? Send your comments into us via the comments below, or tweet us on @SkySportsNFL