Alex Ferguson picks his 20 favourite things from American sport
Alex Ferguson kicks off his Independence Day fun by picking his 20 best bits of American sport.
Last Updated: 04/07/13 10:55am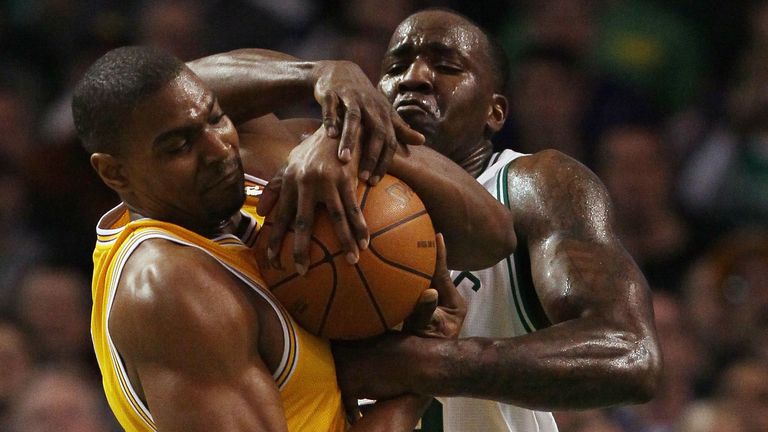 Anyway, we wanted to partner with our American friends in chanting 'U-S-A! U-S-A! U-S-A!', so our resident US sports blogger - and Americophile (yes, we know that this isn't a proper word, but there isn't another one to describe 'Big Fan of the USA', English students!) decided to do a 'Twenty Best Things About US sports'.
Oh, and there may be some ribbing of the Stars 'n' Stripes, too - especially Diana Ross' brilliant efforts taking penalty kicks...
1 - Rivalries
Rivalries are the very bedrock of sports, and in the USA, it's really no different. Boston Red Sox vs New York Yankees. LA Dodgers vs San Francisco Giants. Indiana Pacers vs New York Knicks. Boston Celtics vs LA Lakers. Montreal Canadians vs Toronto Maple Leafs. Chicago Blackhawks vs Detroit Red Redwings. Pittsburgh Steelers vs Baltimore Ravens. Kansas City Chiefs vs Oakland Raiders. Green Bay Packers vs Minnesota Vikings. The Dallas Cowboys, New York Yankees, and LA Lakers against everybody else. We can also see the Miami Heat getting the "versus everyone else" tag, too. Then there's the rivalries in golf, tennis, and NASCAR that have made us drool through the years, too. For college sports, the rivalries are more enhanced. In college basketball, Duke and North Carolina hate each other. In college football, the Southeastern Conference has a lot of embittered rivalries (rivalry games in the SEC are awesome to attend, by the way), although not a lot can match Ohio State and Michigan for the mutual middle finger. You'll then understand. Our favourite name for a rivalry? "Good Ol' Fashioned Hate' (Georgia vs Georgia Tech).
2 - Baseball stadiums
Of course, the Knicks and Rangers have Madison Square Garden, and the United Center in Chicago where Michael Jordan played is also a little bit special. But if we're honest, nothing comes close to baseball stadia. There's the ivy in the outfield at Wrigley Field. There's the big green wall (known as 'The Monster' in left field) at Fenway in Boston. There's the fun and features of AT&T Park in San Francisco, where canoeists play around behind the stadium trying to catch a home run when it goes into the water. There's the effort to tie in new and old - the new Yankee Stadium pretty much mirrors the old one - apart from the smell... and the match attendances. We love Camden Yards (Baltimore) and Coor's Field (Colorado), and PNC Park (Pittsburgh) is a must-attend for a baseball tourist. For some reason, people love going out to the ballpark, having a beer or two and a hot dog, and chilling out. So do we.
3 - College Football
We love college football. It's a pipeline to the NFL, so we get to see the talent younger. It's the sporting lifeblood during the September - December months, when baseball's ending and no league other than the NFL is really starting. In college, nothing's perfect. The games are more mistake-ridden. Because there's no play-off system (until 2014, when there will be a four-team play-off), the regular season is all-important, and those mistakes can ruin a season. Sure, there's the battle to get into a bowl game, but the regular season shines through. The campuses that take us on our 15-week journey are full of students, fresh-faced, excited and ready to cheer their school on - even when the team's not as good. We love college football's nuances like their overtime rule - both sides have a chance at scoring. It's not decided on a coin-toss. College football fans are as passionate as anyone in America, filling out stadiums that are sometimes well over 100,000. They love their schools, then their conference, then everything else. And they love talking about it, and betting on it, too.
4 - Cheerleaders
It's a bizarre and silly concept that was invented in the late 1800s at posh (and bright) American university Princeton, that has became a world sensation. They bounce around and wear perma-smiles, even if the school or team is playing badly. The kit is generally uniform, with the guys wear tracksuits and the girls wear a top and a short skirt. The most famous ones are the Dallas Cowboys, the USC Song Girls, and the Laker Girls. Although I urge any fan to check out the Oregon cheerleading section, who are hurtling towards superstar status.
5 - Tailgating
Anything better than standing around all day before a game starts and drinking? Well in America, it's a religion before football games (and other smaller events), to turn up 12 hours before the game starts, and bring not only beer, but a barbecue, a HD TV with satellite connection. Best tailgate we've ever attended? LSU last year, when they were hosting Alabama. Go taste the jumbalaya and fried oysters, washed down with a bourbon and coke. Drool.
6 - The Masters
My mother's not a golf fan, but she'd love to go to check out the azaleas, water pools and bridges that make up beautiful Augusta National. It's the most beautiful course on earth - even when it's raining cats and dogs. Oh, and the golf isn't bad, either.
7 - The NBA
There's something about NBA fans who always like to talk about 'The Best'. Maybe it's because they are still searching for a better player than Michael Jordan. Maybe it's because other greats like Larry Bird, Magic Johnson, Hakeem Olajuwon, Wilt Chamberlain - to say but a few names - are revered in no other sport. NBA fans love their present (like LeBron James), but worship their history. And that's a beautiful thing. Speaking of beautiful, check out Ray Allen's three-pointer.
8 - Hall of Fames and retiring numbers
As we mentioned in the NBA section, fans love their heroes. In the USA, they put the best of the best in a Hall of Fame. Baseball has Cooperstown. The NFL has Canton. The NBA has Springfield, Mass. The NHL has Toronto. Oh, and the best of the best also get their numbers retired by their teams, so no-one can play in their number again. Imagine if that was to happen at Manchester United. There would be no 1-11!!
9 - The Finals
For most sports their finals are best-of-seven series, not one-off finals. And no, it doesn't get old. And Game Sevens are some of the most incredible things on the planet. You know that, because EVERYBODY can't stop talking about it. See Miami vs San Antonio 2012 for details. Apart from...
10 -The Super Bowl
There is no final in the world - even the World Cup Final - that has more glitz and glamour than the Super Bowl. So much so that UEFA saw how the NFL was doing it, and copied it for the Champions League final, without the half-time show featuring anyone from the Rolling Stones to Prince. Pomp and circumstance are a lifeblood for this three-to-four hour game, which sells 30 secs worth of advertising of $4m (and everyone talks about the ads afterwards!). On the field, every moment is magnified, and every mistake is the last. And like the last Super Bowl between San Francisco and Baltimore, they don't get better than that.
11 - All-Star Games
The athletes need a break during or after the season, so in American sports, there's the All-Star Game (or Pro Bowl), which features the best of the best playing each other in a conference vs conference match-up for no real reason apart from fun. Apart from in baseball, where the winner of the game ensures home field advantage for the World Series.
12 - The Ryder Cup
There's nothing bigger than the Ryder Cup in golf terms, despite the fact that there isn't winning money involved. It's the USA vs Europe, and it's played every two years at a course Stateside or Europe-side. The crowds are raucous, the shots are memorable, and Ryder Cup Sunday tends to drive the heart. If you don't believe me, go to Sky On Demand and check out the 'Miracle At Medinah'.
13 - Drafting
This is what's great about American sports. If your team is lousy and has a lousy season, your team goes to the top of the draft, meaning that you can get the best of the collegiate or overseas talent the next year. It's an effort by the authorities to stop complete dominance, and to some extent, it's working. See Washington's draft of Baylor quarterback Robert Griffin III for details. Chicago's drafting of Michael Jordan in the 1984 NBA Draft didn't work out too badly either.
14 - Team last names!
Mavericks, Maple Leafs, Yankees, Celtics, Thunder, Marlins, Cubs, White Sox, Red Sox, Rockies, Lakers, Clippers, 49ers, Seahawks, Canucks, Red Wings, Blackhawks, Earthquakes, Cowboys, Crimson Tide, Fighting Irish, Nittany Lions, Sooners, Tar Heels... the list could go on and on. Certainly beats 'United, City, or Town' into a cocked hat.
15 - March Madness
It's a 64-team college basketball tournament where in the first two weekends teams play every other day (Thurs/Sat or Fri/Sun). Then there's the betting, where everyone completes a bracket in the hope - sometimes for money, sometimes for bragging rights. An estimated $12bn is bet during the games during March, too - that's pretty hefty. The first two days of March Madness should be a national holiday, because no-one does any work during them, anyway. They're all watching the basketball.
16 - The commentators - old and new
The legends of the booth in the US treat us with their golden voices and have become the standard-bearer for commentating around the world. In the old days, we loved watched Harry Carey talk about Chicago Cubs baseball, admired Jack Buck from afar (St Louis Cardinals). The late Pat Summerall was incredible in the NFL. Bob Cole and Bob Miller have been commentating on ice hockey for decades. In the NBA, Johnny Most and Marv Albert are both legends of the NBA commentating, and Charles Barkley's quickly getting that way. In college football, there's no better commentary team than Brent Musberger and Kirk Herbstreit, too (although we have a soft spot for Mike Patrick). Dick Vitale's 'the one and only' for college basketball.
17 - The Americo-jargon
A guy hits a home run with three people on base, it's not a three-run home run, it's a 'grand slam'. A guy jumps up and puts the ball in the net, it's a 'slam dunk'. A last-second touchdown to win the game? That's a Hail Mary. A pitcher that gets 27 players out in a row? He's thrown a 'perfect game'. A quarterback doesn't throw the ball down the field, he 'goes long', or throws a 'bomb'. A shot that goes into the ice hockey net sending the keeper's water bottle off its perch? A bottle rocket. A basketball shot right at the end the effectively kills the game. That's a 'dagger'. Oh, and people don't 'dive' in the NBA, they 'flop'. Ice hockey players don't fight, they 'drop the mitts'. Oh, and they aren't strips or shirts, they're 'uniforms'. These guys are going out to war, people! And these are just the best of them. Seriously, google your favourite sports and then 'jargon', and you'll get an education in truly awesome terms.
18 - NASCAR/IndyCar
One's America's version of stock car racing, and one's America's Formula One. Both have incredibly loyal fanbases. Both have their Super Bowls - The Daytona 500 for NASCAR and the Indy 500 for IndyCar. No British winner has ever won a Daytona 500, but eight times a Brit has won the Indy 500. If there's one race to go to (apart from the Daytona or Indy 500s?) - Bristol Motor Speedway in the Summer (at night). It's a half-mile track, in which 43 cars batter the heck out of each other to try and get round. Races don't come better than this - especially with their new track.
19 - The way sports unites the country in tragedy
In the face of tragedy, Americans outpour sympathy for each other - it's an opportunity for hugs, not 'witty banter'. I still remember the day baseball came back after 9/11, when I went to Fenway Park. I felt the odd person out because I wasn't American, but felt the pride emanating from the place about coming from the Land Of The Free. In other sports, the NASCAR community is still closer together than it's ever been after the death of one of its great drivers, Dale Earnhardt. In college football, we were all Virginia Tech after the massacre (oh, and YouTube ESPN host Chris Fowler's speech to students before 'College Gameday' on the first game of the season). In other sports, schools wear decals of fallen comrades, heroes, and friends - even of rivals.
20 - A winner
Americans love a winner! If your team sucks, make sure that you're always backing a winner. This is most prevalent in college football, where teams aren't necessarily as rooted for as the conference. This isn't generally during regular season, but during bowl season where conference pride shines fourth. The Southeastern Conference is the most proud at the moment, because they've won seven straight National Championships. That's pretty good.