NFL 2013: Alex Ferguson tells you what to watch in pre-season
Tebow, tempo and RGIII... Alex Ferguson tells you what to look out for during the NFL pre-season.
Last Updated: 03/08/13 10:01am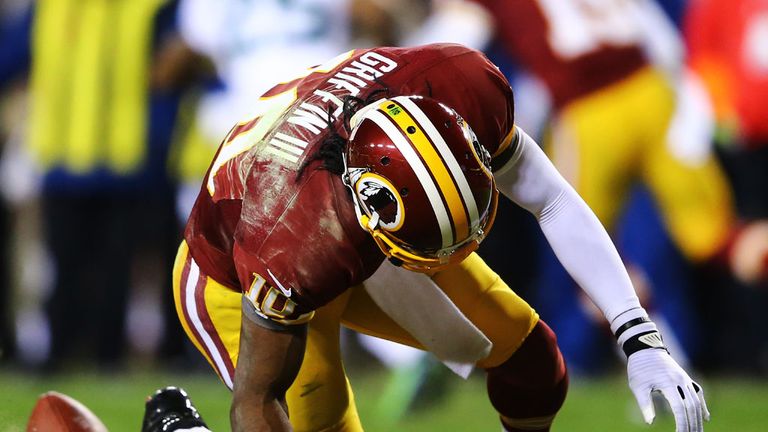 The NFL Hall of Fame Game between Miami and Dallas marks the start of the NFL pre-season, and the countdown to the start of the season proper on September 7.
skysports.com blogger Alex Ferguson will have his eyes fixed on the gridiron and has listed 10 things to watch out for during pre-season...
1) Can Oakland's 'Brit Brothers' bed in?
Being British, I was especially happy to find out that Menelik Watson came to terms with the Oakland Raiders on July 25. Insiders and fanblogs are all jabbering about the chances of the raw player out of Florida State starting at right tackle - so we'll see how much game-time he's given at the start of the year. Speaking of Brits and Raider Nation, it would also be good to see Jack Crawford embed himself within the squad - he's being pressed all the way by seventh round linebacker-pass rusher David Bass, who was a revelation in college football at Missouri Western State. Crawford hasn't exactly been brilliant in his short career with Oakland, so don't be surprised if he loses his place.
2) The Tim Tebow Experience, Coming Live From New England
Tim Tebow stole all the on-field headlines after the Super Bowl ended when he was released by the New York Jets, and for a while it seemed that Florida's saviour was not going to be playing anywhere but the Lingerie League. But Bill Belichick swooped in, signed up Tebow, and now we're all waiting for the Tebow circus to start. Look, he's not going to be replacing Tom Brady as the team's starter. In fact, we'd be staggered if he replaced Ryan Mallett as the team's back-up. But we imagine that he'd be given a snap or two to prove his worth - and he may well be asked to run with the ball on short yardage. Anyway, we hold our breath on August 9, when the Pats visit Philadelphia.
3) Tempo! Tempo! Tempo!
Any college football fan worth their salt will tell you that the pace of Chip Kelly's offense when he was head coach at Oregon was exhausting. He recruited a very mobile offensive line, a lightning quick running back and receivers, and averaged 83 plays per game. Although they have a mobile quarterback, can Kelly really do the same thing for the Eagles in Week 1? If he can, the Eagles are going to be an offensive revelation this year. But probably not. Oh, and there will quite a lot of chat about wide receiver Riley Cooper, who got himself in the news for all the wrong reasons this week, and had to do a lot of apologising. I hope he misses more than a couple of regular season games for his racist outburst. But he won't.
4) Speaking of the Patriots...
Tom Brady has already called his receiving corps a work in progress. In a press conference earlier this week he said: "I don't want to be a grumpy old guy. I think I understand that there's a learning curve and there's a patience...I think you try to let them know, though, that there's an urgency about it so it's not like you can afford mistakes." The Pats released Wes Welker and premier tight end Aaron Hernandez in the off-season, and replaced them with Danny Amendola, rookies Kenbrell Thompkins, Aaron Dobson and Josh Boyce. And regardless of what you might say about Hernandez' character, there's no arguing with the fact that he was one hell of a tight end, and his playing ability will certainly be missed at Foxboro. So we'll be hearing a lot about Brady's receivers, and replacing a great tight end.
5) RGIII, is he A.O.K?
We don't know if we'll see any of RGIII during the NFL preseason - especially as Redskins coach Mike Shanahan is saying that it's going to take nearly a month for him to get back into football shape. It's not so much the preseasons as the practices that we'll be keeping an eye on the knee of Robert Griffin III. Why? Because he's the most exciting quarterback in the NFL, and we (and our fantasy league) don't need him to get injured before Week 16.
6) Running Backs running healthy?
Minnesota Vikings will be hoping and praying that Adrian Peterson gets through his preseason unscathed. After all, No. 28 has said that he's gunning for Emmitt Smith's career rushing record. He'll also be gunning for Eric Dickerson's single-season rushing record - by putting up 2,500 yards next year. Speaking of running backs, we've got our eyes on Cleveland's Trent Richardson, Green Bay newbie Eddie Lacy (he's rumoured to be overweight) and whether it has an effect on August 9 against Arizona, and almost every other running back hoping to be a starter this year.
7) Will Luke Joeckel and Eric Fisher as good as drafted?
Kansas City's No.1 draft pick Eric Fisher reportedly had a rough start against defensive teammates Tamba Hali and Justin Houston, and it'll be really interesting how he copes in his first preseason games against New Orleans and San Francisco. New coach Andy Reid will be hoping that Fisher will help protect new signing Alex Smith. Offensive linesman Luke Joeckel helped Johnny Manziel get a Heisman at Texas A&M in 2012, and helped himself to a No.2 pick and rather large contract a few months after that. The noise from the Jacksonville Jaguars' training camp is good. "He doesn't make a lot of mistakes, which is key," said running back Maurice Jones-Drew to the media after a practice earlier this week. "You don't see him, because he doesn't make mistakes. He doesn't get yelled at. He's real quiet. He's a perfect fit for our team. He's a draft pick that we plugged in and immediately everyone on our offense got better." We'll see how good Joeckel when the Jags host Miami on Friday week. He'll need to be: Jones-Drew needs a good offensive linesman to put up the yards, and quarterback Blaine Gabbert/Chad Henne/Whoever it is needs the time.
8) No-one wants to be a part of it...
The fact that the Jets rid themselves of Tim Tebow wasn't shocking. Frankly, we weren't shocked by the Jets trading their best asset - cornerback Darrelle Revis to the Tampa Bay Buccaneers for the 13th pick in the draft and one next year (the Jets are hoping that Dee Milliner, the star rookie out of Alabama and Antonio Allen can do a job on 'Revis Island'), but we WERE shocked that the Jets neither fired Coach Rex Ryan after an awful 2012 season, or decided to rid themselves of Mark Sanchez, who was an embarrassment last year. It couldn't possibly be worse, could it? This is why things are going to be so interesting. It couldn't be, could it? Could it?! We'll get a hint of things in the Jets first game in Detroit.
9) Super Again or Seattle?
A lot of people are tipping the Seattle Seahawks as their pick for the NFC Championship Game, but that means that you count out the Super Bowl finalist San Francisco 49ers. The 49ers still have quarterback Colin Kaepernick. They still have running back Frank Gore. Although Patrick Willis has a hand injury, he'll be playing. Listen, we know the 49ers are going to be weak during pre-season because of their injuries (NaVorro Bowman's one), but during the regular season, we think they'll be fit. Oh, and they still have Jim Harbaugh as their coach, and they are still deep in terms of talent. On the Seattle side, we're quite excited by what's happening in the North West. But was that before the hip injury to Percy Harvin which, once again, will see him not play a full season of NFL football? Russell Wilson could well take a step back in terms of progress in 2013 with the heightened weight of expectation. Oh, and there are some other great NFC teams out there - like Atlanta and the New York Giants.
10) And lastly, a Hall of Fame game preview
The first game of the season sees Miami and Dallas competing under the lights, with both sides not really expected to show much all season long. Both have QB questions: the Dallas Cowboys have Tony Romo, who seemed to choke at inopportune moments last year, while the Miami Dolphins are still developing Ryan Tannehill, who's been getting some great reviews in camp about his decision-making but needs to improve his decision-making - his touchdown to interception ratio is 12:13, which isn't exactly game-changing. Dallas goes into this game with a beaten-up offensive line, and Miami will hope that rookie cornerback Will Davis can continue his good camp form and snag some interceptions.
Oh, and my quick prediction for Sunday's game? Miami 21 Dallas 17.