Alex Ferguson blogs on his trip to Texas versus New Mexico State
Alex Ferguson details his trip to the gridiron grudge match between Texas and New Mexico State.
Last Updated: 19/09/13 5:36pm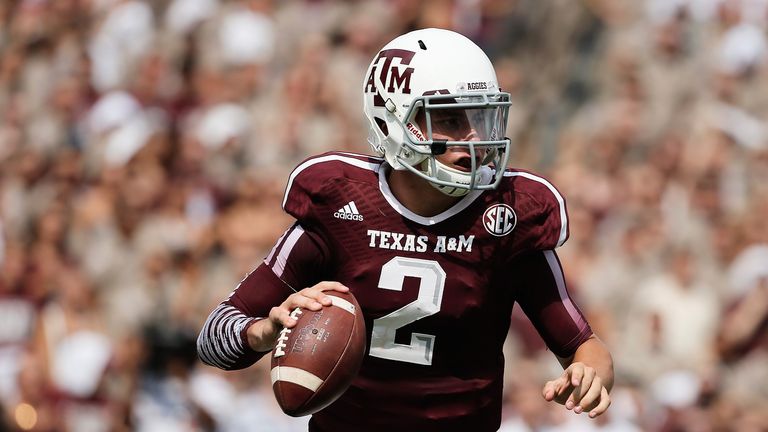 Like the Titanic, the Darrell K Royal Stadium is magnificent. It holds well over 100,000 people. It's roomy despite that, and there's really not a bad view in the house. If you're at the top of the stadium, you get to see the sun go down, and if you're at the bottom of the stadium, then, well, you're very privileged.
The problem with 'DKR' is that the fact that the stadium is named after a hero is about where it stops. I ask my neighbour about the other names. After all, the field is called 'Joe Jamail Field'. "Lawyer. And UT alumnus with billions of dollars."
He's given big gifts to the university in the past, and the swimming arena's also named after him. Heck, the stadium's even called: "Darrell K Royal Stadium at Joe Jamail Field". The north end zone has the name 'Red McCombs' on it. Was he a Texas great? Er, no, the answer comes back at me.
In fact, he's co-founded a media company, he's chairman of Academi (or Blackwater, as it's known in the popular vernacular), and he was responsible for bringing the San Antonio Spurs into the NBA. Remember, folks, the eyes of Texas are upon you - especially if you've got a ton of cash.
"One generation got old, One generation got soul, this generation got no destination to hold" - Jefferson Airplane
Expanding
Going to a tailgate at Texas is a very big social occasion - the parking lots around the stadium are sold off almost like a lottery, and you can't move for tents and people standing around.
The sad thing about it is that a lot of the tailgates have nothing to do with the university whatsoever - they are more about corporations 'having a presence' than the university itself. Austin is expanding at a rate of knots, and drinking before a University game is a 'thing to do'.
The biggest problem about Texas' brand is that it's meant to have a 'Screw You, We're Texas' vibe about it. It's meant to have the arrogance of an Alabama, LSU or other Southern schools. Instead, the talk at the tailgate is mostly spitting bullets about Texas A&M and their controversial quarterback, Johnny Manziel.
You see, suddenly the world's focus in on Johnny Manziel and 'That School Up The Road', and not on Texas, and that's annoyed fans of The Burnt Orange. It's also annoyed people that Johnny Manziel was only suspended for half a game for violating NCAA rules around autograph signing (he's talked about with the name 'Johnny Autograph' by members of the tailgate I attended), and it's annoyed people that the Aggies have got national focus, and they don't.
What's also worrying people down the road is the progress of Baylor, who's building a new stadium and a very exciting offense. While both those programs have been on people's lips, Texas fans have seen their confidence dissolve. And despite bringing back a whole host of starters on both sides of the ball, they are less confident than the media is about their prospects.
After all, they've been slaughtered by Oklahoma on three straight occasions, and there are stories about failures of recruiting of the coach, Mack Brown. Well, tonight would be a good time to start, by beating New Mexico State. Comfortably.
"Fight! Texas! Fight" - Texas Fight Song
Dreadful
Anyway, regardless of what the fan-base thinks of the team, they are happy to sing along to the Texas Fight Song merrily, with hands in the air with the Longhorn sing. Now, they also sing "The eyes of Texas are upon you", which I can't stop thinking's a little like "I've been going on the railroad" - because it's definitely the same tune. My neighbour nearly spits bullets when I tell him so.
Anyway, the first two quarters of the New Mexico State game were - and we have to be honest about it - dreadful if you're a Texas fan. Despite the pressure on defensive co-ordinator Manny Diaz, Texas' defence is still pretty great at missing tackles, and not really looking applied.
The offense is - can you believe it - almost worse. After the first quarter, it's 0-0. The locals aren't spitting bullets just yet, but they are getting restless. The student section (which has actually turned up in fantastic numbers despite the seemingly poor opponent), starts to boo. The 'Texas! Fight' that rebounds between both sides of the stadium sounds more desperate.
I try and figure a way to give one of the unhappy-looking Texas sorority girls, beautifully dressed in burnt orange shirt, short pristine white shorts and cowboy boots a speech about why watching this is so much better than watching QPR, but alas, my brain has come up short. After all, the tailgate has ruined its capacity to think straight!
In fact, the only bullets firing are the ones from New Mexico State, who take a shock 7-0 lead with two minutes left in the second quarter in a scoreline that was probably being repeated.
Thankfully, order is restored by two touchdowns in the space of a minute, and the Longhorns come out with a 14-7 lead. After half-time, the arrogance is back. The defence learns how to tackle. The offense clicks. Texas learns how to run the ball. And New Mexico State suffer.
By the end of the game, Texas has put up over 700 yards of offence and 56 points, as well as one of the worst stadium renditions of House of Pain's 'Jump Around' we've ever seen to kick off the fourth quarter. Maybe it's because Texas' is winning comfortably. Maybe it's because the hangovers have worn it. Or maybe it's because the University of Wisconsin do it better.
"Forget the coaches, come for the kids. Come for the young guys who are really trying, and come watch them try to beat Kansas State, which we haven't done very often. They just need to keep supporting the players."- Mack Brown, Texas coach, 14/9/13.
Whirr
Since I left Austin, Texas' program has become a laughing stock. There have been back-to-back dismal losses to BYU and Ole Miss. The once-solid defence gave up 550 yards at BYU and Manny Diaz was given the Texas boot after the performance. The rumour mill continues to whirr about Brown's job.
If his team can't stop the run, then there are worries that Texas could have one of their worst seasons in recent history. The Texas fans that love their team will ignore Mack Brown's pleas and not come, because there are more fun things to do when the weather's not so hot than spend thousands of dollars watching a team lose.
Look, there's no question that Texas is one of sport's biggest brands. In fact, Forbes recognised the program as college football's most valuable brand, because of the money that pours in through its past students and its massive fan-base, making it worth hundreds of millions of dollars.
There's no question that Texas has been very good at branding itself - and selling itself. After all, the Texas Longhorn sign is seemingly omnipresent around Austin, but when the football team's not winning (and nor are the basketball team and baseball team), Texas is in malaise.
And the media and fan-base is eager for blood.