Problems an NFL franchise in London would face discussed by Alex Ferguson
Blogger Alex Ferguson analyses the problems an NFL franchise based in London would face.
Last Updated: 29/10/13 6:32pm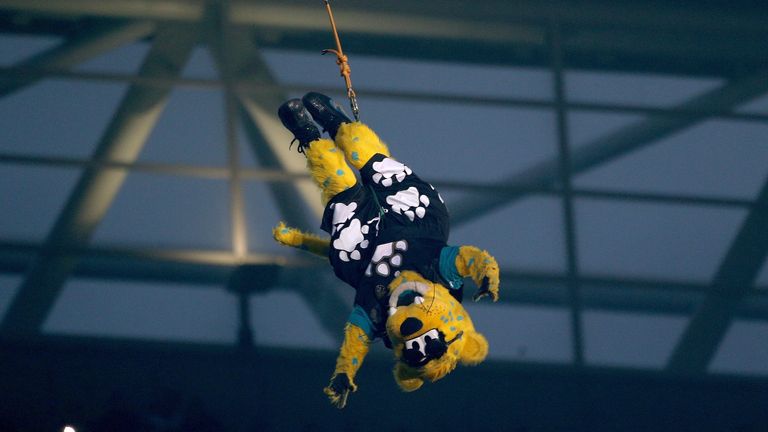 "I want both [cities], but it doesn't matter which one is first," he told the fans forum, but added that there was no timetable for proceedings. In other words, the London Torches won't be starting in 2014 (annoying news, because we'd automatically get the No.1 pick and there is some great potential quarterbacks at No.1 this year).
He also confirmed that the NFL International Games won't be branching out to other countries, but would be staying in London. Apparently, London's easier to get to for Europeans, and it's great to be building a brand.
After Jacksonville's evisceration by the San Francisco 49ers on Sunday at Wembley, our blogger Alex Ferguson started thinking about the possibilities of a NFL franchise in London, named 'the Torches' after the small event in 2012 where some gold was won and it became OK to be British again.
Alex Ferguson really wants to have a NFL team in London, but he's got some questions....
CAN WE GET THE AUDIENCE?
The NFL has some novelty value coming to London. The corporate entertainers love it, American NFL fans still think it's a novelty to come to London to see their team play and the UK NFL fanbase think it's cool to see their Sunday Sky Sports coverage come to life for less than the price of an Atlantic flight.
Jerry Jones, whose Dallas Cowboys - the biggest NFL franchise of them all - will be playing in London in 2014, told a Dallas radio station that it'll be interesting to see if Londoners can "buy into the pride and support a franchise".
My question is this: When will the NFL game (or three) stop being a novelty value for fans and travellers? I suspect, when they play an eight game schedule in London.
Here's what we predict will happen: Capping on the NFL's fantastic involvement in bringing The League to London, the first season for the London Torches would be rammed. It would be fireworks every Sunday. season tickets would sell out in a heartbeat, the rest of tickets would be a touts' paradise and it would be the talk of the town. But then, the novelty factor will wear off.... You know what happens next.
The issue for the London Torches is that American Football is not intrinsic to British culture. The biggest sport is football (by a mile), then cricket and two rugby sports battle for the rest. The NFL is a glitzy minority sport, but it's a minority sport all the same. And don't get me wrong, it's amazing to see a women's American Football team, it's also exploding in UK universities and there are a ton of teams to participate in according to the British American Football National Leagues' website, but it's still a minority sport.
TEST MY LOYALTY
Despite not having any roots in Pennsylvania whatsoever, I'm a Penn State fan on Saturdays and a Pittsburgh Steelers fan on Sundays. My two teams last weekend were beaten by a combined score of 84-32. But I stay loyal (oh, and QPR lost 2-0 on Saturday), despite trips to other places in the USA to watch collegiate and NFL football.
Anyway, if the London Torches came to town, I would find it difficult to find a 'Road to Damascus' conversion and suddenly become a Torches fan. I would find it difficult to put down the towel, however terrible the team has been. I would dare say that asking fans from all over the UK to put down their shirts, caps and jackets of current NFL teams and make it an active 'thing' to support the Torches would be a similar ordeal.
While I've met plenty of fans who will support the team in the city that they live in (i.e. the chap sitting next to me in Atlanta in September was a Bears fan but a Falcons season ticketholder) in the USA, would it happen in the UK?
The UK fan base - born of football fanaticism - would find it difficult, I suspect. And more's the case, who would they support if their 'old team' came to visit the Torches? I would argue that if Dallas and San Francisco came to town, it would be those sides.
As a marketing idea, I'd suggest the Torches target every bank, insurance broker and US citizen living this side of the Atlantic and encourage them to buy a season ticket - according to 2011 Census; there are over 170,000 of them in the UK!
TEST MY PATIENCE
Newsflash: If the London Torches came to London, they wouldn't be good. They would be terrible.
When the Houston Texans started in the NFL in 2002, they went seven years without having a winning season. SEVEN. Going back further, the Cleveland Browns - reactivated in 1999 after a three-year hiatus - have only reached the play-offs once since they came back on the scene. ONCE. They've had 12 losing seasons in that period, and only one 10-win one. And yes, they could turn out like the Carolina Panthers, who went to a NFL Championship Game in only their second year, a Super Bowl in their ninth, and have been to the play-offs three times since they started in 1998 but haven't since they were pecked by the Arizona Cardinals in 2008. Get the picture?
If the Torches are like the Carolina Panthers in 2003 and 2005, then we'll be all be PROUD to be fans. But if it's all a struggle, you get the feeling that the fan base - even the corporate one - would stop going and happily sit around digesting lunch and watching Super Sunday.
And as for the patience of the incredibly positive and not cynical British press....that would get tested too! "London's Losers!" we can see a paper headline, after the Torches lose the first game of their history 48-7.
TEST MY WALLET, TEST MY TIME
If you're a Premier League season ticket holder (as I was for the magical two years QPR were back in the Premier League recently), then you're already paying one sporting club a tidy sum. Add to that away games, and the punch to the wallet gets harder.
The average price for a NFL ticket ranges from $109 (£65) to $446 (around £280), according to ticket pricing website TiqIq.com. And unless you live in London, that's travel, hotels (the last trains will have often left if you're the 5pm game), and maybe a day off work.
GOING DOWN TORCHES WAY
While it's pretty amazing that Wembley's the home of football and FOOTBALL, the pitch gets beaten to death after a game there. And when there's an England game during the NFL season, you can see where the NFL game was beforehand (and vice versa).
Plus, there's the small matter that Wembley holds 90,000 people....which would make it the second-biggest stadium in the NFL by some way (only behind AT&T Stadium, home of the Dallas Cowboys).
Would the new owner build a smaller ground like his or her MLS counterparts have done for their teams, or would the owner stick with Wembley? Is Wembley the optimal place for travellers - particularly those coming from the South of England or Euston? And if the Torches played at a smaller ground, would that be cool with the NFL, who dictate that 60% of the profits go into the home teams' pockets, and 40% goes to a pot that's shared amongst the NFL teams? And playing-wise, could Wembley cope with seeing its pitch getting pounded once a week or once a fortnight?
I WANNA BE YOUR OWNER
The London Torches need an owner. If Jacksonville stays in Jacksonville (possibility) or moves to LA (another possibility), the new-fangled London NFL Expansion franchise would need an owner. To pay for NFL players' enormous wages, the owner would either have to have deep pockets or be willing to charge a fan base hundreds of pounds for season tickets to keep the team afloat, or more's the case, competitive. The last time we looked, the pawns in the chess game on Billionaire's Row were football teams, not NFL teams. Would a non-US NFL owner be approved by 75% of the owners (what's required for someone to take a NFL franchise)? It would certainly be an interesting conversation!