NFL 2013: Alex Ferguson grades the teams' performances so far
As the NFL season gathers pace, Alex Ferguson grades the teams - and pans the Jacksonville Jaguars.
Last Updated: 05/11/13 4:49pm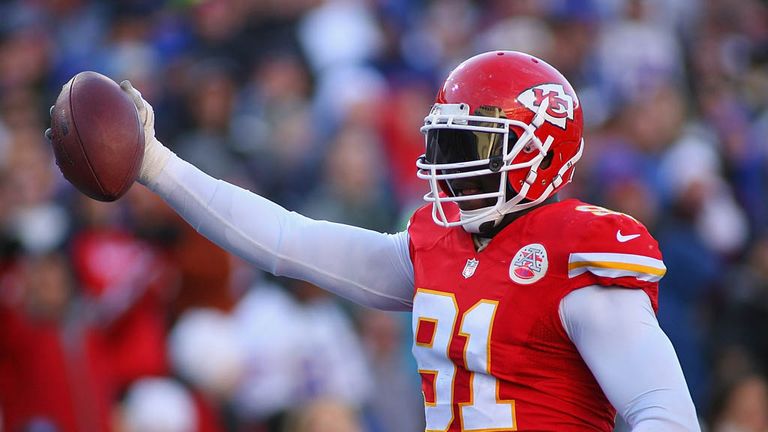 And - would you have believed it - the KANSAS CITY CHIEFS (I capitalize that for effect!) are STILL UNBEATEN (that too!).
What an unbelievable performance from Andy Reid and company.
skysports.com blogger Alex Ferguson is handing out his grades for the NFL season so far, and you won't be surprised to see who's top of the list...
A+
Kansas City Chiefs (9-0)
Unbelievable start for the Kansas City Chiefs. They do just enough on offence - with running back Jamaal Charles putting up over 725 yards - but their defence is... well... unreal. They are second-best in the league in points given up, and excellent against the pass... in a pass-heavy league. The fact that every team that they've played bar Dallas and Cleveland is pretty poor this season has helped, too.
A
Cleveland Browns (4-5)
If you thought the Cleveland Browns would have just beaten the Baltimore Ravens, be in with a shout of the play-offs, and be one game under .500 after getting rid of Trent Richardson, and their defense would be elite, remind me to take you to Las Vegas, because I need the money. Can Jason Campbell actually stay the course, instead of getting injured?
Seattle Seahawks (8-1)
Came back from 21 down to score an overtime victory over (sarcastic, slow hand-clap) Tampa Bay. It wasn't a good victory. The 'Hawks were TERRIBLE in the first quarter. Still, they won, and the Seahawks continue to frighten the hell out of the NFC.
That's because Russell Wilson (pictured) is money, and Marshawn Lynch is a ferocious running back. And the 'D' doesn't give up a lot of points per game. You know, unless it's Tampa Bay.
Denver Broncos (7-1)
The surprise of the season wasn't the fact that the Broncos went to Indy and lost. It really wasn't. The surprise of the season was that the Broncos not only struggled with Jacksonville, but that their 'D' has been really, really bad this year. It's OK when you can outscore most sides, but imagine what would happen if Peyton got hurt. Shudder. Still, this is a good side, folks.
A-
New England Patriots, New Orleans Saints (7-2)
Both teams are pretty damned similar teams. Both depend on their incredible QBs (Tom Brady, Drew Brees). Both depend on their incredible TEs (Rob Gronkowski, Jimmy Graham). Both have mediocre wide receiving corps. And both have better-than-you might think defenses. And when they played each other, New England won on a last-second Brady-esque drive. And then Brady went home with Giselle.
San Francisco 49ers, Indianapolis Colts (6-2)
We're unsure as to what to think of this San Francisco 49ers teams. There doesn't seem to be a game where they haven't struggled in the first quarter or first half of games (unless you count Jacksonville as a 'game' rather than a 'preseason scrimmage').
But they come through in the end, and that's what matters. And on the other, the Colts with Andrew Luck (pictured) are suddenly 'clutch' in the fourth quarter, and their D is stingy. T.Y. Hilton is awesome, by the way.
B+
New York Jets (5-4)
Similarly, if we told you the Jets would have a winning record at this time of the season, you would have directed us to Arkham Asylum. Well Batman, the Jets ARE 5-4, are second in the AFC East, and have beaten New Orleans and New England (the last one somewhat fortuitously). And while Geno Smith is still experienced first-year QB problems, the rushing 'D' really isn't. It's top of the league.
Cincinnati Bengals (6-3)
A lot was expected of Andy Dalton and the Cincinnati Bengals, but despite the 6-3 record, the Bengals have been up and down. The performance in the overtime loss against Miami on Thursday night was god-awful. The performance in their victory against New England earlier this season was sublime. It's a mystery. Still Cincy's looking good for the AFC North title... in a poor AFC North.
Carolina Panthers (5-3)
Right now, the Panthers are one of the form teams in the NFL, winning four straight. Carolina's defence's playing out of this world, and running DeAngelo Williams is looking like the DeAngelo Williams of old. Oh, and Cam Newton's finding some form, too.
B-
Dallas Cowboys (5-4)
The Cowboys surprised us all by keeping up with the Denver Broncos a few weeks ago, stunned us by losing in heart-breaking fashion against Detroit, and then won a few hearts back by coming back to beat Minnesota.
Tony Romo's not the world's worst QB, Dez Bryant (pictured) IS one of the NFL's best wide receivers (when he stays fit), but their D is susceptible to a good QB (31st in the league in pass yards given up).
Detroit Lions, Green Bay Packers, Chicago Bears (6-3)
It's crazy, because all three teams in the NFC North, and have the same records. The Packers are now in trouble because Aaron Rodgers is out for 3-4 weeks with an injured shoulder, sustained in the loss to a Jay Cutler-less Chicago Bears team. The Detroit Lions have a great QB in Matt Stafford... but they don't have a D capable of not getting fined or stopping anybody. Eddie Lacy and Matt Forte look the real deal at running back for Packers and Bears, and the Detroit Lions' running game is one of the worst in the league. One thing's for certain: all three teams are pretty mediocre defensively.
C
Tennessee Titans, Miami Dolphins, Arizona Cardinals, San Diego Chargers (4-4)
We like Tyrann Mathieu's stellar play as safety for Arizona. We like Phillip Rivers' career comeback for San Diego. We like Miami's defense as much as we HATE the team's internal politics. We're amazed that how the Titans keep chugging along. But don't get us wrong: All four teams aren't good.
C-
Philadelphia Eagles (4-5)
Chip Kelly's new offense made everyone afraid of Michael Vick. With Vick out with a tweaked hamstring, the responsibility came down to Nick Foles to beat Oakland. Foles put up seven TDs, which did more for Foles' reputation and solidified Kelly's reputation as a coach who likes to run the score up on his opposition (he did that a lot at Oregon). Still, Philly's defense isn't good.
D
Baltimore Ravens (3-5)
After all the losses in the off-season, it's hardly surprising that the Ravens don't exactly look like play-off potential this year. In the last three weeks they are 0-3 and have taught us that ANY team that loses Ray Lewis and Ed Reed is going to suffer, as well as a wide receiver like Anquan Boldin, who's still doing the business for San Francisco.
Oakland Raiders (3-5)
The speed and drive-breaking ability of QB Terrelle Pryor makes Oakland - after year of not being - fun to watch. And Darren McFadden (pictured) is a solid running back, too. And despite their evisceration at home to Philadelphia, Oakland's 'D' hasn't been really that bad, although it's been poor against the pass (25th in the league).
The Raiders have had the most difficult schedule in the league so far (Denver/ Indianapolis/Kansas City), which hasn't helped matters, either.
Buffalo Bills, St Louis Rams (3-6)
The Bills have a freshman QB in EJ Manuel, and they MIGHT be good in 2-3 years. The Rams were meant to be OK this year... but Sam Bradford's injured again. When will the Rams fans start calling the Darren Anderton of the NFL 'sicknote'?
D-
Washington Redskins (3-5)
Most of the early-season hype was about RGIII. But since RGIII's thrown as many TDs and he has INTs (9), and hasn't been tremendously explosive as a runner, which is heaping pressure on RB Alfred Morris, the biggest talk about the Capital's team is about the use of the name 'Redskins' and whether it's offensive to the Native American people. You know what else is offensive? Washington's 'D'. They give up nearly 32 points a game and are dreadful.
E
Pittsburgh Steelers (2-6)
This team isn't just a bad team, it's old. This could go on a while, Steelers fans.
Houston Texans (2-6)
Matt Schaub gets booed off the field by the Texans fans. Houston's best defensive player (and probably one of the league's most unfortunate), Brian Cushing, breaks his leg again. The Texans have had THREE heart-breaking losses this year, because numbers-wise, they haven't been terrible. They just haven't been very good.
E-
Atlanta Falcons, New York Giants (2-6)
We're surprised they didn't shift DE Jared Allen on transfer deadline day. In Atlanta, Matt Ryan is less 'Matty Ice' and more 'Matty Iceberg hitting The Titanic' this year. Sure, he's fifth in passing yards, but Falcons fans have hated the QB's lack of form.
The Falcons also have no running game, and a mediocre-to-poor defense. Tony Gonzalez must be wondering what he came for. And in New York, Eli Manning's just thrown yet another interception.
Minnesota Vikings (1-7)
The reliance on Adrian Peterson has meant that teams choke up the running lanes and pretty effectively stop him, knowing that the Vikes' QB wouldn't be strong (true). They then pass the ball on Minnesota's week secondary, and win. Minnesota is 1-8, and awful.
F
Tampa Bay Buccaneers (0-8)
As pretty good as Tampa's passing and rushing defence has been this year, the Bucs offense is HORRIFIC. Mike Glennon's first year in Tampa could be his last with the amount of talent coming out of college football next year. The Bucs haven't been helped by an injury to top RB Doug Martin, either.
F-
Jacksonville Jaguars (0-8)
Important question: Could the Alabama Crimson Tide, college football's top team, beat the Jacksonville Jaguars? This is how bad the Jaguars are, folks.