Alex Ferguson selects his candidates for the Top Rookie Award
Alex Ferguson looks at who could well be in the running for the NFL Top Rookie Award.
Last Updated: 21/11/13 1:14pm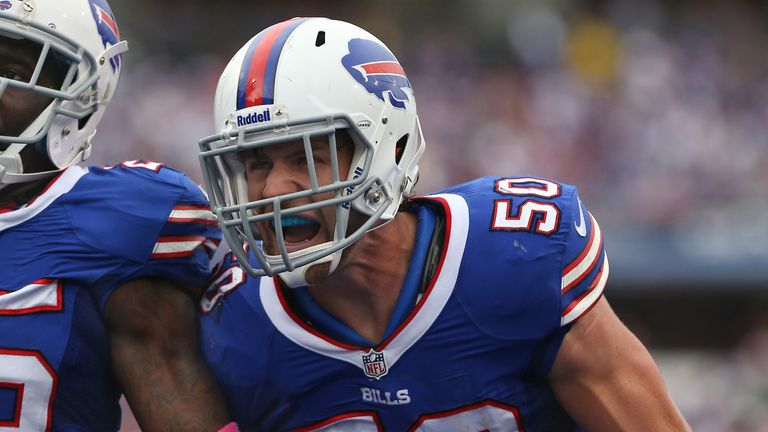 So who would win the Top Rookie Award if the season finished now? Here are Alex Ferguson's Top 10 candidates (not necessarily in this order).
1. Kiko Alonso (LB, Buffalo Bills)
The frighteningly-talented linebacker from Oregon wasn't even taken in the first round - and now it looks as if the Bills may have had the steal of the round and maybe the best in years. Alonso hasn't just had 112 tackles - he's also had four interceptions, a forced fumble and two sacks. He could well be in the record books by season's end, folks.
2. Eddie Lacy (Green Bay Packers)
Packers fans haven't seen this kind of talent at running back in years, and the former Alabama running back star has provided just the tonic. As he did in his years in college, Lacy willingly taken on the role of workhorse for the Packers, rolling up nearly 700 yards rushing and six TDs for an Aaron Rodgers-less attack. We like him, we like him a lot.
3. Mike Glennon (QB, Tampa Bay Buccanneers)
The Bucs have been horrible this season, but you can't blame the giant rookie - drafted out of North Carolina State - who's thrown for over 1,500 yards, 11 TDs and four INTs for everything. His 62.1 QB rating leads all rookies drafted as quarterbacks. This is good for the future, Bucs fans.
4. EJ Manuel (QB, Buffalo Bills)
As cruel as we were about the Bills drafting EJ Manuel from Florida State when there were other pretty good quarterbacks around, Manuel really hasn't disappointed us... or anyone. Firstly, the Bills are not a vomitously awful 4-7, having lost two games by a touchdown or less, and secondly, Manuel seems to be leading from the front, throwing for nearly 1,400 yards, eight TDs. Of course he needs to work on the interceptions (he's got four of them), but he's a rookie.
5. Giovanni Bernard (RB, Cincinnati Bengals)
What we like so much about Bernard is his dual threat ability for the Bengals, which brings a frightening prospect to opposition teams already having to deal with the wide receiving talents of AJ Green. Bernard - out of North Carolina brings speed, power, and has had 345 yards and 3 TDs receiving... added to the 464 yards and three TDs of rushing.
6. Marlon Brown (WR, Baltimore Ravens)
There's no arguing that Brown's been a game breaker, is there? The Ravens wide receiver - who was a star at Georgia - has 27 receptions (nothing great), but in those receptions, he's torn up over 300 yards (averaging 11.4 yards/game is pretty special), and had five touchdowns. That's pretty solid.
7. Cordarelle Patterson (WR, Minnesota Vikings)
Patterson's prodigious kick-returning talents got a lot of people excited in Minnesota when he was drafted in the first round by the Vikes, and after he took a kick 109 yards to the house, it wasn't hard to see why. That's pretty impressive. This year he's had 962 yards in kick returns already, including two touchdowns and six 40+ yard returns. Is this the new Devin Hester?
8. Keenan Allen (WR, San Diego Chargers)
The exceptionally-talented young receiver from the University of California-Berkeley has made a lot of people excited in San Diego....and no one more, we expect that Phillip Rivers, who's having a bit of a resurgence where the Beautiful People Live. Allen, who was taken in the third round despite having first round talent (we're still trying to work out how he missed everybody) in his years at Cal, has 41 receptions, 613 yards receiving, and 3 TDs. We noticed in the last two games against Denver and Miami that he only had 7 receptions total...are defensive co-ordinators beginning to find him out? In his first year, that's a helluva compliment.
9. Zac Stacy (RB, St Louis Rams)
Because a lot of people don't pay attention to Vanderbilt football, Stacy wasn't exactly trumpeted loudly around NFL parts when he was taken in the fifth round by the St Louis Rams. Well, after putting up over 500 yards rushing and three TDs for what has been a pretty-horrible-to-watch St Louis offense, the St Louis management must be feeling pretty pleased with themselves.
10. Marcus Cooper (CB, Kansas City Chiefs)
This year the Kansas City Chiefs defence has been brilliant to watch. Although it's been led up from by Tamba Hali, Cooper's been quietly a shut-down corner, recording 16 defended passes and two interceptions for the Chiefs, as well as forced fumble. Not bad for the seventh round pick by the San Francisco 49ers, who was claimed off waivers before the beginning of the 2013 season, eh? Oh, and here's a fun fact for you: Cooper hasn't always been a cornerback. A former wide receiver, he only switched to the position in his final year at Rutgers. It could be quite the financially beneficial one....