Alex Ferguson wonders if the NFL should follow College Football and set up a new Thanksgiving format
Alex Ferguson wonders whether it's time for the NFL to follow the College chaos on Thanksgiving...
Last Updated: 03/12/13 3:41pm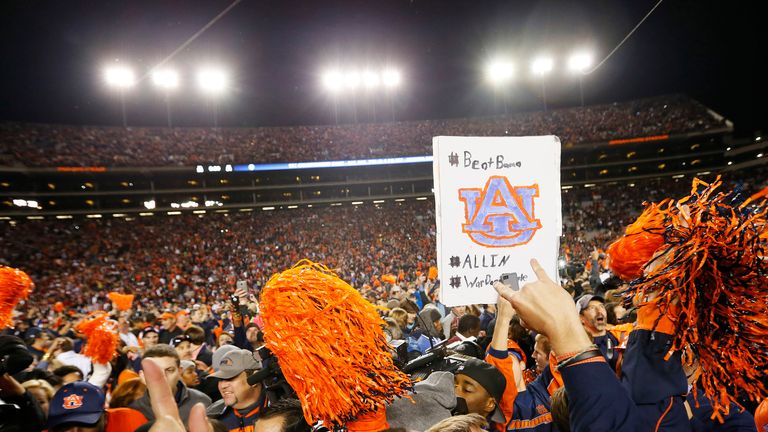 That made our US sports blogger Alex Ferguson ask whether the NFL should follow College Football's lead and schedule a 16-game Rivalry Week, pitting together just divisional rivals over Thanksgiving.
Have a read and decide...
On Thanksgiving, America gets delivered a lot of turkey, a lot of pumpkin pie and an awful lot of American Football.
While the NFL provided a full 16-game schedule through the Thanksgiving break, College Football provided its own full schedule. And that full schedule is called 'Rivalry Week', where generally two of the states' biggest teams play each other for the bragging rights to the state, and it's generally the last game of the regular season before the Championship Games are played (apart from in one conference - The Big-12-where there is no Championship Game).
And while in the NFL 10 out of 15 games (66%) were decided by a touchdown or less (that's about par), college football was absolutely crazy, with 27 out of 59 top tier college football games were decided by 10 points or less. TWENTY-SEVEN. In maths terms, 45% of the games during Rivalry Week were must-see viewing. Generally, the percentage over the week's a hell of a lot lower.
A lot of people have said that Rivalry Week 2014 was one of the best weekend's they'd ever seen in college football. So in total - and we'll repeat this because we want to for effect - 50% of ALL NFL and top-tier college football game were decided by 10 points or less. Hashtag 'RivalryWeek', people.
"Oh my God! Oh my God! Oh my God!" - Me, during and after Auburn vs Alabama game on Saturday night.
In College Football this weekend more than any weekend, the record books went out of the window and Battle Royales reigned. Pride drove every down, and the games came down to the wire.
Whether it was at the Egg Bowl between Mississippi and Mississippi State on Thursday (Ole Miss QB Bo Wallace stumbling and fumbling the ball in the end-zone in overtime, where it was recovered by a MSU player, giving MSU the win), prayers in Tiger Stadium, Louisiana on Friday answered by a back-up quarterback against Arkansas in the final minute, or millions of people like me jumping around like lunatics as Auburn's Chris Davis caught Alabama kicker Adam Griffith's 57-yard field goal attempt in the final second of the 'Iron Bowl' and returned it more than 100 yards to the house to defeat his school's most hated rival.
Missed
There was plenty of chaos to go around at 'The Game' in Michigan, where Michigan and Ohio State's players got into an embarrassing brawl in the game's opening salvos, then combined to put up over 1,100 yards of offense. And this was capped by Michigan coach Brady Hoke's decision with 30 seconds to go to go for the two-point conversion with his side down 42-41... and the Wolverines missed it, handing Ohio State the game.
And lest we forget the 'Hallucinogen Bowl' (aka The Civil War) in Oregon, played between Oregon and Oregon State, with Oregon wearing bright green and yellow and their rivals wearing bright orange and black, Oregon won 36-35 with 30 seconds left, too.
And there were also great games in Texas (between Baylor and TCU - Texas and Texas A&M stopped their Thanksgiving Game in 2010 over bickering about a TV deal), Virginia, North Carolina (where Duke became a 10-win team for the first time in their history), Washington and Wake Forest. Oh, and Stanford vs Notre Dame in the 'Battle Of The Brains'.
The game nicknamed 'Clean, Old-Fashioned Hate' between Georgia and Georgia Tech lived up to its billing, going to two overtimes (Georgia won). Heck, it was even close during for much of the first half of the Florida-Florida State game, before Florida State found another gear and their hated rivals were summarily eviscerated.
Heck, even the gods supplied us a major upset in all of this, with much-fancied Wisconsin losing at home to 24-point underdog Penn State and unbeaten Fresno State falling in a basketball game to San Jose State, 62-52.
The NFL was not without its little bit of crazy, too. Was it The Crazy that filled Knowshon Moreno's tear ducts so the man cried a waterfall before the Denver Broncos' win over the Kansas City Chiefs? Was it The Crazy that - despite getting hit to the 'pigskin' - San Francisco 49ers TE Vernon Davis still hurdled a St Louis Rams defender?
Looked
Was it The Crazy that filled both the Niners and the Rams before the game (the two sides couldn't stop jawing at each other?)? Or The Crazy that filled the NFL officials' minds during the Giants/Washington game and they couldn't work out what down it was?
And was it The Crazy that had his hand on Pittsburgh coach Mike Tomlin was he wandered out during Jacoby Jones' kick-off return and looked as though he tried to trip him (something that could even earn the Steelers a loss of draft pick)? Probably.
But seriously, we'd like to see a lot more big, local rivalries in the NFL during Thanksgiving Weekend.
Don't get me wrong, the NFL got it pretty right for Thanksgiving Weekend '13. The schedulers gave us Pittsburgh vs Baltimore, Detroit vs Green Bay, Minnesota vs Chicago, New York Giants vs Washington, Denver vs Kansas City, and New York Jets vs Miami. But you know what? We wanted so many more!
Wouldn't it have been great it if Dallas had played Philly instead of Oakland in JerryWorld on Thanksgiving Day? Or Seattle playing San Francisco instead of New Orleans as the curtain-closer on Monday night? And the 'Bills Battle In Toronto' between the Bills and the Falcons been delayed by a week so the Bills could play the New England Patriots and the Falcons could play New Orleans.
Look, I'm not saying that the non-local rivalry games didn't work out (I mean, Jacksonville vs Cleveland was an instant classic), but it would have been awesome to celebrate Thanksgiving watching chippy local games rather than Philadelphia versus Arizona. After all, the local jawing is what Thanksgiving is about. Just ask any family who plays the annual Thanksgiving Football game together, and they'll heartily agree.
The only fan who we don't think would agree with us is Mr Adam Harris, who wrote to us on Twitter after we asked our followers if you'd like a similar Rivalry Week over Thanksgiving for the NFL: "It would [be great] but I don't think my heart could handle the finishes. It was bad enough during the college games".
'Nuff said.
Can't wait for next weekend!