Alex Ferguson looks at the credentials of the new Houston Texan's coach Bill O'Brien
Alex Ferguson looks at the credentials of the new Houston Texan's coach Bill O'Brien.
Last Updated: 03/01/14 4:37pm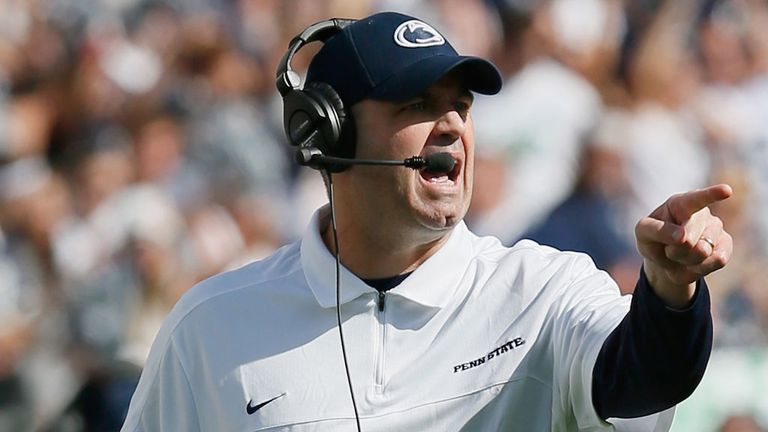 Sky Sports' resident College Football expert - and Penn State fan- Alex Ferguson gives his insight (and the insight of some other PSU fans, too) into the Texans' hiring.
What does Bill O'Brien's CV look like?
Not too bad, actually. O'Brien started his career as a college assistant at Brown University, Georgia Tech, Notre Dame and Maryland, and got his first offensive co-ordinator's job at Duke, where he remained in 2005 and 2006.
O'Brien worked under Bill Belichick who then went into the New England Patriots organisation in 2007 where he helped with receivers, before being promoted to call the receivers shots in 2008. He started calling the plays offensively in 2008 and cemented the position of offensive co-ordinator in 2011.
After being denied the Jacksonville Jaguars head coaching position, he took over the Penn State job in 2012.
What was his reign at Penn State like?
Bill O'Brien came to Penn State in January 2012 from New England (where he was offensive co-ordinator) in the cloud of one of the most awful cases in NCAA history. A few months earlier, former Penn State defensive coach Jerry Sandusky had been arrested for molesting children at the children's charity where he worked, and under the cloud, the school fired long-time Nittany Lions head coach Joe Paterno - the only coach generations of Penn Staters had ever known (he coached from 1966-2011)- because of his perceived involvement in the cover-up - and the school president and athletic director also resigned.
In July 2012, the school was given some of the biggest sanctions in NCAA history, which included the loss of 40 scholarships over four years, as well as a ban for the postseason for four years. Also, other schools were free to come in like vultures and take Penn State players, and the transferees wouldn't have to sit out a year in exile.
They could start immediately. Despite thoughts of the US media in the opposite, O'Brien did a masterful job rallying the team around him, and although his best running back Silas Redd went to Southern California and Anthony Fera went to Texas (although the latter's was a bit more understandable bearing in mind that his mother was sick), but all in all, it was incredible effort to keep as much talent as he did.
My favourite story from that time when other schools were swooping in comes from September, when I was staying in State College and heard this conversation from a couple of boosters. Apparently Lane Kiffin, the much-disliked USC coach (which later got Redd) sent O'Brien a list of 20-odd players he wanted to talk to, which included some very junior players. O'Brien - infuriated - called Kiffin and said: "I can't believe you've done that! No wonder no-one likes you", and before Kiffin could try and weasel his way out of the situation, the phone was down.
Quarterback guru
During his time in New England in a coaching position (ie from 2008), Tom Brady threw for over 18,000 yards and 162 touchdowns, and appeared in a Super Bowl. So he came into Happy Valley with a bit of positive history behind him.
There was no question that the Bill O'Brien era didn't start so well when the Nittany Lions went 0-2 to Ohio and Virginia (the second game I watched in a New York bar with a former boy band star). But then, the team got it together, and went 8-4 to complete the year. But more than anything else, the O'Brien on the sideline was very unlike the Joe Paterno that Penn Staters were used to seeing. He was, erm, a little more fiery. After Penn State beat Wisconsin in the last game of 2012, O'Brien said: "They are a bunch of ****ers", something which instantly made him a legend in Happy Valley.
But for those watching on the field, it was more about the play of Penn State quarterback Matt McGloin, who went from running joke on the Penn State Twitterfeeds in 2011 to starting quarterback for the Oakland Raiders in 2013. McGloin, after overthrowing his receivers on countless occasions in 2010 and 2011 (he completed only 54% of his passes in both years, and had 22 touchdowns but 14 interceptions in the process), suddenly looked like a leader and a little more, erm, professional (he threw for 3,200 yards in 2012, more than his 2010 and 2011 yardage combined), and he was far more accurate as the season went along (The fans actually felt more confident with him on a last minute drive as it went along), and threw for 24 TDs and only 9 INTs. It was quite a run.
Then, O'Brien - who's used to working with his quarterbacks (see Brady, Tom)- recruited the top quarterback in the country in Christian Hackenberg, and one of the top tight ends in Adam Breneman. In Hackenberg's rookie season, he threw for 2,955 yards, 20 TDs and 9 INTs, and led the school to a dramatic four-overtime victory over Michigan and a stunning upset of Wisconsin on the road.
But it's not only been that.
"I thought that this approach and style of play was exactly what Penn State needed. It annoyed the die-hard Joe Paterno fans who still believe that running the ball between the tackles 25 out of 30 times is the way to win a game," Cliff Burnham, a Penn State graduate who spent four years being driven mad by Penn State trying to grind out victories during the Joe Paterno era told SkySports.com.
Sometimes they were successful, sometimes they weren't. But a lot of the time, the style of play was hard work to watch.
"We had a coach at Penn State who finally knew how to teach a quarterback a quarterback how to play the position", Burnham added, echoing the thoughts from plenty of his Penn State colleague that former quarterbacks coach, Jay Paterno (son of Joe), struggled at his job.
Who's going to be the starting quarterback in Houston? Whoever it is, they'll be OK under Bill O'Brien.
The fans and critics opinion
The fact that Bill O'Brien was going to get a NFL job wasn't a particular surprise for some NFL factions. Bill Daiber, a colleague of Burnham's and a person who has grown up with Penn State football all of his life was not surprised by O'Brien's move down south. "It was bound to happen," he said.
On Twitter, Nittany Lions fans @SolelessShoes said: "He did an excellent job and we hate to see him go but we wish him well. He helped us through a very difficult period".
Some people, though, aren't thrilled that O'Brien walked out of Penn State for the professional league, @PennState0408 said: "I appreciate what [he] did for the program but I'm not thrilled about the manner in which he left", noting that if the continuing support to get the crown back on King Paterno,
Wisconsin fan Jim Duggen (@eddie2003PRT) had another opinion. O'Brien was never going to be in State College for the long-term. He was there for recruiting purposes and a bit of stability. He said: "He was a stopgap coach during the sanctions....He recruited the blue chip quarterback [Hackenberg] for the next coach".
Of the Houston's, Brian Tarvin of Weigh In Sports said: "I think O'Brien is a great fit of this play-off ready team. Schaub needs a QB-friendly coach that can utilize his strengths and boost his confidence."
The local news media in Houston believe that Houston made the 'right choice' in appointing O'Brien. They are obviously desperate for someone who can help train a good quarterback. So who are they going to get? Teddy Bridgewater of Louisville? AJ McCarron of Alabama? Even Johnny Manziel (after his incredible bowl game performance, this is suddenly a possibility) of Texas A&M? This is going to be fun!