Florida State produced fairytale ending to be crowned College Football National Champions
College Football National Championship final went down to the wire, so let Alex Ferguson relive the drama...
Last Updated: 08/01/14 11:15am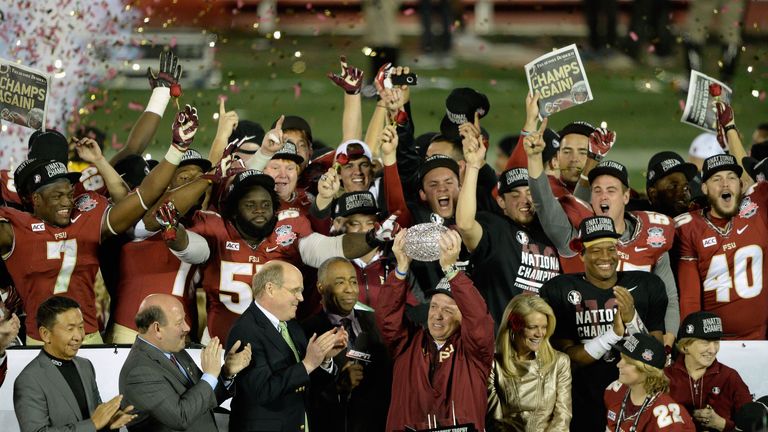 Now that's he's had a bit of sleep and has managed to get this thoughts together (just!), college football expert Alex Ferguson gives his reaction to the game - and the future of the contest, which will now be decided with a four-team play-off from now on...
The decision as to who to put into college football's National Championship Game is always controversial. One team generally feels aggrieved to not be playing for the Crystal Trophy... until now!
The selectors got it right this time when they put unbeaten Florida State and Auburn - the conqueror of National Championship-designate Alabama in the game. The place? One of the prettiest college football stadiums in the world - the Rose Bowl in Pasadena.
In front of a noisy pair of fan-bases, one clad in garnet and gold (Florida State) and one glad in lurid orange, mixed with a little black and blue (Auburn) we got a classic.
Florida State went up 3-0, and I think we all thought: "So there we go. Florida State's going to run away with this one." But FSU's Heisman Trophy-winning quarterback Jameis Winston was looking rushed, and the heavy favourites weren't exactly clicking.
Auburn replied, with a touchdown to take a shock 7-3 lead, with star running back Tre Mason taking home a 12-yard touchdown from Nick Marshall, who had been introduced via the TV by Auburn's own quarterbacking God, Cam Newton (the TV commentators felt it important to note that Marshall had been booted out of the University of Georgia for his alleged role in a burglary - ironically, Newton was kicked off Florida's team for stealing a computer and arrived at Auburn via junior college).
Oh, and then Florida State couldn't get it together. Auburn, spurred on by their tag of the 'Team of Destiny' tag that had seen them upset Alabama, Georgia and Texas A&M, put their foots on the Seminoles' throats on the second quarter, putting up two more touchdowns to take a 21-3 lead. We all held our breath. Especially those in Las Vegas, which was due to pay out a $50,000 bet to a very convinced fan if the Tigers kept their form up.
"It's over," I moaned on Twitter. One of my Twitter followers - burned by me saying the same words at half-time of Kansas City's game with Indianapolis (and look what happened there!), said: "Remember Chiefs-Colts". I didn't have a reply. Auburn couldn't screw this up, could they?
But in this game, Florida State replied with some eyebrow-raising magic, going for it on fourth down with a fake pun and making it. They added to it with a 21-yard rush by Winston, who took off like much-celebrated quarterback Johnny Manziel. Hard-running running back Devonta Freeman ran in a TD with 1:28 on the clock, and it was 21-10.
Remember the Chiefs
Florida State fans had found some hope again at half-time, although Geoff Bowles, a friend of Sky Sports and a rabid Florida State fans asked me at half-time: "Did the Seminoles spend their month of practice out in Pasadena drinking instead of practising?" He had FSU to run out 38-10 winners, because, you know, no-one could stop Jameis and the Florida State machine.
"Just wait. Florida State will get the ball to start the second half. This is going to be a game", warned Sean Fitz, a college football reporter and constant companion to me during this crazy season. Fitz had been more than a little busy with his own stuff in recent weeks, ranging from the decision of Penn State coach Bill O'Brien to go to the Houston Texans to speculation of a number of defections to the program to finding a new QB to arctic temperatures in the North. Anyway, Fitz was right.
Tomahawk comeback
Florida State didn't strike back immediately in the third quarter, going punt-for-punt with Auburn (and by the way, Auburn's punter, Steven Clark, put two punts inside the 1 - the kid will be earning a lot of money in the NFL in 2014), until FSU got it together and their own fine kicker, Roberto Aguayo - not to be confused with Sergio Aguero - booted his second field goal of the night to make it 21-13. The 'Noles were just eight points. Auburn fans were getting restless. Their screams to try and confuse Winston in the first half and drown the audibles at the line were becoming increasingly desperate.
Florida State had momentum, and despite the best efforts of their running back Tre Mason, who gashed their D all night (he put up 195 yards total) and their breathtakingly-quick offense, the Seminoles held firm.
Fourth quarter. Of course, it had to be in the fourth quarter, when yours truly could have been in bed because Auburn had taken such a giant lead that there was no way that the glass slipper was coming off Cinderella's shoes, the game exploded.
With 11 minutes left and after a horrible Marshall interception, Winston dispatched a pass to Chad Abram, who took it 11 yards to the house. Freeman turned around to say something to the Auburn bench - and the refs took the extra point back 15 yards. It was easy for 'Don't Call Me Aguero', who nailed the extra point. One-point game at 21-20. But we live in world of sporting fairytales (take a bow, Andy Murray!), and Jack wasn't going to give up in his axing of the Beanstalk, and Cody Parkey - who had missed a field goal at the start of the game - nailed a 22-yarder to take Auburn's lead to four points. 24-20.
But we weren't done yet.
Fairytale ending
The resultant kick-off ended up in the arms of Levonte Whitfield, who ran the ball back 100 yards to the house. Everything from [add expletives here] (Auburn fans) to "Touchdown!" (Florida State fans) to "Irony!" (Anyone who had seen the 'Kick Six' in this year's Iron Bowl, in which Auburn was the beneficiary of a dying-second special teams TD (if you haven't seen it, YouTube it!) tore up Twitter. I was too busy screaming: "Oh my God!" (probably a mixture of all of these). Florida State had not only come back from the dead, but they were up 27-24.
This game was over, right? Er, not exactly. Determined to get their Wizard Coach, Gus Malzahn, to the end of the Yellow Brick Road, Marshall hit Sammie Coates on 3rd-and-11, and with 2nd-and-15 on the Florida State, Mason got the ball and bullied his way - Bo Jackson-style - 37 yards to the house with 1.19 on the clock. 31-27 Auburn. 'Fameis' Jameis Winston couldn't do it after such an ordinary game, could he? Eight yards to FSU's 28. A 49-yard bomb to Rashad Greene to the Auburn 28. Florida State was in business.
America and the rest of the watching world was on its feet. They could not be. Six yards to Freeman to the 17.5 yards to Kenny Shaw to the 12. A shot to the end-zone... which fell to the earth... and Chris Davis - the hero of the Alabama kick-off return - was called for pass interference. Then the winning touchdown. Or the dagger. The bullet. Or whatever you want to call it. Anyway, the aired-out pass hit 6ft 6in wide receiver Kelvin Benjamin (who had had two appalling drops during the game, we might add), and he came down with it. With 13 seconds, Florida State was up 34-31. You could warchants from the Florida State faithful. As well as the wails of the heartbroken Auburn faithful.
One incompletion and a lateral pass later, and Florida State was a national Champion. The Giant had slain Jack, Dorothy had been stopped on the Yellow Brick Road despite oodles of brain, courage, heart, and the Ugly Sister had won and gone off with the glass slipper.
What a game!