Matthew Stafford talks about college football and lifts the lid on the Detroit Lions
From school days to NFL stardom... Detroit QB Matt Stafford is put under the spotlight by Alex Ferguson.
Last Updated: 04/02/14 12:10pm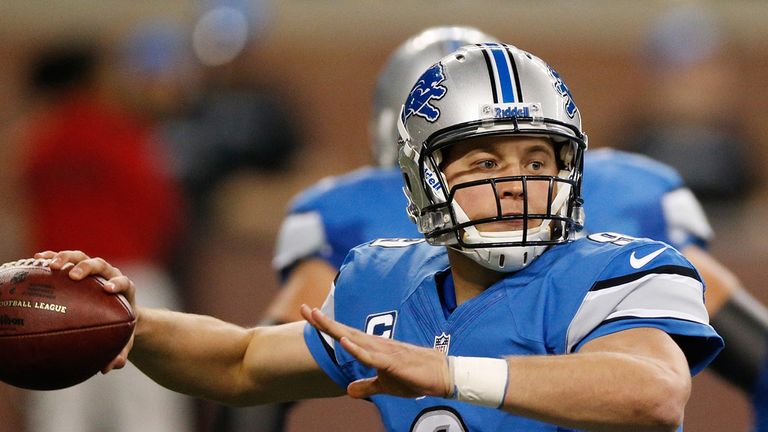 Pity him though, he spent six hours in Atlanta airport on Thursday while the city recuperated from the snowstorm that paralyzed the city and on Friday he was drowned in questions about everything!
Our US sports blogger Alex Ferguson fired him plenty of questions from his Texas High School Football (where he grew up), to his college days at Georgia, to the draft and of course, to the current situation with the Detroit Lions...
Stafford and his fellow Lions will start the 2014 NFL season with a new head coach in Jim Caldwell. Caldwell was most famous for being Peyton Manning's quarterbacks coach between 2002 and 2008...
Have you had the chance to speak to new coach Jim Caldwell?
I have. We spoke a bit during his interview process, and I've been up in Detroit a little bit to say hello.
How do you think the coaching change will affect you as a player?
He's a guy who has a history of working with some really good QBs in some really good offences, so I hope that will rub off onto our team and onto me as a player.
Do you think he'll work with the QBs as much, or do you think he'll stick to more 'big picture' things?
I think he'll work with the offense. He's smart enough to do both and interested enough to do both, in my opinion.
Have you asked him for more offensive linesmen?
[Laughs] We actually did a good job on the offence - especially protecting the quarterback this year - so I'm happy with that. But there are always areas in every team where you can improve.
What are you specifically working on this off-season?
Right now, I'm working on improving the way I feel. My body's still beat-up from the season, so at the moment I'm recouping physically and looking at specifics down the road.
How's Calvin Johnson after his finger and knee surgeries?
I think he's doing good. I haven't seen him after his surgeries, but I've texted him and I've talked to him. In my opinion, he'll be back and being the same old Megatron every year! He's a great player, and I'm lucky to call him a team-mate. He's a great guy.
And onto lighter things, including who has the biggest mouth in the NFL? A certain Seahawks player was high on the list...
You do some talking on the field. Who's the best trash-talker back to you? And who's the best trash talker in the Lions dressing room?
The guy in the news right now is a pretty good trash-talker - Richard Sherman. Whether people like it or not, that's his thing. Nate Burleson (WR) or Louis Delmas (S). They talk quite a bit... but in a good-hearted way. They are fun to be around.
Who's the funniest in the Lions locker room?
One of the two I mentioned - and maybe our center Dominic Raiola. And Reggie Bush is a pretty funny dude, too. And a heck of a player.
Who takes over DJ priorities in the dressing room?
That's our center, Dominic Raiola. In another life he's a house DJ. He has some fun with that. Me? I'll listen to anything. Doesn't matter to me.
What's it like playing in Detroit bearing in mind the city's current financial difficulties?
It's humbling. It's great to see the city's doing everything it can to fight back, but obviously it's going through some tough times economically. But the people there are still pleasant to be around and still trying to pull out of it.
Was there pressure on you bearing in mind the team's past as a losing franchise?
There's pressure to win on every NFL quarterback. There's no question that we've had the history of other NFL teams, but I'm not sure how history helps you or hurts you.
You signed another deal to stay in Detroit ($53m, three-year extension) in July), when you could probably have gone to other places. Why did you opt to stay?
I got drafted there when we went 0-16 and didn't win a game, and I want to see it through. Hopefully we'll be playing in the Super Bowl someday.
Before the crazy riches of the NFL was but a twinkle in the Stafford family's eye, Matt was playing quarterback for Highland Park High School in Texas. He still talks with a little bit of a charming Texan drawl, and his passion for the high school game - still reverberates...
What's crazier - Texas High School Football, Georgia Football, or Detroit Lions Football?
Considering who's playing in the games, it's probably Texas High School Football. That's because you've got a bunch of high school kids out there and you've got fans like it's a NFL game.
Is it the level of insanity of 'Friday Night Lights?'
For sure. My freshman year we played in front of 32,000 people. It's a big sport for sure.
So were you expected to go unbeaten in every season of your high school career?
Absolutely. Every year you've expected to win State and have a great year. And as I won state down there, I can always go back there. They'll like me!
Do you keep in touch with them?
Although I don't get to go back to see the State Championship Game, I keep track on it via the internet to make sure my guys are playing well. My school's always 'in it'. They didn't win State this year, but they got to the State semi-finals, so that's a pretty good year.
So when you go back to play in Dallas as a Detroit Lion, what's it like?
It's fun. I got to play there in 2011, and we won. It was a big comeback, and it was a lot of fun. I had to buy a lot of tickets to that game, that's for sure!
Before being taken as the No.1 pick in the NFL Draft in 2009, Stafford played for three years as the starting quarterback at the University of Georgia...
What pressure is there to win in Georgia?
There's big-time pressure. The SEC is the best conference in college football, and at Georgia you are expected to make it to the SEC Championship, if not the National Championship every year.
Describe playing in Sanford Stadium (Georgia's home field)...
It's a blast. 90-something thousand people. The fans show up early and stay late. Every week's a rivalry week in the SEC.
What was your favorite game for the Bulldogs?
Probably when we had the black-out game against Auburn in 2007, my sophomore year. I've never seen a stadium like that. It was a big game nationally, and we put it to 'em pretty good (45-20). Better than the black-out game the year after against Alabama for sure (where Georgia was torched 41-30).
What was the loudest stadium you played in?
The loudest and toughest stadium I've ever played in was Alabama in my first year in 2006. We played in a game that went into overtime, and it was close the whole game, which meant it was loud the whole game. That was crazy. The only reason why I wouldn't say LSU was the loudest because when we went up there in 2008, we beat 'em 52-38, and the first play they threw an interception to one of our defenders which went back for a touchdown and shut the crowd up early.
Do you and Calvin Johnson share jibes during the Georgia-Georgia Tech games Tech was where Johnson went to school)?
Absolutely. I went to Atlanta and stood on the sideline during the game with him, and we shared a friendly wager, and I'm glad that I was the one who came out on top....despite us giving them a 20-0 head start. It was a little scary at first!
Onto the present team, how good is Todd Gurley (Georgia's star running back)?
He's good. He's a big physical running back, and he's got another year in college, and the way he runs it, he's fun to watch. He'll be a first round pick. He and other running back Keith Marshall are both super-talented. One is a big, physical runner and one can make people miss. I'd be happy with either one.
After the Super Bowl, we're straight onto talking about the NFL Draft. Stafford talked about advice his draft experience, amongst other things...
What was the thing you wish you'd prepared for before going into the draft?
There's a lot of things. It's a tough process. There's a lot of stuff you can't prepare for. You just do it - like playing in the your first NFL game, where the speed of the game is so much faster than the pre-season. There's no way to prepare for that. The only way to prepare for that is to experience it.
Not necessarily Xs and Os, but what was the thing you wish you'd prepared for before you went into the league?
How quick the half-times are! I swear, you get to the locker room, you sit down, and I swear 30 second later you're getting back up and having to go at it. That was a DEFINITE surprise.
Everyone's talking up Johnny Manziel - even potentially as a No.1 pick. Would you take him that high?
I'm not a GM, so I'm glad I don't have to make that decision. He's a super-talented player. He took college football by storm and made a bunch of plays. He's gonna have to do it for a long time.
What advice have you give Georgia QB Aaron Murray about the draft?
He's a smart guy. He knows how to take care of himself. He's battling back from an injury - his biggest thing will be to prove to the scouts he can stay healthy... which he did for his entire college career until the very end. I don't know where Aaron would get drafted right now, but he had a great college career.
If you were a General Manager, would you take Murray or Zach Mettenberger (former Georgia QB who then went to play for LSU. Mettenberger has a lightning arm, and - before he got injured - was touted as a possible Top 5 pick)?
I don't know. They are both talented quarterbacks, but they are different. It depends on what system the GMs have.
Having taken the option to leave college after your junior year, would you advise players to stay for their senior year or leave early?
I think everyone's situation is different. I was ready to go. I knew I felt that way, my family was behind me with that decision, so I went. Other people feel they need to stay, and it works out for them too.
Recently there has been a furore about college players being paid to play in what has always been considered an amateur game. This surfaced this week with players at Northwestern University applied to be members of a union, where they requested four-year scholarships and injury coverage...
What are your thought of the situation?
In theory it's smart for them to do that. College football is such a lucrative business, but it's only lucrative for certain people, but the people who are really driving the sport aren't getting their due, in my opinion. I hope it doesn't get to the stage where college players are paid like 'minor-leaguers' to the NFL, because college football itself is such a great sport, and the amateurism is such a great thing. I just really hope there's a way to help those kids. Maybe they'd stay in school longer and there would be less juniors coming out if they knew that the struggles they had every day would go away.
And last but not least, Stafford's Super Bowl prediction
Denver. I just like Peyton. I think Peyton Manning's as good a quarterback as there's been in a long time - if ever.