NFL Combine 2014: Alex Ferguson looks at the winners and losers in Indy
Alex Ferguson runs the rule over the NFL wannabes who strutted their stuff at the Combine in Indianapolis.
By Alex Ferguson
Last Updated: 27/02/14 12:09pm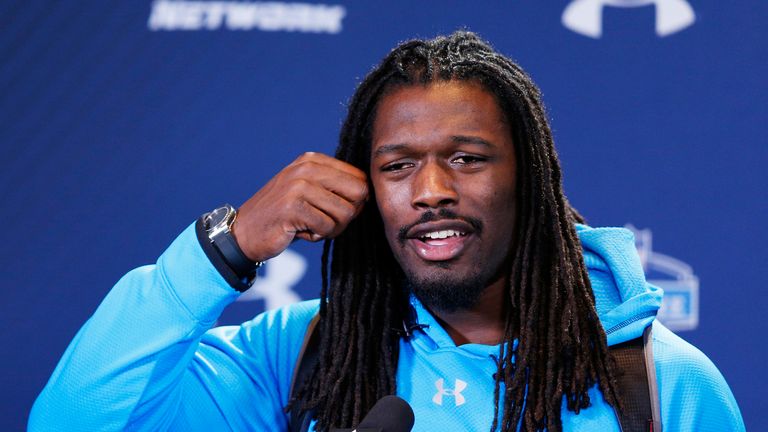 Well, a similar thing happens at the NFL Combine, where NFL Scouts get to put dozens of potential NFL players through drills to help work out their draft stock.
skysports.com's college football expert Alex Ferguson checks out some of the potential gladiators, and assesses who impressed and who didn't in Indianapolis last weekend....
Those who impressed
JADEVEON CLOWNEY (DE, SOUTH CAROLINA)
Frankly, we're quite surprised Clowney has drowned in the slobber of the press corps so glowing was the coverage after his efforts in Indianapolis. The now-consensus (maybe) No.1 pick, who weighs just 266lbs, ran an astonishing 40-yard dash in 4.47, and as our friends at Sporting News put it, didn't get an especially fast start. Although his 225lb bench press of 23 was - and this has been noted all over the media - two less than a punter from Miami, his SPEED is something that has everyone very, very excited. Oh, and those videos of him destroying offensive linemen, too.
JOHNNY MANZIEL (QB, TEXAS A&M)
Despite all the love for Clowney, Manziel killed it at the NFL Combine. His stats were pretty incredible. He finished second amongst wannabe NFL quarterbacks with a 4.56, 40-yard dash (well, we knew he was shifty). He was also fourth amongst QBs in the broad jump (113.0), and second quickest in the three-cone drill (a test for a player's agility), and beat all the other QBs into a cocked hat in the 20-yard shuttle (another agility test). He didn't throw (nor did Teddy Bridgewater, Manziel's No.1 'rival' in the battle to be the No.1 QB taken), but he'll have a lot of people watching him on March 27 at Texas A&M's Pro Day. Oh, and we'd like to note that people liked the fact that Manziel seemed to have 'grown up', too.
AARON DONALD (DT, PITTSBURGH)
Donald was pretty damned special in college. His 28.5 tackles for loss, 59 tackles (43 solo), and 11 sacks in 13 games was pretty special. He was already seen as being a big-time defensive tackle. So when he puts up a 4.68, 40-yard dash run (great for someone weighing 285lbs and measuring 6ft 1in), and came second in the 225lb weightlifting with 35. He's going to be an exciting defensive tackle prospect, folks!
SAMMY WATKINS (WR, CLEMSON)
Watkins is a fantastic talent (as we saw throughout his three years at Clemson), and he will be the nation's No.1 receiver. At a time when the top QBs coming out are definitely talented if not as polished as the Robert Griffin III, Andrew Luck, Matt Stafford type of talents, Watkins could be the saviour. His 4.43, 40-yard dash time was excellent, and so was his weightlifting (Top 10), 20-yard shuttle (Top 5) and broad jump (Top 5), even if his vertical jump wasn't great. The bottom line about Watkins? He's really good in games, too (101 recs, 1,464 yards, 12 TDs last year).
MIKE EVANS (WR, TEXAS A&M)
Evans' speed over 40 yards (4.53) was described by CBS Sports as being "blazing". Combine that with what we already know about his catching ability (frankly, if it wasn't for Evans, Manziel probably wouldn't have been the god he was at QB at A&M in 2012 and 2013), and Evans did nothing but excite people about his prospects in the 2014 Draft.
GREG ROBINSON (AUBURN, OT)
Robinson's impressive dash (4.92), plus his weightlifting skills (32 reps), and broad jump (113 inches seemed to get a lot of people's mouths moving. Of course, they were happy to forget about his 20-yard shuffle (he was down the bottom), because of his - to quote USA Today - "talent ceiling". Which is sad for Texas A&M's Jake Matthews, who's a fantastic offensive linesman in his own right (and Matthews performed pretty well, too).
JUSTIN GILBERT (CB, OKLAHOMA STATE)
A lot of people are talking about Michigan State's Darqueze Dennard, who won an award for college football's best defensive back last year, and the fact that he put in a not-too-shabby 40 time of 4.51, but Gilbert's 4.37 time showed he can fly. Oh, and Gilbert would be a double-edged sword for teams, too (he also plays as a kick returner, too). He also tied for third in the country in interceptions with seven in 2013.
ODELL BECKHAM (WR, LSU)
After seeing him fly through his 40-yard dash, and knowing what we do about his route-running and hands, Beckham could well be the next Percy Harvin.
Those who didn't impress
MICHAEL SAM (LB/DE, MISSOURI)
We all know the story of Sam (pictured above), and because of this, this middle-round pick player who doesn't know if he's a linebacker or a defensive end (he was a DE at Missouri, but is not considered big enough by the NFL) got a ton of hype going into the NFL Combine. And he failed to meet it. His 4.91 40-time was considered slow. The fact that he lifted 225lb 17 times was last in his group. His vertical jump of 25.5 inches was just 39th, and his broad jump of 114 inches was a little better with 14th. Even Sam said he was "overthinking" to the NFL Network. And although we'd like to note his impressive college football career including a fantastic 2013 season, we also like to tell Mr. Sam he should probably think less about politics and more about impressing the NFL staff at Missouri's NFL Pro Day on March 6. Maybe he shouldn't invite the press.
JARVIS LANDRY (WR, LSU)
After Landry's poor 4.77 40 time, there's worry that the LSU wide receiving star doesn't possess NFL speed. That's probably the reason why he didn't impress scouts. It left him pleading with the media: I'm (hard to bring down) across the middle... I'm going to block linebackers, safeties... (and do) just the little things that people forget." Because he's an incredible receiver with glue for hand, we think he's going to be a steal in the later rounds.
TAJH BOYD (QB, CLEMSON)
His 40-yard dash time of 4.84 didn't exactly set the world alight, and there wasn't a lot of love for his throwing accuracy, either. It's strange, because Boyd thinks he's the second coming of Joe Montana. He told the press (via Fox Sports): "Honestly, I don't feel like there's a quarterback here better than me, so that's what I want to come out here and do.'' Well, we admire his confidence if nothing else. One scout's even said (and this was in late January), that Boyd's 'undraftable', which is maybe a little harsh.
LOUCHEIZ PURIFOY (CB, FLORIDA)
Purifoy left the University of Florida one year early, and we thought he'd be a first round pick in 2014. He was one of the most exciting cornerbacks in the country. After a mediocre 2013 season that included a suspension, just 24 tackles, and some open field tackle misses that would have made Texas A&M University defenders proud (that's not a compliment, by the way), Purifoy needed some redemption. A poor 40-yard dash time of 4.61, plus an inability to weight the desired 225lb more than six times, didn't exactly endear him to scouts, either. Maybe he should have stayed a Gator.
WILL SUTTON (DT, ARIZONA STATE)
Considered by many to be overweight, Sutton's 5.36, 40-yard run, didn't do anything to reverse that feeling, especially after a weak Senior Bowl performance. Maybe he won't be drafted, get motivated, and become the next Vontaze Burflict, who took the NFL by storm in 2013 with the Cincinnati Bengals, becoming a Pro Bowler.
CYRUS KOUANDJIO (OT, ALABAMA)
Kouandjio struggled mightily against the pass rush as Alabama lost stunningly to Oklahoma in the Sugar Bowl, but it was his struggles in the Combine, where his markedly slow 40-yard dash (5.59 (dead last, by 0.08 seconds), his poor weightlifting and his poor vertical and broad jumps that raised some eyebrows as to whether he'd be a first-round pick at all. This Cyrus definitely seemed to have a virus: The NFL Combine.