NFL Draft: 'Jadeveon Clowney is first-class but attitude could derail him'
US sports expert Alex Ferguson profiles Jadeveon Clowney, the biggest defensive pick of the draft.
Last Updated: 08/05/14 7:49am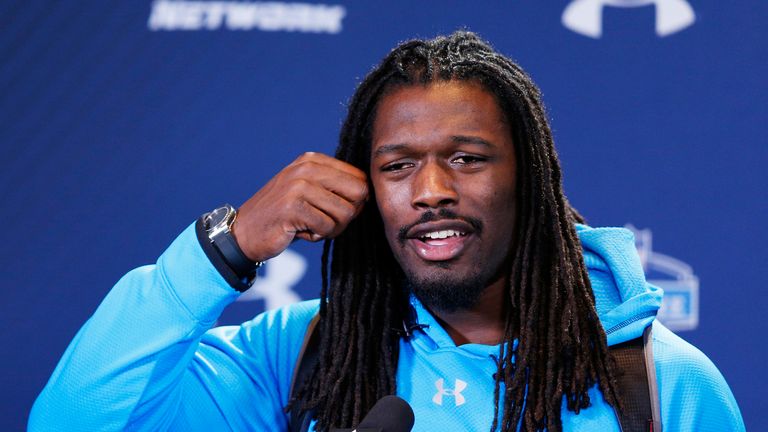 In my mind, the last defensive pick in the NFL Draft that was as drooled over as Jadeveon Clowney was Penn State linebacker Lavar Arrington. He went to the Washington Redskins in 2000, hasn't played a full season since 2003, and hasn't played a down since 2006.
Arrington had it all: Brights, power and exceptional athleticism. He had a Signature College Moment: The 'LaVar leap'. In that move, he leaped over his defensive line and tackled an Illinois running back in the backfield. The move was immortalized, and eventually made Arrington a lot of money.
Clowney, a defensive end from the University of South Carolina, is a mountain. He was a scourge of defensive co-ordinators in college. He's got the speed and power of a Japanese Bullet Train, and he's also had his signature moment.
Michigan running back Vincent Smith knows about it. He was hit so hard by the Bullet Train that his helmet came off. In other words, he has it all.
Talent
In high school Clowney was the No.1 player in South Carolina in all categories, and was pursued by every major college in the country.
After a three-way battle between South Carolina, Alabama and Clemson, he opted for South Carolina in 2011, where he immediately got the tongues wagging, recording 17 solo tackles in 13 games, 12 tackles for loss, eight sacks and five forced fumbles in a superb first season that showed the world: "This Clowney kid's pretty good". But thanks to all the defensive talent in the SEC at the time, he remained pretty under-the-radar.
Until 2012.
In 2012, Clowney became 'God'. It started with a phenomenal performance in his first game against Vanderbilt under the lights, and there didn't seem to be a week that he wasn't rampaging through a defensive line or causing problems.
It was like watching Goliath slaying a number of Davids, and there was not a stone or catapult that gave him a prayer. He had 13 sacks, 40 solo tackles, 23½ tackles for loss, three forced fumbles, two broken up passes, and a fumble return, as well as 'Hit Of The Century' against Michigan.
In that off-season, it was like there was no other player in college football than Jadeveon Clowney. Even the noise around Johnny Manziel was quiet by comparison.
Toe-to-toe
In 2013, defensive co-ordinators double-teamed the life out of Jadeveon Clowney. Clowney couldn't get off his blocks, and his numbers were right, right down. He had just three sacks, 11.5 tackles for loss, 28 solo tackles and just one forced fumble.
And if it wasn't bone spurs in his right foot or a knee inury against Florida or rib injuries that caused him to take himself out of the running for the Kentucky game, it was a seemingly constant toe-to-toe with his head coach, Steve Spurrier.
And when he was playing, he didn't seem to be playing at the same energy levels that we'd seen from The Destroyer in 2012. It was all rather disappointing.
And Spurrier's endorsement wasn't exactly ringing when asked about the player's work ethic, either, telling the NFL Network it was just "OK". But he added: "But when the ball's snapped, he's got an explosion like you've never seen before."
"He's what you dream of. He's freakish," drooled on NFL GM to Adam Schein of CBS Sports.com.
There's no question that Houston's going to get an athletically-brilliant player if they get Jadeveon Clowney. His instincts are first-class. His speed is likewise. He hits opposition players like a freight train.
But his attitude, may well be his undoing... especially when he finds that the talent level on the NFL offensive linesmen far outstrips what he faces in college.
And if the Houston Texans aren't successful.