Neil Reynolds and Alex Ferguson decide how the NFL Draft can help
Neil Reynolds and Alex Ferguson analyse how teams can solve their problems with the NFL Draft.
Last Updated: 08/05/14 7:48am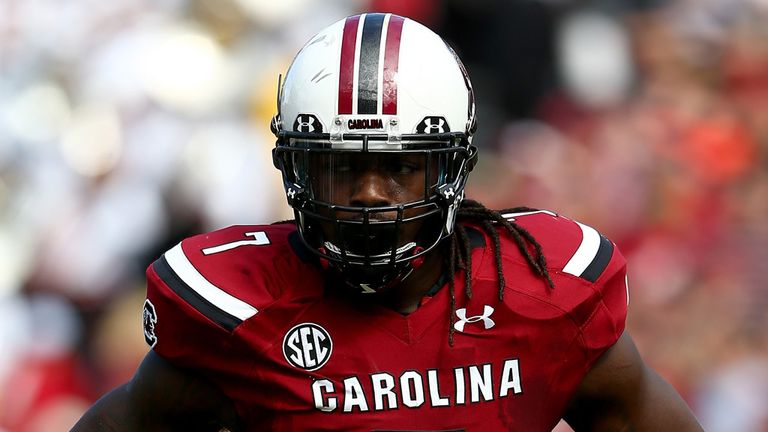 Houston Texans - quarterback
I actually don't think the Texans will pass on Jadeveon Clowney here but that was not my brief! So the priority need at this time is to find a franchise quarterback because the since-departed Matt Schaub and Case Keenum did not get the job done in 2013, and Ryan Fitzpatrick is a stop-gap and not the long-term answer. For the record, Houston's second most pressing need is to find more pass rush and I think they address this area with the first overall pick.
ALEX'S PICK: We agree with the Texans taking Jadeveon Clowney. He's ultra-talented, frightening coming off the line, and has a non-stop machine. He had niggling injuries during the 2013 year, although South Carolina head coach Steve Spurrier felt that his complaints were part of an 'OK' work ethic. Still, he won't be double-teamed in the NFL because offensive co-ordinators will also have to worry about JJ Watt.
St. Louis Rams - offensive tackle and wide receiver
The Rams pick second and 13th in round one thanks to their trade with Washington ahead of the 2012 Draft. That allows them to address two pressing needs. They badly need a quality offensive tackle to protect quarterback Sam Bradford and I think they are also crying out for a true number one wide receiver. They have parts of a receiver but no truly elite difference-maker. The Rams would also welcome the addition of a blue-chip safety.
ALEX'S PICK: If they go for an offensive tackle, Auburn's Greg Robinson was instrumental in his team's run to the National Championship in 2013. If they go for a wide receiver, Sammy Watkins from Clemson has all the speed and skill even though there were some questions over his commitment to the team in 2012.
Jacksonville Jaguars - quarterback
The Jags are making all the right noises about Chad Henne being a potential starter in 2014, but I feel the quickest way to accelerate the growth of this team is to find a franchise passer. The Jags also need some offensive line help but as Gus Bradley told me ahead of the Super Bowl in New York earlier this year, you can build a Super Bowl champion from scratch in five years - but you can do it a lot faster if you find a franchise quarterback.
ALEX'S PICK: I've been talking to a lot of people about Louisville's Teddy Bridgewater, and we agree that there isn't a better quarterback in the whole draft. The guy's a leader, he's mature, and he's less mistake-prone than other high-profile quarterbacks.
Cleveland Browns - quarterback
Like the Jaguars, the Cleveland Browns know the elephant in their offensive meeting room is the lack of a franchise quarterback. Brandon Weeden and Jason Campbell did not get the job done in 2013, and Brian Hoyer is a scrapper but not much more. With Pro Bowlers on the offensive line in Alex Mack and Joe Thomas, exciting aerial targets in Josh Gordon, Jordan Cameron and Nate Burleson, and a hungry running back in Ben Tate, the Browns now need the passer to bring that group together.
ALEX'S PICK: While Cleveland will probably take Texas A&M's Johnny Manziel, I would actually go with Blake Bortles from South Florida. He can cause trouble for teams through the air and on the ground, and has been compared to Andrew Luck.
Oakland Raiders - wide receiver
Oakland's needs are multiple so I expect Reggie McKenzie to definitely take a best-player-available approach. The Raiders are young at wide receiver and need more weapons for newly-acquired quarterback Matt Schaub. So if a quality wideout is still on the board, Oakland should move quickly to snap him up.
ALEX'S PICK: Mike Evans was one of the biggest reasons for Texas A&M's spectacular successes over the last two years in college football. Had nearly 2,500 yards receiving and 27 touchdowns in his career at A&M in two years.
Atlanta Falcons - offensive tackle or defensive end/outside linebacker
Atlanta's choice here totally depends on which athlete is available at the time they are picking in round one. While the Falcons beefed up both sides of the line through free agency, they still need an upgrade at offensive tackle to better protect Pro Bowl passer Matt Ryan, who was sacked 44 times in 2013. And their pass rush was one of the most impotent in the NFL a year ago, recording just 32 sacks.
ALEX'S PICK: Jake Matthews was a massive reason for Johnny Manziel's success at Texas A&M over the last two years and he's as solid as they come in the offensive line. Falcons fans should be extremely happy if they take him.
Tampa Bay Buccaneers - wide receiver
The Bucs did a good job in free agency in acquiring talent at quarterback, offensive tackle, defensive end and cornerback. But they finally ran out of patience with troubled wide receiver Mike Williams and there is now a significant drop-off at that position once you get past the still-productive Vincent Jackson. I suggest the Bucs find another weapon for quarterback Josh McCown.
ALEX'S PICK: Odell Beckham Jr (LSU) would give Tampa Bay two things: A wide receiver with great hands, deceptively good speed, and he's also a great punt returner/kick-off returner as he proved at LSU, where he had 1,000 yards and two touchdowns on special teams, and 2,382 yards and 12 touchdowns on special teams. And if people don't like his 12 touchdowns, let's be reminded that LSU is primarily a 'run first' team. And his quarterback had other targets, too!
Minnesota Vikings - quarterback
Time has run out for Christian Ponder, Matt Cassel appears to be little more than a veteran stop-gap and the disastrous signing of Josh Freeman has been consigned to the history books. Add that little lot together and these Vikings - who are not devoid of talent - are in the market for a franchise quarterback.
ALEX'S PICK: Johnny Manziel is one of the greatest talents college football saw in 2012 and 2013. He can single-handedly take over games with his arms and feet, and he's as elusive as they come. Our biggest problem? He's going to need to be a little mature when it comes to decision-making especially in the pocket where sometimes he struggled. But overall, he would light up a tired Minnesota franchise.
Buffalo Bills - tight end
The Bills could also use some more firepower on their offensive line and the jury is still out on E.J. Manuel, but I think they lack a true difference-maker who can attack the middle of the field. With tight end being such an important position in the modern-day NFL, the Bills have to find someone more athletic and frightening than Scott Chandler.
ALEX'S PICK: Eric Ebron (North Carolina) was fantastic for the Tar Heels, where he took over 110 catches for 1,800 yards and eight TDs. His 6ft 4in, 250lb-frame is going to cause defence players headaches all year long, and could help E.J. Manuel further his career in Buffalo.
Detroit Lions - safety
The Lions were burned time and again through the air in 2013, ranking 23rd in the NFL against the pass, and while cornerback is also a pressing need, they might get more value out of grabbing a safety here. Louis Delmas is gone and James Ihedigbo is not exactly a long-term answer at such an important position.
ALEX'S PICK: Calvin Pryor (Louisville). Although a lot of people talk up 'Ha Ha' Clinton-Dix of Alabama, we'd be more comfortable with Pryor. In his career he's had nine interceptions and seven forced fumbles as well as 218 tackles. He's been compared to Antrel Rolle of the Giants which isn't bad at all!
Tennessee Titans - cornerback
Pick your poison here - is it more important for your team to rush the passer or cover on the back end? Either way, the Titans need help in finding more pass rush and need a long-term replacement at corner for the departed Alterraun Verner. Only nine teams had fewer sacks than the Titans but given that they have Derrick Morgan and re-signed Kamerion Wimbley, I'm going to say the more pressing need is at corner.
ALEX'S PICK: Darqueze Dennard (Michigan State). He was your epitome of a shut-down corner at Michigan State and could well do the same in the NFL.
New York Giants - offensive tackle
Eli Manning had a stinker in 2013 but a lot of that was down the fact that his offensive line was so poor. I feel the Giants have a few needs including tight end, linebacker and cornerback but none will be as important as upgrading their unit assigned to protect the franchise passer.
ALEX'S PICK: Taylor Lewan (Michigan). It wasn't Lewan's fault that Michigan's offense was so offensive in 2013. He's got great feet and great natural ability. His only fault is the fact that he's not as experienced at the spot as some OTs since he was formerly on the defensive line.
St. Louis Rams - offensive tackle
The Rams will be back on the clock at pick 13 and their needs remain the same - offensive line, wide receiver and safety are the priority areas for this improving team.
ALEX'S PICK: Allen Robinson (Penn State). Fast, super-athletic, and has great hands. He had back-to-back 1,000 yard receiving seasons for the Nittany Lions - simply exceptional.
Chicago Bears - defensive tackle
The Bears made steps to fix their offensive line last year and then their defensive line went and collapsed on them. Now that unit has been upgraded through free agency with the additions of Lamarr Houston, Willie Young and Jared Allen. But a young defensive tackle that can make plays against the pass would be welcomed, especially after Henry Melton was allowed to leave town.
ALEX'S PICK: Aaron Donald (Pittsburgh). One of the most dominant defensive tackles in college football in 2013, racking up 28.5 tackles for loss last year and 11 sacks. He could be the Bears' next defensive God if he goes that far.
Pittsburgh Steelers - cornerback
The Steelers lost Emmanuel Sanders and Jerricho Cotchery at wide receiver in free agency but they do still have Antonio Brown and they are expecting big things of Markus Wheaton. So I would say the need at cornerback trumps the need at receiver. There are going to be lots of new faces in the Steelers' secondary this season so one of them might as well be a quality young corner.
ALEX'S PICK: Justin Gilbert (Oklahoma State). The Steelers' secondary desperately needs helping, and we love Gilbert. He had seven interceptions this year which went back for over 120 yards. He stood out on a not-great Oklahoma State defense.
Dallas Cowboys - defensive tackle
The Cowboys could use a top-notch safety and need to upgrade at defensive end and linebacker, but I think they are crying out for defensive tackle help. Sure, this unit did add Henry Melton in the off-season but there are injury and off-the-field worries there. A defensive tackle that can collapse the pocket and be disruptive in the backfield would be a welcome addition in Big D.
ALEX'S PICK: Timmy Jernigan (Florida State). He's 6ft 2in, around 300lbs, yet he's quick on his feet and can demolish offensive lines. He was one of the keys to Florida State's National Championship last year despite starting a fraction of the games. He had 46 tackles in those starts and has fantastic upside. Dallas fans may have to be patient, though.
Baltimore Ravens - offensive tackle
The Ravens were a nightmare up front for most of 2013 and that made $120 million quarterback Joe Flacco look a shadow of his former self. Eugene Monroe has been re-signed to play on the left side but a new face is required at right tackle to replace the departed Michael Oher. The Ravens also need linebacker and safety help but I feel the O-line is the priority.
ALEX'S PICK: Morgan Moses (Virginia). A 6ft 6in, 314lbs giant will help block up some of the gaps. He may not have played on a great team in college but he's still first-round talent!
New York Jets - wide receiver
The Jets added Eric Decker to their receiving corps this off-season and also added veteran offensive performers in running back Chris Johnson and quarterback Michael Vick. But they need way more at the receiver position and former second-round pick Stephen Hill has simply not panned out. Whether it is Vick or Geno Smith under centre, they need more receiving targets to work with in 2014.
ALEX'S PICK: Marqise Lee (USC). He's a threat both at catching and at punt returning. He could well have been the No.1 receiving pick in the 2013 Draft if he hadn't had a dodgy knee which hampered his progress in 2013. If he's healthy, he's going to frighten a lot of secondaries.
Miami Dolphins - offensive tackle
No quarterback was sacked more in 2013 than Miami's Ryan Tannehill and no passer in Dolphins history was dropped more times in a single season. Miami are in the process of rebuilding their offensive line and have Pro Bowler Branden Albert manning the left side. But they are most definitely in the market for a right tackle and a guard or two.
ALEX'S PICK: Ja'Wuan James (Tennessee). He's 6ft 6in, 324lbs, and exceptionally athletic. He's also durable, having started every game for the Volunteers in his three-year career. He was part of an excellent offensive line that would have been storied in most schools if Tennessee didn't have so many coaching problems.
Arizona Cardinals - outside linebacker
The Cardinals could also look at a safety here in round one or be tempted by a falling quarterback to give them long-term security at the position but I think they need to upgrade their pass rush on the edge. John Abraham gave them some nice production in 2013 but cannot go on forever and there are not enough bodies flying to the quarterback in the desert.
ALEX'S TIP: Khalil Mack (Buffalo). He only dropped as low as he did because of Neil's list of reasons - we think he could be a Top 5 pick if other teams feel the need to fill the hole! He's fast with great instincts. Had 194 tackles in two years for the team. He's a freak.
Green Bay Packers - safety
The Packers could go for a linebacker, receiver or tight end in round one, but they will snap up a quality safety if a player they like is still on the board at this spot. Free safety M.D. Jennings was a replacement-level player at best in 2013 and Morgan Burnett was among the worst strong safeties in the league after signing a big contract last summer.
ALEX'S TIP: 'Ha Ha' Clinton-Dix (Alabama). He's one of the best safeties in the league in an exceptionally talented Alabama team. If the Packers want, they could take Clinton-Dix's defensive cohort CJ Mosely at linebacker to plug that hole.
Philadelphia Eagles - safety
The Eagles cut DeSean Jackson and are suddenly a lot thinner at the receiver position, but they still have Riley Cooper and Jeremy Maclin coming back. I tend to think that safety remains a pressing need on a defense that ranked dead last against the pass in 2013, even with the addition of Malcolm Jenkins. I can understand a wide receiver selection here if the value is right, but I think defense is a real need for this team.
ALEX'S TIP: Lamarcus Joyner (Florida State). Versatile, hard-hitting, and a great tackler - another key to FSU's success in 2014. He will be great for an Eagles secondary that struggled last season.
Kansas City Chiefs - wide receiver
Offensive line will definitely be a consideration here given that the Chiefs lost Branden Albert, Jon Asamoah and Geoff Schwartz through free agency but I think with this being such a good draft for receivers, Kansas City need to find a quality player to go opposite Dwayne Bowe. Donnie Avery is too inconsistent, especially in terms of his hands. More quality is needed at the receiver position.
ALEX'S TIP: Jordan Matthews (Vanderbilt). People are going to ask us why on earth we haven't gone with Brandin Cooks, and we'll say this - in the college football's best conference Matthews stood out, with back-to-back 1,300+ receiving seasons. He's got great hands and a great heart. And having spent four years at college at a top school, he's got smarts, too.
Cincinnati Bengals - cornerback
The Bengals are a very talented team but it felt like their secondary was held together by sticky tape at times in 2013. Leon Hall has torn his Achilles twice in the past three seasons and former first round pick Dre Kirkpatrick has yet to win the Bengals' trust. Now is time to upgrade at the all-important cornerback position.
ALEX'S TIP: Kyle Fuller (Virginia Tech). He had a stand-out year with eight interceptions and a forced fumble at Tech, and can also come at quarterbacks from a corner blitz.
San Diego Chargers - cornerback
The Chargers did a lot of good things in 2013 but covering opposing wide receivers was not one of them. This is a genuine playoff contender but upgrades at cornerback are an absolute must.
ALEX'S TIP: Justin Verrett (TCU). Part of a solid TCU defense over the last few years, although there may be some worries about him being injury-prone - something that certainly worried him in 2013. He was tremendous at shutting down LSU's Odell Beckham Jr in the LSU vs TCU game on Opening Saturday 2013, and Beckham's a definite No.1 draft pick!
Cleveland Browns - wide receiver
If quarterback is Cleveland's top priority it should be noted that the receiver position is also important for this young team. Josh Gordon is a stud at receiver but more is needed in the aerial attack, even following the off-season additions of Nate Burleson and Andrew Hawkins, along with Pro Bowl tight end Jordan Cameron.
ALEX'S TIP: Brandin Cooks (Oregon State). He had a great year in 2013, totalling 1,700 yards and 16 touchdowns on an offense missing Marcus Wheaton (he left in 2013) that was exceptionally pass-happy. Despite worries about his height there should be no worries about his speed.
New Orleans Saints - cornerback
With Jabari Greer an off-season salary cap casualty, the Saints are thin at cornerback opposite Keenan Lewis. Corey White played much of 2013 with a bullseye on his shirt instead of a number and Champ Bailey is little more than a desperation stop-gap. The Saints need productive youth at the cornerback position.
ALEX'S TIP: Bradley Roby (Ohio State). One of the quickest corners out there and he can overcome some worries about his technique and timing. Rather like Saints' current safety Kenny Vaccaro, as it goes!
Carolina Panthers - wide receiver
There are some worries along the offensive line following the retirement of Jordan Gross, but I cannot see how Carolina can go into 2014 with Jerricho Cotchery, Jason Avant and Tiquan Underwood as their main receiving threats. The Panthers allowed Steve Smith, Brandon LaFell and Ted Ginn to walk in the off-season. Now they need to draft at least one quality replacement.
ALEX'S TIP: Donte Moncrief (Ole Miss). His 6ft, 200lbs frame belies the fact that he's fast, got great hands, and can torture defenses. Hence why he had 2,258 and 19 touchdowns in his college career despite mediocre quarterbacking and one of the toughest schedules in sports.
New England Patriots - defensive tackle
The Patriots might go tight end here but they will likely leave the secondary alone after a very decent off-season in that area. But defensive tackle could be a real need. Vince Wilfork finally ironed out his contract dispute with the Pats but he is in his thirties and coming off Achilles surgery. New England ranked 30th against the run in 2013 and need some young, defensive muscle.
ALEX'S TIP: Louis Nix (Notre Dame). 6ft 2in, 225lbs, yet very quick, he was key - with Manti Te'o - to Notre Dame's success in 2012. Although he didn't have an incredible 2013 by any stretch of the imagination, he's certainly wowed the scouts and the Pats will be overjoyed if they get him this low.
San Francisco 49ers - wide receiver
The Niners might look corner here but I just don't see enough weapons in the passing game for this team to advance to the very top of the NFL. I have no problem with Michael Crabtree, Anquan Boldin and Vernon Davis. In fact, I like all three players a great deal. But there is literally nothing after them and more passing game targets must be added.
ALEX'S TIP: Kelvin Benjamin (Florida State). How deep is this draft for wide receivers? Benjamin, a 6ft 5in, 240lbs wide receiver who can cause nightmare match-ups for any secondary, isn't that high on the list. He finished the 2013 season with 957 yards and 14 touchdowns and he can track down balls from seemingly impossible positions. With Vernon Davis also causing problems this would be a fantastic pick for the Niners.
Denver Broncos - cornerback
The Broncos could look for a linebacker or another defensive tackle here, but I think they need to add some cornerback depth, even though they have recently signed Aqib Talib. The Broncos could also go for the best available player route and I still have some concerns with Orlando Franklin at guard, but I think Denver fans will be happy if their team grab a corner.
ALEX'S TIP: Phillip Gaines (Rice). Had four interceptions and defended nine passes for Rice in 2013, which is good if you consider offensive co-ordinators didn't want to throw the ball anywhere near him. Why? He defended 18 passes in 2012. He raised eyebrows with a fast 40 time in the NFL Combine, too.
Seattle Seahawks - guard
The Seahawks need to add depth at wide receiver and could use more explosive plays from the tight end position, but there were too many times when Russell Wilson was running for his life in 2013. They may go tackle here but if a top quality guard is on offer, that's the direction the Super Bowl champions take in May.
ALEX'S TIP: Xavier Su'a-Filo (UCLA). An exceptional left guard in college, he's described as the most 'pro-ready' of the UCLA offensive line that protected quarterback Todd Hundley really well in 2013. Good at dealing with pass-rushes, too. A talent he'll need when facing teams like the 49ers!