NFL Draft: Alex Ferguson ponders what lies in store for the finest rookies
Will Clowney be No 1? Who's getting Watkins? Alex Ferguson looks at the key Draft questions...
Last Updated: 08/05/14 2:25pm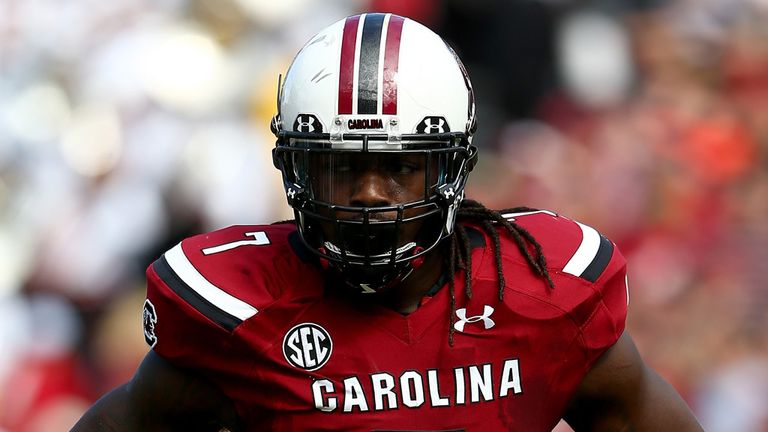 Our resident US college football expert Alex Ferguson gives you the Top 10 things to watch out for on Draft night...
1. Will Houston go for Clowney?
Jadeveon Clowney was a machine in college. The South Carolina defensive end destroyed offensive lines in the best conference in college football in 2012. He would have done the same in 2013, but he was double-teamed pretty much throughout the season, meaning his stats were down. He became (rightly) dissatisfied. There are also some rumours about his lack of effort in practice, but there's no argument about his athletic ability. Some people think Bill O'Brien's going to go for a quarterback (although it's thought O'Brien may wait until Round 3). But imagine Clowney and JJ Watt together....
2. Who will be the first quarterback taken?
A lot of noise has been made about the biggest star in college football, Johnny Manziel, and where he might end up. But a lot of NFL teams need a (good) quarterback after years of bad picks (we see you, Minnesota and Christian Ponder!) and bad trades, and we would look at Louisville's Teddy Bridgewater as the potential No.1 in that group. He's a true leader. He's accurate on throwing it deep. He threw for 9,800 yards and 72 TDs in college (and only 24 INTs). And he's the size. But as for other quarterbacks, keep your eye on LSU's Zach Mettenberger, who has a terrific arm and South Florida's Blake Bortles, who's got the size and nous to keep plays alive out of the pocket, although needs work on his throws. Our under-the-radar pick at QB would be Georgia's Aaron Murray, who reminds us a lot of Drew Brees, having watched him a lot with the Bulldogs, or Alabama QB AJ McCarron, who did nothing except win at Alabama.
3. What's going to happen to Slammin' Sammy?
One of the biggest noises in NFL Draft circles has been about Clemson WR Sammy Watkins. There is no argument that Watkins is super-speedy. He killed secondaries all over college football in his first and third year in college football (he was injured at the end of the '12 season ankle injury), putting up 1,200 yards in 2012, and 1,464 in 2013, and pulling in a grand total of 24 TDs. He was also frightening kick and punt returner for Clemson before his injury, and he can rush a bit, too. The guy can do everything. If you google "Sammy Watkins", most writers seem to think that THEIR TEAM SHOULD GET SAMMY WATKINS. We don't know where he's going to go, because it seems that a lot of teams would do anything to get him. We think he could go to Cleveland. They are high enough on the board. But he could go as high as No.2. We will say this: This
4. Who will trade up?
Draft week is always great for rumours. One going around at the moment that Detroit might be trading up for get Clemson wide receiver Sammy Watkins (they love his speed, which will nicely compliment Megatron on their roster and give Matt Stafford another pair of hands)... Philadelphia is also said to be trading up to get Watkins as well...Tampa Bay is thought to be negotiating with St Louis for Johnny Manziel (above)... And Atlanta's apparently happy to trade, even with its No.6 pick. It's got strong history doing this.
5. What's going to happen to Johnny Manziel?
College Football's biggest star over the last two years has been Johnny Manziel. There is no denying it. Johnny Football was a scourge in opposition defensive co-ordinators sides, ripping them apart with his legs and arms. The biggest evidence was what he did to Alabama in 2012 and 2013, where he gave coach Nick Saban non-stop headaches with his jinking runs, making defenders whiff like a minor league baseball player facing a big-league pitcher. Now the rumour mill has it that he definitely won't go to Houston, but Tampa Bay is big on him. Cleveland and Oakland apparently aren't, either. The most under-the-radar pick could be the Dallas Cowboys, who are said to be looking to trade down to get Manziel at 16. He's a Texas boy, and he'll make millions in revenue for Cowboys owner Jerry Jones. He might even start in mid-season if Tony Romo is awful.
6. Aaron Donald: The man no-one's talking about
There is one player that no-one seems to be talking about but we would plead you to be extremely happy if your team gets him: Aaron Donald, defensive tackle (above). He was probably the best defensive player in college football (him or Khalil Mack), putting up prodigious numbers with the minimum of fuss (something we all appreciated). He's very quick, he's tough, and he's short enough to cause a headache for offensive linesmen. Some people are going to moan about his size, but I would take him in a heartbeat.
7. Khalil Mack: Potential No.1 pick?
Khalil Mack made hay in his game against Ohio State, where he had 9 tackles, 2 ½ sacks, and an interception that went back for a TD. The linebacker from Buffalo finished the season with 100 tackles (56 solo), and FIVE forced fumbles (an NCAA record). He's incredible disruptive, is fast and got high energy. Some deriders say that his performances were against weaker opposition, but his performance against Ohio State indicates to us that he COULD do it at a higher level.
8. Are there more wide receivers than just Watkins?
My God yes. This draft is so deep at receiver that you could get a good one in the second round. Mike Evans (Texas A&M), Odell Beckham (LSU), Marqise Lee (Southern Cal.), and Kelvin Benjamin (Florida State) all top the scouts' lists in a packed class, but Brandin Cooks (Oregon State) has got some speed. We also LOVE Allen Robinson (Penn State) for his playmaking ability, Jarvis Landry (LSU) for his great hands (if not his speed), and Jordan Matthews (Vanderbilt) for the production that will make him a great No.2 receiver.
9. Will a running back get drafted in the first round?
Probably not. Every running back in the draft seems to have too many question marks. Carlos Hyde, the former RB for Ohio State is powerful, but he's not particularly elusive. Perhaps that's why he didn't get the press this season that Tre Mason did at Auburn, who not only made people miss, but he's lightning quick. However, people don't like the fact that he doesn't bulrush defensive lines enough and the fact he can be fumble-prone. Washington's Bishop Sankey (above) has got speed, but can he shine against better defences? Arizona's Ka-Deem Carey has got first round qualities - including acceleration - but lets himself down off-the-field.
10. What else is there to note?
There are a lot of things that we love about Draft Day. The New York Jets fans who pack Radio City Music Hall and boo if their team doesn't pick a player that's right; the laughter when a team picks a 'head-scratcher' pick; the tears; the big hugs given out to NFL Commissioner Roger Goodell by first round picks; the running commentary from the 'Draft Insiders and people talking about the 'Biggest Steals' with no great evidence. Oh, and this year a lot of guys are going to be on McCarron, the quarterback from Alabama who's wedding to stunning Sports Illustrated Swimsuit Model (she wasn't before she met him) Katherine Webb will be televised on July 11th (We think he'll go second round). And expect people will mention (once or twice) that Tre Mason (RB, Auburn) is the son of Vincent Mason, one third of De La Soul, ad nauseam.
Watch the 2014 NFL Draft, from midnight on Thursday (Friday morning) on Sky Sports 1.