NFL Draft: Alex Ferguson looks at the AFC sides' eye-catching moves
Alex Ferguson looks at the AFC sides' Draft moves - and bigs up new Pats recruit Jeremy Gallon.
Last Updated: 14/05/14 10:51am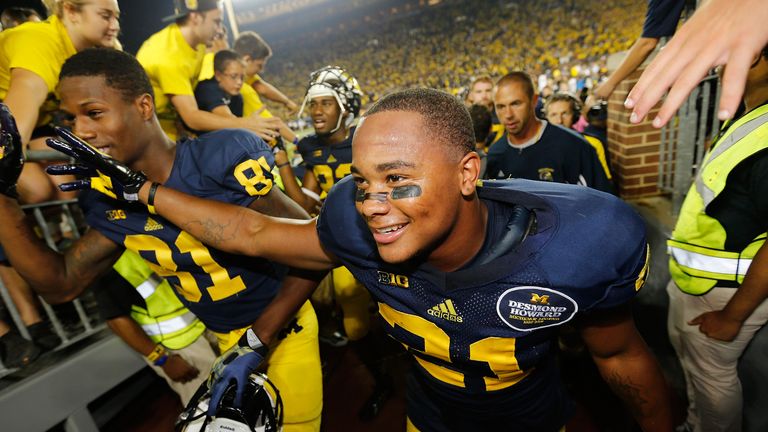 Johnny Manziel went in the first round, but he took his time, and Teddy Bridgewater went from "Potential Great" to "Just OK", as he was taken almost last on the list by Minnesota.
Oh, and some guy called Jadeveon went No.1. As everyone predicted he would. Well, at least we got that one right, eh?
Anyway, skysports.com's college football expert Alex Ferguson ranks the AFC's draft picks, including undrafted free agent signings. Enjoy!
AFC EAST
BUFFALO BILLS: A -
The Bills had a great draft. Why? Fifth-round offensive guard Cyril Richardson, if he can lose a couple of pounds, will be one of the top rookies at his position (as he was in 2012), and second-rounder Cyrus Kouandijo of Alabama proved to be solid almost all of his Alabama career. Seventh-round pick Seantrel Henderson could well to prove to be a beast, if they can keep him mean and clean. That will help QB EJ Manuel - as will first round WR Sammy Watkins, who should perform quite the receiving double act with Robert Woods next year.
NEW YORK JETS: B
Strangely, we didn't have a lot to abuse the New York Jets about. Taking tight end Jace Amaro and wide receivers Jalen Saunders, Shaq Evans and Quincy Enunwa gives Geno Smith some much-needed targets to go with newly-signed Eric Decker, while free safety Calvin Pryor (their No.1 pick) will bolster their secondary. We also REALLY like the fact that they got former QB Tajh Boyd late. He had a great season with Clemson last year, and will prove to be strong cover/competition for Geno Smith.
MIAMI DOLPHINS: B -
The Dolphins needed a running back in this draft... and didn't find one. However, getting sure-handed WR and TE combo Jarvis Landry and Arthur Lynch will provide targets for Ryan Tannehill, and they added two offensive linesmen in two of their first three round picks (Ja'Wuan James (1st) and Billy Turner (3rd), which will hopefully stop Tannehill getting killed (he's already been sacked NINETY-THREE TIMES in TWO years). Undrafted free agent Rantavious Wooten was good at Georgia, and should provide another target, too (if he makes the cut).
NEW ENGLAND PATRIOTS: C+
We could have thought of better quarterbacks for the Patriots to take than Jimmy Garropollo, but with New England's competency of drafting in the past, who are we to argue? The Pats got a gifted DT in Dominique Easley... they'll just be hoping he stays fit. Fourth-round pick James White will prove a perfect foil in the backfield, and we really like the late pick of Jeremy Gallon. He was the bright spark (90 receptions and nearly 1,400 yards receiving) on a sultry Michigan offense last year. Kid's going to be good.
AFC NORTH
CLEVELAND BROWNS: A
While time will tell if the Johnny Manziel experiment goes well, the selection of CB Justin Gilbert should be an immediate compliment to Joe Haden in the backfield. Joel Bitonio on the offensive line is also a really solid pick. Round 3 pick Terrance Pick has been praised for having 'quick feet'. So we'll go with that. The undrafted free agent signings of WRs Kenny Shaw and Chandler Jones will provide [Add QB here] with two targets who had around 1,000 yards receiving last year. Each. And if he keeps his nose clean, Isaiah Crowell's got great talent to make the squad.
BALTIMORE RAVENS: A-
The rich got richer in Baltimore as the Ravens stockpiled their D with one of the best linebackers in college football in C.J. Mosley and nasty nose tackle Timmy Jernigan (above). And Jernigan's teammate Terrance Brooks helps to make Matt Elam's secondary even more solid. We like. Not a whole lot on the offensive side, though.
CINCINNATI BENGALS: B+
Great pick by the Bengals to shore up their secondary with Michigan State corner Darqueze Dennard, who we thought might go earlier than No.24. We also loved the No.2 pick of Jeremy Hill, RB from LSU. You know, if they can keep him straight. Oh, and AJ McCarron, who quarterbacked Alabama to two National Championships, is a great system quarterback, and in a season or so is going to provide Andy Dalton with a serious amount of competition. He has plenty of incentive, only being a fifth-round pick. UFA RB James Wilder Jr is great pick-up, too.
PITTSBURGH STEELERS: B-
The Steelers didn't exactly set the world alight with their draft, but Steelers should be happy getting a very competent linebacker in Ryan Shazier, a defensive end that was good enough to go in the first round in Stephon Tuitt, a fast RB in Dri Archer, and a WR who came off a spectacular 2013 season in Martavis Bryant. Going deep in the seventh and getting DT Daniel McCullers should provide good cover, too.
AFC WEST
OAKLAND RAIDERS: A
Usually, we're rude about Oakland. But we'll say this once: THEY HAD A GOOD DRAFT. Linebacker Khalil Mack (above) is an excellent pick-up at No.5 - some people were tipping him to go in the Top 2 or 3. Fourth round DT Justin Ellis is no slouch, either. And getting a good passer in the second round in Derek Carr may be one of the picks of the Draft.
SAN DIEGO CHARGERS: B +
The Chargers solidified their D with corner Jason Verrett and linebacker Jeremiah Attaochu. We also really like the addition of RB Marion Grice, a solid enough receiver but also a good returner. UFA safety Chris Davis could also give the Chargers a little more on the returning game, too.
DENVER BRONCOS: B-
Denver's pick of CB Bradley Roby wasn't something that screamed "Shutdown Corner!" to us, but the fifth-round addition of LB Lamin Barrow will be great...in time. He was only a two-year starter at LSU. Another weapon was gotten for Peyton Manning is Cody Latimer in Round 2. He had over 72 catches, 1,000 yards and 9 TDs last year. Pretty useful for a player on an un-great Indiana team. Picking up Auburn punter Steven Clark from free agency may be a masterstroke of Elway & Co - all the guy did was pin the opposition in the 10 yard line!
KANSAS CITY CHIEFS: C
Kansas City's draft says one word for us: 'Developmental'. First round DE pick Dee Ford is not going to start first year, and nor is Aaron Murray, the former Georgia QB (who had 13,000 yards in his four years as a Georgia starter, where he was exceptional) they picked in the fifth. He did nothing wrong in college, really. Fourth rounder D'Anthony Thomas intrigues us. He's the second coming of Dexter McCluster. The Chiefs will hope he doesn't get hurt.
AFC SOUTH
TENNESSEE TITANS: A
Look out, Jake Locker. Zach Mettenberger's coming for you. The sixth-round pick has the best arm of all the 2014 Draft picks, and if he can make the throws, we think he'll be the first rookie to start of this year's class. Yep, he's got that much potential. Offensive linesman Taylor Lewan is going to have an immediate impact, and RB Bishop Sankey (2nd) will nicely partner Chris Johnson and immediately improve the Titans' backfield. And the defense was improved with Penn State DT DaQuan Jones... if he stays consistent.
JACKSONVILLE JAGUARS: A -
Jacksonville stunned the world when they picked up Blake Bortles with the No.3 pick in the Draft, but it can't be argued that he has the talent to make it as a starting QB. WRs Marqise Lee and Allen Robinson were two excellent second-round picks. Lee's got the speed, and Robinson's the best pass catcher in the draft. Late on they also picked Bortles' running back in college, Storm Johnson (above), a power back who was brutal on defenses. UFA safety Craig Loston of LSU had three INTs, 3 passes defended and 57 tackles last year. He'll certainly help add depth to the secondary.
HOUSTON TEXANS: B
Jadeveon Clowney was the No.1 player in the draft, and there were no surprises that Houston would get the most talented defensive player college football has seen for a while. Offensive linesman Xavier Su'a-Filo (No.2) should help the offensive line immediately, but our big question is is: When were the Texans going to get a quarterback? They ended up with Tom Savage in Round 4. And the kid's got a cannon.
INDIANAPOLIS COLTS: B-
The Colts didn't have a whole lot in this draft, but Andrew Luck will like the fact that they went and got him another weapon in the speedy, sure-handed WR that is Ole Miss' Donte Moncrief, and helped his O-Line with Jack Mewhort. They did well in the undrafted free agency by getting Florida CB Loucheiz Purifoy. He's got a ton of athletic ability, and if he can stay on the right track, the Colts might have gotten one of the steals of the draft.