College Football: Alex Ferguson picks out the top 10 who the NFL will have their eye on
Alex Ferguson picks out 10 to look out for this season...
By Alex Ferguson
Last Updated: 21/08/14 12:54pm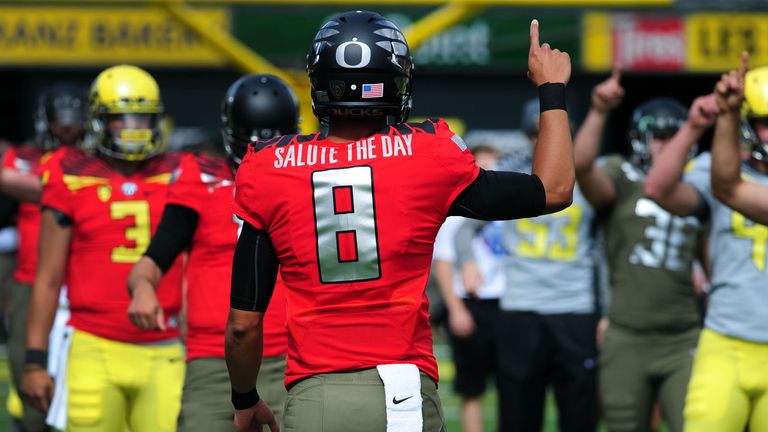 The school holidays might have just started here in the UK, but across the pond, the college football season starts in two weeks time (August 28).
That means at least 1,500 things we're looking forward to, but future NFL scouts, fanboys, or fantasy players should also be keeping an eye on the game's future talent.
So here's college football enthusiast - to say the least - Alex Ferguson with 10 players that you should watch out for in 2014, because you will see them in 2015's NFL draft… unless they really decide to stay in school (which is unlikely!).
1. Marcus Mariota (QB, Oregon)
Mariota's played for two years at the University of Oregon. He's already thrown for 6,400 yards, 63 TDs and 10 INTs. He's also rushed for 1,400 yards and 15 TDs in that time, too. He's one of the most exciting prospects amongst QBs in the NFL and he's 6ft 4 and 212 lbs, which is great size in the NFL. What do I also like about Mariota? He's a leader, too.
2. Todd Gurley (RB, Georgia)
We've seen Gurley live, and we want to tell you this: He's one of the most exciting running backs in all of college football. He doesn't run AT defenders, he runs over them. He did that for nearly 3,000 yards in his two years at Georgia and has scored 33 TDs. He's also deceptively elusive despite his 6 ft 218lb frame. One problem? Slight worries about whether he might be injury-prone. If he can stay fit, then God be with the SEC.
3. Jameis Winston (QB, Florida State)
Led Florida State to a National Championship in the 2013-4 season, which included a Heisman Trophy for the best player in all of college football. Numbers-wise he threw for just 4,000 yards and 40 TDs! He's tall, pretty elusive and great fun to watch. He's also got the leadership potential to take the team all the way. Having said that we're also intrigued by whether NFL scouts like the 'other' side of Winston.
4. Vic Beasley (LB, Clemson)
The Clemson line-backer is a vicious-hitting, hard-tackling player who has scouts' mouths open-wide with his skills. Finished 2013 with 13 sacks and 23 tackles for loss, which were impressive numbers. A further year of maturity (he decided to come back for his senior year), means that he's an exciting prospect, too.
5. Bryce Petty (QB, Baylor)
Quarterback for one of the most explosive offenses known to man down in Texas, Petty put up some disgustingly high numbers - 4,200 yards, and 32 TDs - as well as 209 yards rushing and 12 TDs. Baylor's a Southern Baptist school and if gets the Heisman Trophy this year, they may well make him a Saint.
6. Nick O'Leary (TE, Florida State)
You might think us crazy to put a tight end on the "Players To Watch For in 2014" but he was an incredibly dependable TE for Florida State in the 2013-4 National Championship-winning season, and he can dominate defenses, and using his 6-3, 244lb frame, he can also block. Had 557 yards receiving and 7 TDs, so Jameis Winston agrees, too.
7. Melvin Gordon (RB, Wisconsin)
A bully of a running back, Gordon had another incredible year at Camp Randall last year, running for 1,609 and 12 TDs for a team that prided itself on driving other schools into the ground with its run game. I love Gordon, and so will NFL scouts, too.
8. Antwan Goodley (WR, Baylor)
Again, a player from Baylor with staggering numbers! Had 1,339 yards receiving last year with 13 TDs, averaging at a Superman-like 18.9 yards per reception. He's going to blow secondaries' doors off this year - and could be one of the highest WRs taken in the draft. NFL quarterbacks can't wait (unless you're Matt Stafford).
9. Leonard Williams (DT, Southern California)
Defensive tackles aren't particularly exciting, yet a lot of people have got Williams as the top overall choice for 2015. Why? At 6-4, 290lb, he's certainly got the shape (ie large) and he had 73 tackles last year despite being double-teamed a lot by offensive lines. There is a belief running around these parts that he's a work-in-progress, which means that Trojan football should be really interesting this year - if not to see if the star lives up to the hype or not!
10. Ramik Wilson (LB, Georgia)
Georgia's most destructive defensive player since Jarvis Jones, Wilson has been sensational throughout his career down in Athens. Had 133 tackles - 76 total - and 3 INTs for the 'Dawgs last year, and looks one of the more underrated NFL prospects in the draft.