Peyton Manning produced a quarterback masterclass, says Neil Reynolds
Neil Reynolds looks at the quarterbacks who impressed and those who didn't after Week 5.
By Neil Reynolds
Last Updated: 14/10/13 2:09pm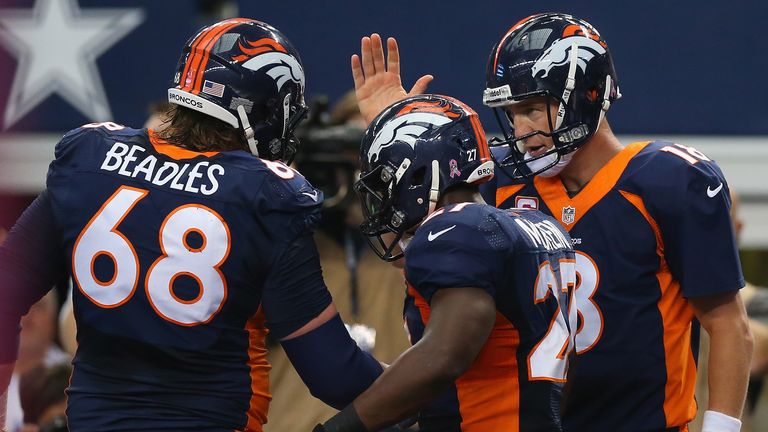 Quarterbacks Peyton Manning, of the Broncos, and Dallas' Tony Romo put on an absolute clinic in how to throw the football as they marched their teams up and down the field the entire evening.
Denver eventually emerged as 51-48 winners in a wild shoot-out. It was certainly the headline game of the day and one of the very best I have ever seen. Including that memorable contest in Dallas, here is what caught my eye in NFL Week 5 - and, as you will discover, it's all about the quarterbacks this week.
Romo feels the pain
Any critics who slam Tony Romo too much today may be a tad on the harsh side considering he threw for 506 yards and five touchdowns in a losing effort on Sunday. But, over the years, Romo has unfortunately built himself a reputation as a player who melts down when the pressure is on and questions about his temperament will be raised again this morning.
With the game tied at 48-48 inside the dying moments of the game, Romo was pressured up the middle by Broncos defensive lineman Derek Wolfe, yet he still chose to fire a pass towards tight end Gavin Escobar, who was surrounded by three Denver defenders.
The result was an interception for linebacker Danny Trevathan and the Broncos ran down the clock before kicking the game-winning field goal. Romo should have taken the sack and never thrown the football in that situation, but you also have to ask where the Cowboys would have been without their quarterback's aggressive approach in that game?
Romo was largely excellent and he was the reason Dallas were even in that game to begin with. Now, that's no excuse for him to go and throw it all away at the end, but he deserves credit for the 58 minutes he played before making that critical mistake.
Peyton's Place
They often call the Dallas Cowboys' stadium 'The House that Jerry Built' following significant investment from team owner Jerry Jones. After Sunday night they may just have to consider re-naming it 'Peyton's Place.'
Is there nothing this guy can do? Manning may have thrown his first interception of this 2013 season in Dallas on Sunday, but he was still in sublimely ridiculous form and remains the clear front-runner for this year's NFL Most Valuable Player award.
Manning went 33 of 42 for 414 yards and four touchdowns, moving into second place on the NFL's all-time passing yardage list. He even ran for his first touchdown in five years.
How Manning must frustrate defenders. Time and again the ball was out of his hands within two seconds and he stood comfortably watching his receivers race downfield. Teams know Peyton is not going to pepper them with long passes all afternoon, yet they cannot stop the alternative. But I guess that's why they call Manning a coach on the field - he rarely puts his receivers in a bad spot and he and the Broncos look formidable about now, at least on offense!
Schaub continues meltdown
When people spoke to me about the Houston Texans in the preseason and raised the possibility of Gary Kubiak's men being possible Super Bowl contenders in the AFC, I was having none of it. I have just never truly believed in the ability of quarterback Matt Schaub.
I am probably not alone in that thought now.
Schaub threw three interceptions in Houston's 34-3 thrashing at the hands of the San Francisco 49ers on Sunday night. And each pick was crucial. The first was returned for a 49ers touchdown by Tramaine Brock. The second interception from Brock set up an Anthony Dixon touchdown for San Francisco and the third error halted Houston's best-looking drive of the evening.
This was no aberration from Schaub. He has now thrown an interception that was returned for a touchdown by the opposition in four straight games. That's extreme generosity and could yet land Schaub on the bench. He was rightly replaced by T.J. Yates in the fourth quarter and while I don't think Yates is good enough to lead Houston to the playoffs, he cannot be any worse than Schaub at the moment.
Luck on their side
The Indianapolis Colts are going to make everyone sit up and take notice of them if they keep playing like they did on Sunday night. Indy improved to 4-1 with a tough, gutsy and hugely impressive 34-28 home win over the previously undefeated Seattle Seahawks in Week 5.
Although he is only in his second season, I have come to expect the picture-perfect touchdown passes from Colts quarterback Andrew Luck and he fired a couple of beauties to T.Y. Hilton covering 73 and 29 yards.
But what impresses me the most about these Colts is that they are now able to stare down physical, bullying teams like the Seahawks and come away with a win. In the past three weeks, the Colts have taken on and defeated arguably the toughest two teams in the NFL in Seattle and San Francisco.
That tells me this Colts team is improving and heading in the right direction because when I think back to their playoff appearance last season, they couldn't match the physicality of the Baltimore Ravens and crashed out. They appear better equipped for the post-season this time around.
Brady comes up empty
I think the job that Tom Brady did in the opening four weeks of the season - breaking in a new set of young receivers while leading the New England Patriots to a 4-0 start - was one of the most commendable achievements of the opening month.
But Brady and the Patriots ran into a tiger-clad wall on Sunday night as they fell to a 13-6 defeat at the hands of the Cincinnati Bengals. Brady is such a fierce competitor that any loss really strikes him at the very core, but this one would have really irked him.
Brady saw his streak of consecutive games with at least one touchdown pass come to an end at 52. The current record is 54 held by Drew Brees, of the New Orleans Saints. Had Brady thrown a TD strike last night, he could have tied the mark against Brees and the Saints next weekend.
Instead, the Patriots are left grudgingly admiring a Bengals front seven that is among the best in the game and one which finally played to its full potential on Sunday.
Ponder on the hot seat
Those wondering if Minnesota Vikings quarterback Christian Ponder enjoyed his bye week after travelling back from London, I can tell you that the answer would be an unequivocal "no."
First, Ponder is dealing with the pain of broken ribs near his heart. Second, he knows that Matt Cassel played really well at Wembley Stadium and avoided the kind of mistakes that plagued Ponder's game in the opening month of the new campaign.
And now, he sees that the Vikings have signed former Tampa Bay Buccaneers starter Josh Freeman to a one-year deal. Freeman had the chance to join one of several teams around the NFL. He had reportedly been promised the starting gig in Oakland and Buffalo (albeit in the short term) so you have to think he is in the mix to start in Minneapolis.
The Vikings claim publicly that they trust Ponder and he is their guy. This move screams out that this is not the case. No team is running away with the NFC North and the Vikings are only two games out of first place. They certainly feel their season can be salvaged - they just don't appear to think that Ponder, or Matt Cassel for that matter, is the player to help them do it.