Delay in reopening Olympic Stadium slammed by UK Athletic chief Ed Warner
The delay in re-opening the Olympic Stadium in London has been called "ludicrous" by UK Athletics chief Ed Warner
Last Updated: 14/11/12 5:42pm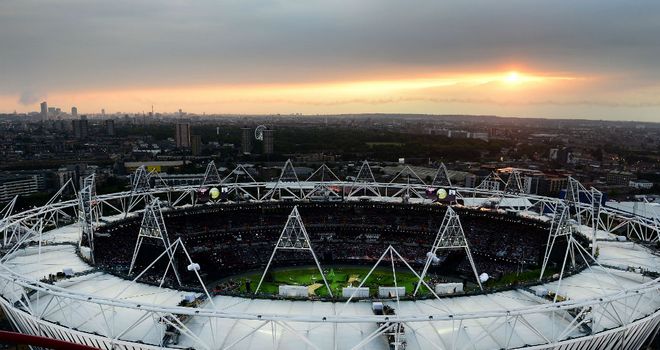 Last week the London Legacy Development Corporation confirmed the arena would be shut until at least 2015 and possibly the summer of 2016 - two years later than expected.
With a decision on the new residents expected by 5 December, West Ham's bid remains favourite, but negotiations seem to have stalled with the Premier League club unwilling to pay for retractable seating - neccessary for athletics.
With UK Athletics planning events such as Diamond League meetings, trials and school competitions from 2014, Warner said: "All of the legacy use was scheduled to start in two years.
"Now it might be four years' time which strikes me as ludicrous and to be a paralysis of decision-making which I hope London Mayor Boris Johnson will cut through.
"I wouldn't say this is a Whitehall farce but this is fast becoming a Stratford farce. We want to lock into the legacy of the Games while people still remember the Mobot, Greg Rutherford, Jonnie Peacock and David Weir.
"Let's have a bit of imagination here and let's have a decision - we want one, West Ham want one and we all want it open as soon as possible."
Johnson insisted the legacy of the London stadium went beyond the hosting of one individual sport.
"It's a great shame there are those who appear to have little or no interest in a multi-use solution to the stadium incorporating football and a range of other sports," the London Mayor said.
"This isn't and can't solely be about athletics. The legacy of 2012 isn't just about tomorrow, it's about jobs, growth and regeneration across east London and beyond, for generations to come.
"That means delivering a stadium that preferably is multi-purpose, at the heart of the community, and able to host concerts and big set piece events alongside world-class sport.
"That's a vision for all not for the few, and it's a vision I'm determined to deliver."
The UCFB College of Football Business and Leyton Orient Football Club have also submitted bid applications for the stadium, as well as Intelligent Transport Services, who are keen to host a F1 grand prix circuit.