Move crucial for Hammers
Karren Brady claims moving to the Olympic Stadium is the only way West Ham will be able to improve as a club.
Last Updated: 04/04/12 8:45am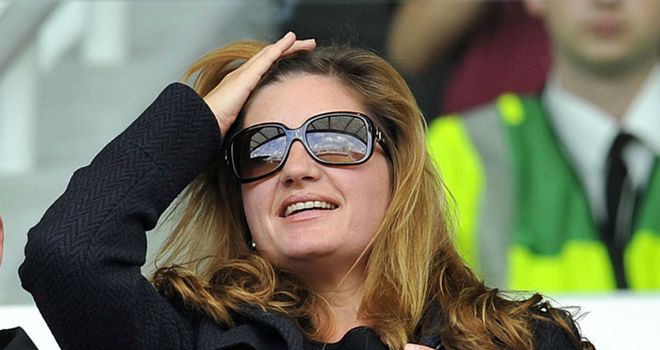 Karren Brady has claimed that moving to the Olympic Stadium is the only way West Ham will be able to develop into a bigger, more successful club.
Two weeks ago West Ham, who were relegated to the npower Championship last season, declared that they had renewed their application to move to the Olympic Stadium after their original bid collapsed in the wake of complaints from Tottenham and Leyton Orient.
The Hammers have now had to apply for a 99-year lease of the London 2012 showpiece in Stratford, which will be converted into a 60,000-seater stadium following the Games, after the London Legacy Development Corporation (LLDC - formerly known as the Olympic Park Development Company) reopened the bidding process.
Some fans are against the move, mainly because the LLDC insist the running track must remain as it was part of organisers' commitment to provide the capital with a post-Games athletics legacy.
Co-owners David Sullivan and David Gold, having inherited a club saddled with £100million of debt, are keen to bring in more money to the club and vice-chairman Brady insists moving to Stratford is crucial to the east London outfit's development.
History
She said: "There is a chance to grow revenue and increase financial stability and is the only way for us to move to the next level.
"It's a piece of history. It's the only Olympic stadium in the UK and it will attract crowds."
Many fans had felt aggrieved at moving from Upton Park, their home of 108 years, but Brady revealed the West Ham board have consulted with supporters to allay their fears and claims they have been very impressed with the club's plans.
"All of them have agreed with what I have presented, there hasn't been a single dissenting voice," she added.
"Everybody who has seen our vision has voted in favour, even those who write for fanzines and have been very negative. Who else can use it or would want to use it?"
Candidates
West Ham are one of four parties who have applied to become tenants of the stadium, with a moving-in date pencilled in for the summer of the 2014.
Essex County Cricket Club and the University of East London have also tabled a joint bid. The two other candidates are unknown.
The Hammers, who currently sit third in the Championship, won the original contest to move to the stadium permanently mainly because of their commitment to keep the running track.
Brady said following that victory that they would consider introducing retractable seating so fans were not far away from the pitch, but has made no further comment on whether that remains their stance for their tenancy application due to confidentiality rules.
With Tottenham now out of the race, West Ham are arguably in a stronger position than they were in the original contest and have told the LLDC that they will only move to Stratford if it can be converted in to a "world-class" football arena.
However, Brady insisted that does not mean they will go to the government with a list of unreasonable demands when they start deciding how the stadium will look post-Games.
She added: "You cannot bully the government. They are not going to be strong-armed into decisions under the threat of judicial review.
"The most important thing for them is usage, community, jobs and revenue and we tick all boxes."