British duo reach final
Lisa Dobriskey and Laura Weightman reached the Olympic final of the 1500m but Hannah England missed out.
Last Updated: 08/08/12 11:01pm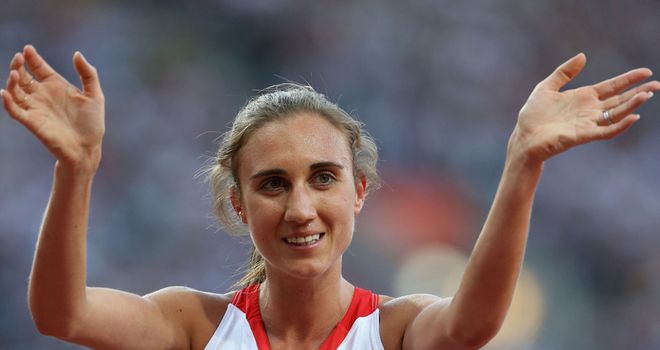 Great Britain's Lisa Dobriskey and Laura Weightman have both reached the Olympic final of the 1500 metres but world silver medallist Hannah England missed out.
Dobriskey, who has made a remarkable return to fitness after being diagnosed with potentially fatal blood clots on her lungs earlier this year, was fourth in the first semi-final to qualify automatically.
But Weightman endured an agonising wait as officials examined a photo finish in the second semi before going through as one of the two fastest losers in a new personal best of 4:02.99.
Weightman edged out Slovakia's Lucia Klocova on the line, with both athletes given the same time.
England, who spent five days in hospital earlier this year after being spiked in her Achilles tendon during a race, was ninth in the first semi in 4:06.35.
Dobriskey said: "I've been stressed all day, I just wanted to make an Olympic final again. Last year was horrendous so I really sympathise with how Hannah's feeling at the moment because I know how it feels to be right at the bottom. I feel really sad for her."
A delighted Weightman added on BBC1: "I dipped on the line, I knew it was close. With 100m to go I saw the girl ahead of me and thought, 'I've got to catch you'.
"It's unbelievable (to be in the final). It's a dream to be at the Olympics. PB, Olympic final. What more can I say?"
Injury
England admitted the Achilles injury had cost her dearly, adding: "I didn't go on the track for five weeks, that's pretty hard to come back from and that showed today.
"It was just a gap too big in the whole of the season. I'd hoped I could make the final anyway and maybe I could have if I had run slightly better. It (the Achilles) is still sore, it's been sore every day since it happened, for the last 10 weeks.
"In the space of a minute it went from 'can I get a medal?' to 'can I even get here?'. It is great to be here, but I'm still gutted. I think I just lacked a bit of race experience and race fitness on the last lap.
"I felt better than I finished, I felt really good with a lap to go and felt I could still overtake a lot of them."
Disappointing
In the women's long jump final, Britain's Shara Proctor could only finish ninth, missing out on the extra three attempts afforded to the top eight, after a best of 6.55m in the first round.
The event was won by USA's Brittney Reese with a jump of 7.12m while Russia's Elena Sokolova took second with American Janay DeLoach third.
Proctor, who set a national record of 6.95m at the Olympic trials, said: "I tried my best. It just didn't go as planned. It is not my best, I am not satisfied. It could have been better but I can't do anything about it right now.
"I wasn't comfortable on the runway as I was yesterday. Today just wasn't a good day for me. Of course this is a missed opportunity. I had a chance, I was ready for this but it just didn't go as planned."
Javelin
In the men's javelin, Britain's Mervyn Luckwell finished 35th in qualifying with a best of 74.09m and went for treatment on a shoulder injury after leaving the track.
"It was great to get out in the stadium, the crowds were bonkers," Luckwell said. "Unfortunately I didn't perform as well as I was hoping to. I've had a rough couple of years with injuries, but I'll take the experience away from this and hopefully move on to an injury-free year next year for the World Champs.
"I was near enough 100% certain that I was going to qualify for the final tonight, just one or two little things tightened up on my body and it just wouldn't let me throw as well as what I could."