Bolt and Blake progress
Usain Bolt and Yohan Blake both cruised into the Olympic 200 metres final with contemptuous ease.
Last Updated: 08/08/12 11:06pm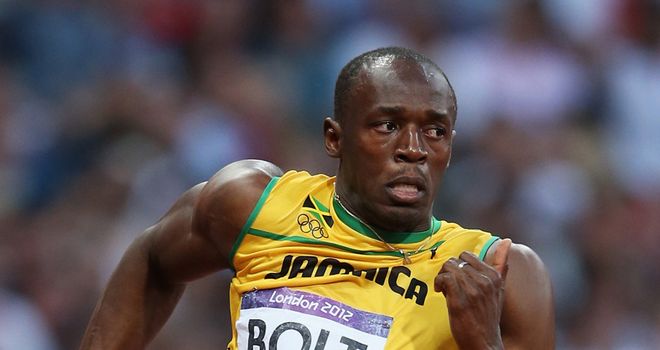 Usain Bolt cruised into the Olympic 200 metres final while his rival and training partner Yohan Blake also progressed with contemptuous ease.
While many already consider the Jamaican superstar a legend for winning triple gold in Beijing and defending his 100m title here on Sunday, Bolt himself insists he also has to retain his 200m title in order to earn that status.
And the 25-year-old looks an increasingly certain bet to do just that, effectively winning his semi-final before halfway and almost jogging down the home straight to win in 20.18 seconds.
Blake was the fastest qualifier after also slowing down markedly in winning the opening semi-final in 20.01secs, but Bolt has no doubts he will put his training partner in his place once again on Thursday.
No doubts
"No doubt whatsoever," Bolt said. "I'm ready, this is my favourite event, so I'm looking forward to it. I really pushed myself in the first 70 metres and then I tried to take it as easy as possible. I ran harder round the corner than I have in a long while. The execution was probably 90%."
Asked about breaking his record of 19.19s - set when winning the world title in Berlin in 2009 - Bolt added: "It is a possibility, definitely.
"The track is fast and there are a lot of great competitors. I am looking forward to it. If I put it on my mind you never know if it is going to happen."
Blake, who won the 100m world title after Bolt was disqualified for a false start in Daegu last year and had to settle for silver here, said: "I found myself out in front and I cruised from there. I do a lot of work on the corner to get out in front. Anything is possible in the final tomorrow. It's going to be a good race."
Time up?
Britain's Christian Malcolm missed out on the final after finishing third in his race in 20.51s and the 33-year-old Welshman admits he's now considering retirement.
"I don't want to, my body's healthy, but I don't see myself as a semi-finalist, I see myself as being in the final," Malcolm said. "I would like to say I think I'm good enough to be in the finals and not making finals on the major stage two years in a row now is disappointing.
"The Commonwealth Games in 2014 is very appealing, being in Glasgow, I know the Welsh team want me to stay on and compete for that. If it was next year I would say definitely yeah, but having another year of possibly going through the world championships and being disappointed again would be hard."