A new chapter
Liam Tancock speaks exclusively to Sky Sports on his search for a new coach, life beyond swimming and the ongoing impact of 2012
By Peter Fraser - Follow me on Twitter @SkySportsPeteF
Last Updated: 26/09/12 4:09pm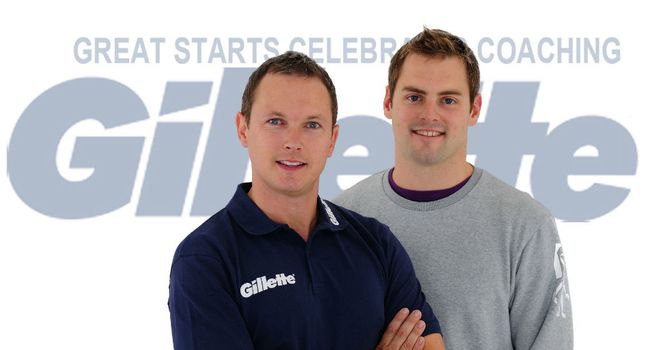 When Liam Tancock emerged from the final of the 100 metres backstroke at the 2012 Olympics after finishing fifth, his first words in a television interview were to look towards Rio de Janeiro in four years' time. But it is not quite that simple.
The 50m double World champion and record holder, who was also a member of the fourth-placed 4x100m medley relay team in London, was just one of the close but not close enough stories from Great Britain's swimmers at the Aquatics Centre this summer.
Debriefs are ongoing into why Team GB only won three medals, none of which were gold, having been set a target of between five and seven. It is widely expected there will be cuts to the £25million British Swimming was allocated in the last funding cycle, despite an all-time high number of finalists at the Olympics.
But having finished 0.38 seconds off a medal in his individual race - Tancock, the 100m and 50m Commonwealth champion, whose dominance at the latter could not be transferred at the Olympics, because it is not an event - is not one to dwell on the past.
If only it was that straightforward. For a combination of career and family factors, Tancock's coach of nine years at Loughborough, the decorated Ben Titley, has accepted the job of head coach for the National Swim Centre in Ontario, Canada and he will start his new role in October.
Combined with the loss of British Swimming head coach Dennis Pursley, who has returned to the USA with Alabama University, Titley's departure is a latest blow for Team GB's future prospects. The likes of Fran Halsall and Lizzie Simmonds were also coached by Titley at Loughborough.
It is therefore a period of change for British Swimming as well as Tancock. The 27-year-old is currently on a two-week holiday in Mauritius but when he returns he has some major decisions to make. He has to find a new coach as he enters what will be his final four years in the pool.
Exciting
"Ben has taught me so much," Tancock told Sky Sports. "I have been coached by him for nine years and he has taken me to every major competition. He has helped me excel and help me become the person I am today as well as the swimmer. I have got to thank Ben for everything he has taught me and all those countless hours he has spent with me on poolside, making me swim fast.
"It is a new chapter in the journey. To be honest, in terms of where I will be, coaching or things like that, it is something I need to sort out. I am going to have a couple of weeks on holiday, refocus, recharge and have a think about different programmes.
"I will sit down with British Swimming and decide what will be the best for me and the whole team. It is an exciting time in my swimming career and I am excited to find out what will happen, because, genuinely, I do not know at the moment. I am just looking forward and hopefully making me swim even faster. That is the main target."
Tancock was speaking at an event to celebrate the successful applicants of the 2012 Gillette 'Great Starts'. "It has been great to meet all the people who got the awards. All the coaches are very keen and have been bouncing ideas off one another," he explained. The campaign recognises community coaches and inspires the next generation by providing them with grants to fund their next level qualifications.
So does the Devonian himself ever think about a great start to what will be the next stage of his life after swimming? He has already done his coaching badges and he is interested in the media. But he is not looking too far ahead.
Refocus
"I am one of those people who are so engrossed in what they are doing," said Tancock. "I am always going to the next target. After London, the next target is obviously Rio. I am so focused on what I am doing now.
"People say to me, 'you must be so proud of what you have achieved in your sport'. I am the sort of person who does not really think about that. I might look back when I am 50 at my World Championship medals, look in the Guinness World Records and show the grandkids. But that is the only time I will focus on what I have achieved.
"I am engrossed in swimming, enjoying the experience and loving the excitement the Olympics and Paralympics has brought out. I am proud to be a part of history. This year, 2012, is going to go down as the year Britain had its sporting triumphs, whether it is the Olympics, the Paralympics, Bradley Wiggins winning the Tour De France or Andy Murray winning a first major for Britain in almost 100 years."
There are of course the World Championships in 2013 in Barcelona and the Commonwealth Games in 2014 in Glasgow before Rio arrives. But there is no escaping the fact Tancock's main thoughts are about a 2016 trip to Brazil.
"There are just over 1,400 days to Rio, not that I'm counting or anything," joked Tancock. "As soon as I touched the wall at the Olympics, I was already focusing on Rio. I am very aware I need to have a break and chill out, not just rest my body and my muscles but also my mind. When I get back from holiday, I will refocus and have that drive and that thing that is going to take me on for the next four years."
In the meantime, Tancock is happy to reflect on the impact of the London Olympics.
In May, research by the Amateur Swimming Association found one third of children cannot swim when they leave Primary School. That is just one of the many statistics the 'Inspire A Generation' motto of the 2012 Games aims to address and Tancock thinks the changes are already taking place.
"One person came up to me and told me their son could not swim without armbands," he remembered. "But he watched me and said, 'Mum, I want to swim like Liam Tancock'. He took his armbands off and swam a width. For me, that is amazing."
The 2012 Gillette 'Great Starts' campaign celebrates community coaches and inspires the next generation of coaches by providing them with grants to fund their next level qualifications. The campaign concluded at an event attended by ambassadors Sir Chris Hoy and Liam Tancock who celebrated with the successful recipients of this year's grants.