GB lived the dream
Chris Hammer looks back at the Olympics and believes Britain can build a lasting sporting legacy.
By Chris Hammer
Last Updated: 13/08/12 11:30am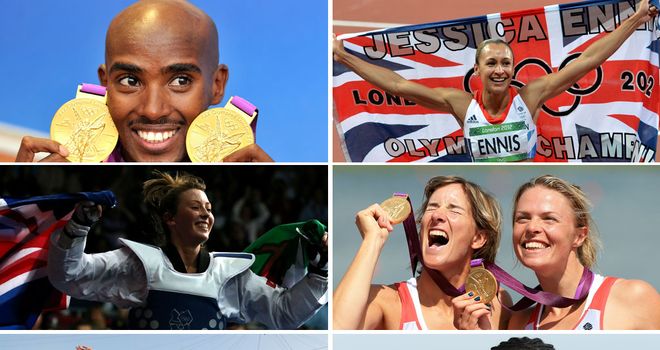 When the Queen played the role of a Bond girl during the opening ceremony, we all knew we were in for something special.
Then London 2012 chairman Sebastian Coe promised: "This is our time. And one day we will tell our children and our grandchildren that when our time came, we did it right."
But we didn't just do it 'right'.
Because 16 days later, Great Britain - and indeed the entire world - had been treated to the most spectacular and unforgettable Olympics anyone could have dreamed of.
These Games delivered emphatically on their promise to inspire a generation and bring the nation closer together than ever before in recent times.
So, rather than be down and depressed that the Games have inevitably come to an end, we should continue to feel proud and joyful that the past two weeks happened as they did.
Like each and every athlete who put their absolute all - whether it ended in ecstasy or bitter disappointment - into trying to fulfil their Olympic aspirations the people of Great Britain certainly made the most of it while it lasted and will treasure the memories for years to come. There can be no regrets.
Legacy
Sadly we can't bottle up the nationwide feeling of euphoria and make it last forever, as the mundane rigours of normal life imminently return but we must capitalise on this unique platform to ensure a sporting legacy for all.
And there's no reason why we cannot do that.
Hosting the Olympics in this country captured the imagination and attention of the nation and the increase in the pressure on the government and sporting organisations to up their game in regards to facilities, funding, school sport provision and pathways to involvement at club level will be immense.
Nobody will want to go backwards from this because there will never be an opportunity like this again.
Prime Minister David Cameron has already announced UK Sport will receive £125 million annually for the next four years to maintain funding for Olympic sports at the same level as during the run-up to London, while he's also promised that competitive team sports will be made compulsory for all primary age children in a new national curriculum. But that should be the bare minimum.
In the years leading up to London 2012, sporting participation in Great Britain has been on the decline and there were fears the legacy pledge would fail miserably.
We have become a lazy nation obsessed by television, the cult of celebrity and social networking in the internet age but paradoxically it has been the popularity of Twitter and other similar services which has enabled the world's population to share these Olympics and follow the competing athletes more closely and enthusiastically than in any previous Games.
The coverage on television has been nothing short of sensational in terms of giving every viewer the chance to watch every single second while the country's new heroes will now be transcending pop culture to unprecedented levels, putting sport further in the spotlight.
Opportunity
Taken together, all this has woken the nation up to a wide range of new activities and the passion will undoubtedly be boosted by the feel-good factor attached to our athletes doing so remarkably well.
Even though Team GB didn't mount a medal challenge in events such as volleyball, handball, water polo and basketball, the venues were all sold out and the crowds were captivated by the non-stop action.
Without a strong history in these events, our British athletes weren't in it to win it but they've fulfilled the primary objective of making the country's youngsters realise there are more team sports out there to enjoy than our traditional favourites.
There is a sport for everyone and hopefully schools will be able offer a lot more than just football, rugby, cricket and muddy cross country in the cold.
Eyes have also been opened to hundreds of new role models who have worked unbelievably hard and made difficult personal sacrifices to achieve their goals without the financial gains enjoyed by our footballing 'idols'.
Of course many will soon flock back to the latter when the new season gets up and running but hopefully they won't forget the connection they felt with the Olympians during this incredible fortnight and will continue to follow their progress with more than just passing interest.
Girl power
Women's sport has also been a massive winner of London 2012 and the impact of female British success cannot be overstated.
After a Games where every nation has fielded representatives of both sexes, youngsters in this country now have more female sporting role models across a plethora of events to look to than ever before.
Team GB's women won 10 golds as well as contributing to the victorious mixed dressage team, while they also picked up six silvers (plus the mixed tennis doubles and equestrian eventing team) and six bronzes.
Not only did the much hyped stars such as Jessica Ennis and Victoria Pendleton seize their golden moments but new stars emerged into the public consciousness such as cycling duo Laura Trott and Lizzie Armitstead, judo player Gemma Gibbons, boxing sensation Nicola Adams and taekwondo champion Jade Jones to name just five.
Veteran rower Katherine Grainger proved nobody should ever give up on their dreams as she won her first Olympic gold alongside Anna Watkins, having managed silvers in her previous three Games, while weightlifter Zoe Smith won a lot of hearts despite going home without a medal.
Atmosphere
As any British athlete will tell you, the electrifying roars of the rapturous home crowds turned out to be more uplifting and motivating than anyone envisaged.
Those lucky enough to experience an Olympic event firsthand will never forget the spine tingling aura which filled each venue as well as the exciting vibe present throughout the streets of London and other participating locations.
From the Olympic Stadium to the Aquatics Centre and the Velodrome to Eton Dorney, the fans upped the decibels to unprecedented levels and were rewarded with the most British medallists since 1908.
Even the football stadiums across the country felt the same Olympic spirit without any of the hostility, anger and animosity which usually frequents such venues.
The atmosphere for the final four or five laps of Mo Farah's 10,000m triumph - preceded by amazing golds from Ennis and Greg Rutherford in a the greatest hour of British athletics ever - was like a sustained last-minute goal celebration in football that just got louder and louder and louder until its climax of unparalleled jubilation.
And almost identical scenes occurred a week later when our long distance hero repeated the feat in the 5000m to complete an incredible double and cement his place in Olympic folklore.
After every session of athletics, the sell-out crowds left the Olympic Stadium filled with inspiration, elation and smiles on their faces. There were never any losers.
Including the millions glued to their TV sets at home, unable to get a ticket, our nation has felt a shared sense of pride and positivity during this magical fortnight and we can't just forget how many thrills all these sports have created.
There's a prosperous sporting future here for the taking and having watched our athletes do their bit and more to inspire, it's now over to everyone to create their own legacy.