A new chapter
Emma Bird spoke to Bobby White about his new role after leading the Team GB handball side in London.
By Emma Bird
Last Updated: 12/10/12 3:41pm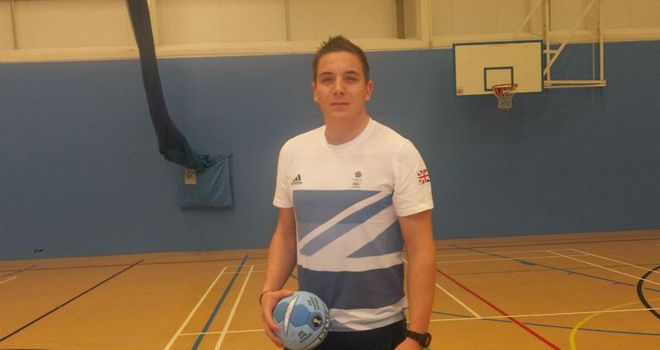 After leaving the Copper Box at the end of the London Olympics, Bobby White knew that nothing would ever compare to what he had just experienced.
As captain of the TeamGB handball team, the 29-year-old led his team out at the handball arena and knows that the progress made in just a few years was a remarkable feat for the sport.
However, he is now focusing on a different type of role within handball, as he looks to cement the legacy of the popular sport in the UK.
He told Sky Sports: "It was the culmination of nearly five years of really intense work and the actual two weeks we had in the park were just fantastic.
"Being in that environment with world superstars, I came from nowhere to be rubbing shoulders with the likes of LeBron James and Maria Sharapova, so that was quite a nice experience.
"I am sad it's over but I'm really looking forward to the next chapter in my life."
Commitment
This chapter appears to be right at the centre of the handball structure in this country, having taken on a role working for the England Handball Association.
White's main role will be based at the Centre of Excellence in Bedford, where he will be able to demonstrate his commitment to the long-term future of British handball.
He will coach 12 students, who as well as doing their A- Levels will be studying for an NVQ in Sporting Excellence.
He added: "I will work with them once a week and one weekend a month we will do fitness testing and have matches.
"The idea is that we get them in so by the time they've finished their A-Levels, we have got them into good enough shape for either professional contracts or scholarships out in Europe or even produce them as coaches or referees to contribute to building the profile and infrastructure of the sport in the UK."
Although the handball athlete would like to get involved with another sector following his sports career, it is the focus on legacy which you can see he is most passionate about.
With the funding issues vital for the survival and development of handball, the proposal for funding for the Rio Games in 2016 is already underway.
White said: "Hopefully we will get some decent funding from UK Sport for the national team but in terms of grass roots development we are in a pretty good place right now.
"England Handball and Scotland Handball have done a fantastic job in getting the sport onto the curriculum, rolling out coaches; we just need the people with the right expertise and experience, such as myself and a few of my teammates."
High level
Although he admits his playing career is more than likely drawing to a close, White is still optimistic about what the future holds. He said: "I'm under no illusions that my time in the national team is probably coming to an end, it just depends on how long the coach keeps picking me for."
The team however travel to Greece in two weeks' time for a European qualifier, yet the squad have had to pay for their own flights this time around, unlike before the Olympics. White pays special mention to 'Midsummer Breakfast Club,' who have enabled him to travel to Greece.
Having now moved back to the UK, White understands that it will be difficult for him to continue playing at such a high level compared to if he were abroad.
However, his passion for the Olympic legacy to live on is enough motivation for the GB captain to remain within the sport.
He continued: "The legacy side of things, and bringing in these young guys, is paramount. It is just a shame we can't keep some of our more experienced players to help facilitate their development as well. These guys coming in need people in their position who can really help their development."
After such hard focus and concentration on the Olympics, many players, like White, have found it is time to move on. Many sacrifices have been made and they are looking forward to new challenges in their lives.
White is extremely knowledgeable and passionate about what needs to be done going forward to help the sport thrive.
"We have had a significant increase of clubs developing over the country where someone has just thought I love this sport; I want to try to pick something up.
"What we need to do now is make sure that these clubs aren't left in the lurch on their own, and that they have as much support as they can get from the British Handball Association."
With support and resources now more readily available, White is pleased to see clubs being developed in his local area of Milton Keynes, with eight- week taster programmes already being initiated.
Exposure
Before and during the London Games, the issue of an Olympic legacy was one of the highlighted topics, and now after the Games this continues in earnest.
White told us: "We have done all the right things to make sure there is a long-lasting legacy.
"We have had a significant increase in the staff that are involved with handball and we have the structure now in the UK.
"We still need more exposure though, the Olympics were fantastic but we need that exposure to continue with the national team. We need the funding to continue from UK Sport but we need people to be interested and I think the interest is there.
"I just hope that kind of interest continues, because I think we have so much potential for growth in this country as it has started at such a small level.
"I firmly believe that if all the right things happen, in the next four-five years then there is no reason why in eight years or so, that in 2020, we can qualify outright and even challenge for the podium."
So with such a positive outlook, White is already a great role-model for budding handball players in this country.
He concluded: "Looking back over the two weeks at the Olympics, and thinking about the hard times I had out in Denmark and France, it was all completely worth it. It was, by far, the best experience of my life to date, and there is no way I could compare anything to that."
White knows what he achieved was unique and yet what is special about the British captain is that he wants to ensure more young people in the UK get to experience what he did at some stage in their lives. Handball may not yet be the most well-known sport in the UK but if you are looking for inspirational and dedicated athletes, it is the likes of Bobby White you must look to.