Wait finally over
Katherine Grainger is no stranger to gold medals on the world stage but Olympic gold eluded her until Friday.
Last Updated: 03/08/12 2:42pm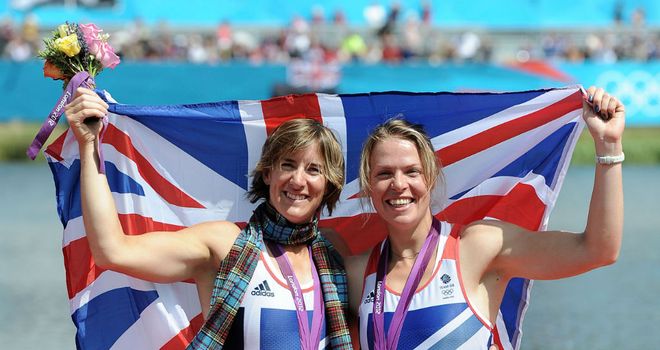 Rower Katherine Grainger is no stranger to winning gold medals on the world stage but Olympic gold eluded her until Friday.
She has won six gold medals at the women's rowing world championships, but has had to settle for silver at the last three Olympic games.
Originally from Glasgow, Grainger studied at Edinburgh University, where she took up rowing in 1993.
Her international rowing career took off in 1997 when she raced in a coxless pair with Francesca Zino from Cambridge University and won the gold medal at the world under-23 rowing championships, setting a new record for the event.
On their return home, Grainger and Zino raced for seats in Britain's senior women's eight and went on to win bronze at that year's world championships, the first time a British women's eight had won a medal at world championship level.
In 1999 Grainger raced in the quadruple sculls crew, finishing seventh at that year's world championships and the following year, at her first Olympic games in Sydney, won silver in the quad, alongside fellow-Scot Gillian Lindsay and sisters Miriam and Guin Batten.
In 2003 Grainger forged a new partnership with Cath Bishop to race in coxless pairs.
This resulted in her first world title when Grainger and Bishop won gold at the world championships in Milan, raising hopes that they could win Olympic gold in Athens in 2004, but the British pair lost out to an experienced Romanian team.
Move
Following Bishop's retirement, Grainger moved back to the quadruple scull in 2005, winning golds in the world cups at Eton and Munich and the world championships in Japan.
The world cup series in 2006 brought more success for the quad, with gold in all three stages, in Poznan, Munich and Lucerne.
The 2006 world championships saw Grainger's crew beaten to the line in the dying metres of the race by Russia, but they were soon restored as world champions after the Russian team failed a drugs test.
In 2007, Grainger won a medal at each of the world cups and won the overall series title again.
The quad then went on to successfully defend their world title at the world championships in Munich.
Grainger and her quad moved to the Beijing Olympics, where she won a third silver medal.
Following Beijing, Grainger took an extensive period away from the sport, but later decided to get back in training to compete in London 2012.
She was appointed MBE in 2006 for services to rowing.