Panel - Day 9
Throughout the Games, the Sky Sports News Olympics Panel will bring you analysis across a wide range of sports. Here's what our experts had to say on the stories coming out of London today...
Last Updated: 06/08/12 8:05am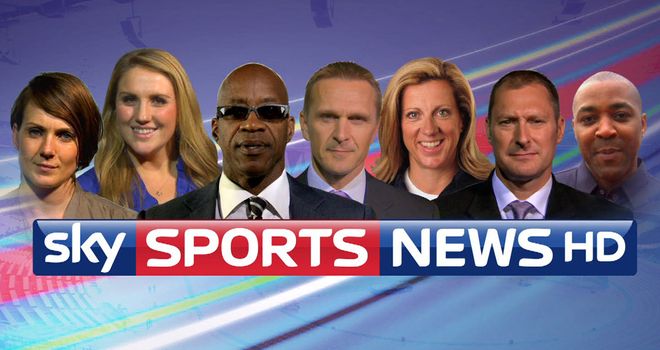 Darren Campbell predicts an Usain Bolt victory in the men's 100 metres and a world record
"I just have to go for Usain Bolt. I just can't see him not coming here to really put on a great show for everybody. I think his training partner Yohan Blake is in fantastic shape and will take second place and I have gone for Tyson Gay (in third). I just think Tyson Gay is a man who over the last few years has struggled with injuries. He has used the focus of the Olympic Games to get into shape. He has beaten Justin Gatlin in the last couple of races and I just think in a tight race, an Olympic final, under pressure that he could sneak a bronze medal.
"The track is fast and we now have almost perfect humidity. Because it rained for so long and the sun is now soaking it all up from the track it is creating humidity. For sprinters to run fast they need hot weather and high humidity and it seems we have been blessed with that. So I'm hoping it stays as it is now - obviously it will get a bit cooler as we approach 9.50pm. I would not bet against Bolt running 9.5 seconds or 9.4."
Edwin Moses on the Brits' chance of reaching the 100 metres final
"I don't think that it will help or hurt him that much (Dwain Chambers being drawn with Usain Bolt). The problem Chambers has is that Bolt has run 9.76 seconds and Bailey ran 9.88 seconds last night so he is peaking right now. Chambers is going to have to get third and he is going to have to stay close to even get a chance because there is no telling what is going to happen in the third heat or the first heat.
"Gemili is the young guy on the block with 10.05 seconds this season and all he can do is hope to stay close and he could be lucky. He needs to place third in order to have a chance of making the final I would love to see him make it. That would be great."
Barry Cowan on Andy Murray's victory in the men's singles final
"That was an incredible effort. And how many times have we said that about Team GB in the last few days. It really was. You don't see Roger Federer losing in the final of such a big tournament so comfortably. But it was. Roger was uncertain and Andy was the opposite.
"Andy started a little tentatively early in his first service game and there were a few difficult moments, which you would expect. But the way he served it out was just great. The adrenaline kicked in and the last service game was arguably his best.
"I am so delighted for him because he has had a lot of knocks and had to answer a lot of questions from himself - when are you going to win a Grand Slam etc? But he has kept coming back. He has beaten the very best. I am delighted for him and now get greedy and get a second gold.
"What really surprise me was how lacklustre Roger looked. I don't know whether it was the fact that he was tired or that he probably knew this was his last chance to win an Olympic gold in singles. But it was a bit too much for him.
"Andy will go to the US Open full of confidence."
Suzanne Dando on Louis Smith's silver in the gymnastics
"Let's not forget we have done something we have never done before in British gymnastics. It was brilliant performances from Louis and Matt. It was absolutely heart-breaking to see that Louis did absolutely everything he possibly could do. He went for the more difficult routine with the C moves, the D moves and the E moves and the F moves.
"To get the same score as the new Olympic champion is heart-breaking and it is all down to the execution score. It is just how the judges see how that routine was performed and it might be as simple as a flick of the legs separating it. It makes you so emotional because he came so close to that gold medal. You could see it in his eyes that he thought he had done enough.
"To be honest it made me feel quite sick. I had to listen to the commentary because I could not look. I have never experienced such nerves in a gymnastics competition, even when I was competing.
"And Max Whitlock - what can we say about Max? He is 19. He qualified in eighth place. I don't think he would have expected to be standing on that Olympic medal podium. He is really one to watch for the future."
Sally Gunnell on Christine Ohuruogu's chances in the 400 metres
"She has one of the outside lanes. She is going to have someone outside her but the problem is that so many people are inside her. Sanya Richards is the main person we are all looking at and she will go off really hard. Christine tries to keep it very slow on the first 200 metres and Sanya might even be up by 200 metres. By 200 metres Christine will try to make her move.
"If she is too far back, and lanes four and five are 20 metres up by the home straight, that will not be good. If she can keep within five metres of them then I really believe she can come through. Sanya Richards is going to be the one to watch and she wants revenge for four years ago. But I think Christine has got herself in great shape to get the silver medal."
Jon Ridgeon was in the stadium on an amazing night for Britian
"I was there in the stadium with 80,000 people witnessing the greatest ever night in the history of British athletics. Not only did our two bankers - Mo Farah and Jess Ennis - come home in style but Greg Rutherford, who was ranked number one in the world but was below the radar, won gold as well all in the space of 45 minutes. There were strangers crying and hugging each other. It was completely out of control in the stadium. I am privileged to have been part of it.
"The only time that I have ever experienced anything like that noise was in Sydney 2000 when Cathy Freeman was running the 400 metres. That was Australia's equivalent and that was probably the closest to last night. It will live with me forever."
Darren Campbell on last night's historic evening for British athletics
"It was an amazing forty minutes of sporting action. We all like our soap operas in the UK but there is no greater soap opera than I witnessed. By the time Mo made it three Olympic gold medals - because that is what we are talking about, three Olympic gold medals in athletics on the second evening.
"Unfortunately the women's 100 metres became a bit of a sideshow, despite being history in the making. It was all about the Brits."
Sally Gunnell on Jess Ennis' heptathlon triumph
"For Jess there was so much expectation and pressure. It just showed what a fantastic team of people she has had around her in the last year just to keep her feet on the ground and allow her to do all the training. You need people like your fiance and to have that normality in her life. And then to come out and perform when there is so much expectation on her - I am so pleased for her."
Nick Gillingham fears poor performances in the pool will cost British swimming
"There have been a lot of remarks - and quite rightly - about being very proud and being wonderful to be here. But at the end of the day the public and me as a swimming fan what to know what it really means. We saw lots of other sports where if they underperformed they were absolutely devastated. We want to see the emotion and elation when you win but also when you lose.
"We should not be sugar coating performances. British swimming had I believe £17m, which was incredible funding up to 2012 and there is only so much funding that can go around. You are almost competing with other sports and watching them excel and getting more medals and gold medals. And gold medals mean funding - that is the name of the game. So the fact that British swimming has underperformed it would not surprise me if funding was cut from UK Sport."
Nick Gillingham reviews the swimming stars from London 2012
Michael Phelps - "He has taken 18 gold medals, 22 Olympic medals, but what is absolutely awesome and bordering ridiculous 55 medals from major championships and Olympic Games which is absolutely incredible."
Missy Franklin - "She took two individual Olympic gold medals in her backstroke events and two relay gold medals as well. She is just 17 years of age and what really stood out was the way she dominated the 200 metre event and smashed the world record. She held her form and psychological attack in the race, leading from start to finish. She has huge arms and it is hard to hold technique then, but it just demonstrated what a talent she is. She will have a bright, bright future."
Ye Shiwen - "The defamatory comments about her were really very poor. It disappointed me to see that. There is no evidence to suggest anything other than she swam absolutely fantastically. She moves so gracefully through the water. Technically she is wonderful to watch, particularly her breaststroke and her freestyle. She smashed the world record in the 400 metre individual medley and then broke the Olympic record in the 200 metre IM. She has set the world alight and is a delight to watch."
Ruta Meilutyte - "She has a remarkable story being coached by Brit John Rudd and she goes to school in England. I love the emotion at the end of her swim when she picked herself up on the lane rope and thanked the world in a disbelieving moment. A young teenager who kept her psychological form."
Laure Manaudou - "He is the fastest man in the world after winning the 50 metre freestyle. He is based in France and a very good friend of mine, James Gibson, is his coach. Gibson won world championship gold in 50 metre breaststroke so he know a bit about sprinting and he has created an Olympic champion. It is good to see the British coaches creating these great champions."
Chad Le Clos - "I was so proud to meet him and his coach in the studio yesterday and I held his Olympic gold medal and asked for a photograph with it. What a gentleman and he is going to be a huge name over the coming years. He beat Michael Phelps in the 200 metres butterfly, taking gold, and took silver in the 100 metre butterfly. He is just 20 years old and so proud of being from South Africa. He is so down to earth. Again it is the emotion that came out there to put him in my top choices."
Look back at what our experts had to say on day eight
Look back at what our experts had to say on day seven
Look back at what our experts had to say on day six
Look back at what our experts had to say on day five
Look back at what our experts had to say on day four
Look back at what our experts had to say on day three
Look back at what our experts had to say on day two
Look back at what our experts had to say on day one