Olympic Panel - Day 13
Throughout the Games, the Sky Sports News Olympics Panel will bring you analysis across a wide range of sports. Here's what our experts had to say on the stories coming out of London today...
Last Updated: 10/08/12 7:56am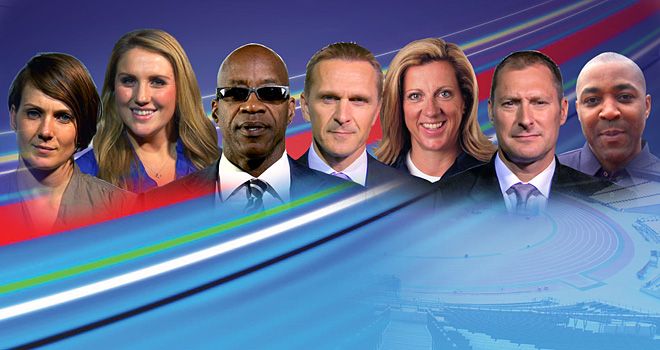 Amanda Coulson on Brit Nicola Adams - the first female boxer to win an Olympic title
"She boxed absolutely tremendously. She knew what she had to do to beat the girl and she did it absolutely perfectly. It was a convincing victory for Nicola. She really put in a fantastic performance.
"It has got to be a brilliant feeling to win Olympic gold in London - the first time ever female boxing has been included in the Olympics. She wanted it more than anything. She has been boxing for 17 years now and from then to now all Nicola has dreamed of is to be part of the Olympics and her dream has come true.
"It is a great moment for women's boxing as well. After that performance there is no doubt that the sport will go from strength to strength. She has got the (Mohammed) Ali shuffle, she has got it all, she is a good character and a fantastic role model for the next generation.
"Nicola was probably the underdog going into the fight having lost to Ren Cancan 2-1 between them. So she would have been the underdog but with that support and on home turf I know how much Nicola trained for it and wanted it."
Amanda Coulson on Katie Taylor winning Ireland's first gold medal of the Games
"It wasn't easy. It was touch and go as the bout went on. The Russian is a good boxer, seeded number two in the world, and she did not leave Katie alone at all. It was not one sided as we had expected and she put up an absolutely amazing performance.
"Katie is a fantastic athlete and she is a great ambassador for the sport. She plays football for Ireland and has been boxing for quite a few years with the Irish boxing team. She has been a great success."
Jon Ridgeon on Usain Bolt's bid for Olympic immortality
"I think he will break the world record. We learned nothing from the heats and the semi-finals. Bolt has talked about being here at the Olympics not just for gold medals but also becoming an Olympic legend and an Olympic icon. To do that you have to break world records as well. He ran the second fastest time in history in the 100m and I think he will be looking to win tonight but also break his own world record of 19.19 seconds. This is a super fast track so the stage is set for him to achieve that. He is clearly in good shape."
"Today is a warm day and the forecast is great for tonight so I think it is going to be just right. The sprinters love warm weather because their muscles are relaxed and they are fast. We want the warm weather and a slight following breeze behind the athletes and if that is the case I think we can see some fabulous times tonight."
Click here to watch Darren Campbell's 200m analysis
Leon Baptiste on the battle for men's 200m gold
"After looking at the semi-finals, I'm still going to go with my original prediction with Bolt to win but Blake is looking very, very good. I'm looking for this to be around the 19.6 second range - or maybe even 19.5. That time is incredibly fast - even the great athletes back in the day didn't run as fast as that, other than Michael Johnson. It should be very interesting.
"When I watched Blake (20.01) I just thought 'wow'; it looked as though he was going for a stroll in the park. He was so comfortable and relaxed. Bolt (20.18) was slightly slower but as soon as he came off the bend he was looking around to see where he was - he knew that the work was done. For him it was not about running a fast time, but about finishing first and making sure he got a good lane in the final.
"Unfortunately Christian Malcolm didn't make the final but he would have had to have run a season's best to do it. He was just short of that. Christian's been around for years and he'll be very disappointed with what's happened but he's got the relay to focus on now, so he can go for that."
Jon Ridgeon on the men's 800m final
"David Rudisha is every bit as good as Usain Bolt athletically but likes being low-key and does not have the same global profile. He is a wonderful athlete and the undisputed world number one in the 800m; he is the most beautiful of runners and glides across the track.
"If you're looking for a nailed-on favourite for an event Rudisha is that man. The man is different class and unless he is tripped up he should be the gold medallist, but there are a number of athletes that could take the silver and bronze medals.
"Mohammed Aman from Ethiopia is just 18; what's interesting about him is that he is ranked sixth in the world in times coming into the Olympics but he is the one athlete that was able to beat Rudisha last year. He looked good in the semi-finals and may come through but Rudisha is definitely the man to beat.
"British runner Andrew Osagie's goal was to make the final. He was absolutely delighted to do that because he was only ranked 18th in the world coming into this meeting, but now he is in the final anything can happen.
"I know that's a cliché but often at these championships the races are very slow and tactical and if it comes down to a burn-up down the final 100metres he might be in with a shout of a medal because he is quick. Maybe I'm getting slightly carried away but if Osagie can use those 80,000 fans hopefully he can get bronze."
Cassie Patten on Keri-Anne Payne's fourth place in the open water swimming
"Keri-Anne looked very strong in the first couple of laps. She had a bad feed - where they have drinks of poles - and she did not quite get a drink. I think that threw her a little bit and by the time that she was doing that eight girls had gone in front of her and she was right in the middle of a pack, which is a place where she doesn't really like to be.
"She likes to be out front and dominating the race. After that she was really working very hard to pick it up but Eva Risztov set such a pace on those last three laps, Kerri Anne struggled to pull it back.
"Keri-Anne came into this being world champion and it just shows the class of swimmers who have come into open water. And for Keri-Anne who is an incredibly fast pool swimmer to not be able to catch up shows the strength in depth in open water.
"It (missing the funding target of five medals) could be hugely detrimental to British swimming. It is going to have a huge effect. As a competitive sport there aren't that many people participating and to get money into it is really important and I think we are really going to notice it in the next two Olympics."
Sally Gunnell on the barriers blocking Mo Farah's double gold bid
"Even though the 10,000m that he won wasn't a particularly hard or fast race and it won't have taken a lot out of him physically, I think the mental side of it is more of a problem. How do you deal with the excitement and buzz of being an Olympic gold medallist?
"Emotionally you've got to stabilise, you've got to bring yourself down to level and you naturally go on a bit of a dip, so he's really got to deal with that and I think that's what he's found difficult.
"He'll just want to sleep and chill before Saturday's race and hopefully he's been allowed to do that and he's not had to go around all of the press conferences that we've seen all of the other gold medallists do. He'll be hiding away, almost, and I just hope that he can recover.
"But it is a really big ask of him. He is in fantastic shape - don't get me wrong - but I just think that it's so, so tough to mentally pick yourself up to try and win another gold medal."
Campbell Walsh on canoers Rachel Cawthorn and Josefa Idem
"Rachel Cawthorn finished in sixth place in the women's kayak single 500m final, but it was very tight for that bronze medal and for her to be in the mix is great; Britain are having much stronger women's results than we have ever had in flat-water canoe racing.
"Rachel should take inspiration from Josefa Idem, who finished one place above her; the Italian is a 47-year-old mother of two who is competing in her eighth Olympics, having made her Games debut in Los Angeles in 1984. I find that mind-boggling.
"Canoeing is a hugely physical sport and you have to be an extremely fit athlete and work through a huge number of training sessions in the gym; technique is involved but what really wins you the medals and gets you high-placed finishes is that physical preparation.
"When I was in my 20s there was nothing I wanted to do more than train and be the best in my sport, but as I've got older I've realised there are other aspects of life, so it must be hard for Idem on those cold winter mornings and she must think: 'Why am I doing this?'. So for her to be in the mix for the medals is great."
Greg Louganis on Tom Daley and Pete Waterfield in the men's 10m platform diving
"I think they have a good shot. Okay they did not do as well as they hoped to in the synchronised diving but a lot of times that is like your warm up for the individual event. It (the pressure) is a responsibility that is shared and from the outside it looks like they share it very well.
"There is a lot of pressure on him but he is a good kid and from what I know he has a good head on his shoulders and I think he can handle it.
"You have to have the degree of difficulty because that is where you are going to start ahead of the game before any scores are given. But you have to hit the dives and you have to hit the dives and be consistent. That is what is going to win."
Sally Gunnell on a fine fourth for Lawrence Clarke in the 110m hurdles
"He's a bright prospect. We go on about the medals in athletics and those lovely golds but sometimes we've got to remember that it's really tough to finish fourth.
"Lawrence was really chuffed with that - nobody expected him to get into the final and four years ago he was running 15 seconds and now here he is running 13.3. It's a lovely story. It's really nice to see that somebody who hasn't had any experience whatsoever in the last four years can come out here and really rise to the occasion.
"Yes, there were a few others who didn't quite get through those heats - like Liu Xiang - and Dayron Robles pulled up but that's what the Olympics is about. You need a bit of luck on your side and Lawrence grasped that fourth place. He's a real prospect for the future - he's so young and the next four years should be very exciting."
Edwin Moses on Allyson Felix's victory in the women's 200m final
"It was a fantastic race; you had pure speed with the 100m champion, Shelly-Ann Fraser-Pryce; the 400m champion, Sanya Richards-Ross, plus Carmelita Jeter who can run 100 and 200m
"It was a great mix of different types of women's sprinters and the best were on the track at one time, which you rarely see in the men's event, but Felix came out on top.
"Allyson had the advantage of being in lane six; she had three fast girls inside chasing her (Fraser-Pryce, Richards-Ross and Veronica Campbell-Brown), plus she could see Jeter on the outside so had someone to lock onto. It was the best possible scenario.
"Jeter did great to get a silver in the 100m and she took bronze in the 200m, but the 2004 and 2008 Olympic 200m champion Campbell-Brown failed to get a medal. She is a very hardworking girl but the new guard has come in.
"What this does, though, is set up a big duel in the women's 4 x 100m relay. United States have a stacked team with six girls that can run fast, but so do Jamaica, and both squads' runners are able to alternate positions. It will be a really good race."
Sally Gunnell on the British women's chances in the 4x400m relay
"We have got quite a strong team. My worry is how Perri Shakes-Drayton can pick herself up after the 400m hurdles. She can run a great leg in that 400m - a 49 second leg - so we really need to get her back at her top form. Realistically we could get a bronze.
"The Americans are top favourites with Sanya Richards-Ross winning the individual and Russia are strong well. We could, and have done in the past, grab the bronze medal. There is an outside chance but it will be tough for those girls."
Look back at what our experts had to say on day 12
Look back at what our experts had to say on day 11
Look back at what our experts had to say on day ten
Look back at what our experts had to say on day nine
Look back at what our experts had to say on day eight
Look back at what our experts had to say on day seven
Look back at what our experts had to say on day six
Look back at what our experts had to say on day five
Look back at what our experts had to say on day four
Look back at what our experts had to say on day three
Look back at what our experts had to say on day two
Look back at what our experts had to say on day one