Olympic Panel - Day 14
Throughout the Games, the Sky Sports News Olympics Panel will bring you analysis across a wide range of sports. Here's what our experts had to say on the stories coming out of London today...
Last Updated: 11/08/12 9:04am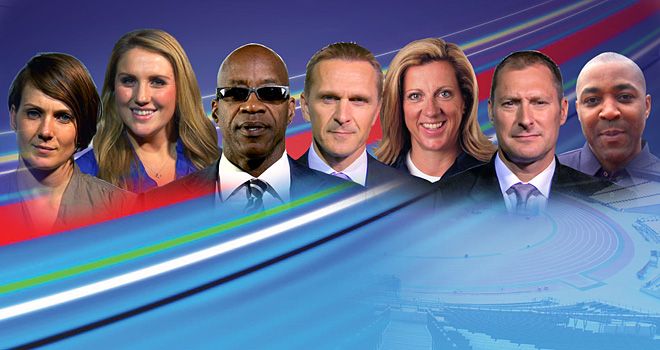 Jon Ridgeon on whether the London Olympics will inspire girls to take up sport
"This is the first Olympics where all the sports have women represented and it has been the 'Girl Power' Games.
"We now hope that some of these inspirational women in the Team GB squad - Jess Ennis, Victoria Pendleton, Katherine Grainger, Nicola Adams - can be role models and replace some of the reality TV role models that we have at the moment.
"But sport participation for girls falls off the cliff in teenage years and being inspired by these women is only half of the equation. We also need to make sure girls have a good experience when they go to their locals sports clubs."
Carl Froch on women's boxing
"There have been some great performances from the Team GB boxing team, especially with Nicola Adams. There have been some disappointments but all in all we are doing very well. Nicola's gold was fantastic; people were a little bit sceptical about female boxers and think she has done so well.
"She is a lovely girl and is such a fantastic talent and she trains really hard, it's like anything in life, you get out what you put in and she puts a lot in. She trains and works hard and she does everything right. With her natural talent I expected her to do well. She was up against it though, and I expected it to be a hard fight but it was a whitewash and I was really impressed.
"Boxing is very physical and it is people hitting each other but the art of pugilism is scoring shots; landing with the upper part of the glove on the target area. Boxing for me has always been technical - hit and make sure you don't get hit.
"You could say that you don't want to see girls fighting but they have got the big gloves and the head guards and it is all technical - Nicola got out of the ring yesterday without a mark on her. She will be an inspiration for young girls coming up."
Jon Regis on Usain Bolt's historic double double
"Bolt is the best athlete ever. He's the only man to defend 100m & 200m Olympic titles. The way in which he did that, the way in which he performed under all of the pressure was incredible. People said he wasn't in shape after he was beaten in his National championships and wondered if he could conquer the world. The answer, 100 per cent, was yes he can.
"I honestly believe he can break his own world record. He has the ability, he has the size, he's got the stride length - he can do what he wants to do. He said he wasn't 100 per cent fit after last night's race - I have to believe him as he knows his body. If he was to focus on the 200m and leave the 100m alone, there's a chance he could run inside 19 seconds. The guy is just unbelievably good.
"Jamaica are the dominant force in world sprinting. They have youngsters coming through idolising Usain Bolt; they all want to emulate him so they are training hard because the person at the top of their pyramid is the greatest athlete in the world."
Jon Ridgeon on the future of UK Athletics chief Charles van Commenee
"Charles expects his coaches and his athletes, under a backdrop of performance culture, to deliver and that's fair enough. I would say that whatever happens, Charles has been good for British athletics and I hope he stays in his role; he has brought a spirit and a discipline to the team that was lacking before.
"The best days for the British team are probably still ahead; it is a developing team and he has got a lot more work still to do. That said, some questions have to be asked because some of our athletes have underperformed."
Sally Gunnell on whether Paula Radcliffe's retirement is imminent
"Paula has a list of amazing achievements - she still holds the world record for the marathon - and she doesn't want to end on this low note as she is such a determined character.
"She is going to have a major foot operation but I guess she will want to leave the sport doing one last run and be at the top end of a race - but where will that be?
"I question whether she will be able to do another marathon. Will she do a half marathon, like the Great North Run in a couple of years' time? I know that an Olympic gold medal is something she has dreamed about and she is distraught [that injury prevented her from running London], but I can't see her going on for another four years as I don't think the body can cope."
Jon Regis on David Rudisha's 800m world record
"That achievement in itself equalled what Usain has done. He is, without doubt, the greatest 800m runner the world has ever seen. He's got the fastest three times over the distance.
"It was the greatest 800m race that the world has ever seen; the time run by our British athlete, Andrew Osagie, would have won gold at the last three Olympics so that shows you the calibre of that particular event but also of Rudisha.
"He's dominated that particular event for the last couple of years and he is a great, great Olympic champion."
Sally Gunnell on whether Lisa Dobriskey can medal in the 1500m
"As little as two months ago, Lisa was critically ill in hospital and had blood clots on her lungs. All the doctors were saying to her: 'Look, there is no way you can run'. But she has come back out and looks in amazing shape and like the old Lisa Dobriskey.
"She came fourth in Beijing, has a silver medal from the 2009 World Championships and with hardly any racing seems to be able to get herself into great shape. She has got a really good chance of getting a medal and just looks a bit more comfortable than our other, Brit Laura Weightman. It would be a lovely story if Lisa could pull it off."
Look back at what our experts had to say on day 13
Look back at what our experts had to say on day 12
Look back at what our experts had to say on day 11
Look back at what our experts had to say on day ten
Look back at what our experts had to say on day nine
Look back at what our experts had to say on day eight
Look back at what our experts had to say on day seven
Look back at what our experts had to say on day six
Look back at what our experts had to say on day five
Look back at what our experts had to say on day four
Look back at what our experts had to say on day three
Look back at what our experts had to say on day two
Look back at what our experts had to say on day one