Taking inspiration
Lee Pearson believes the success of their non-disabled counterparts can prove a catalyst for British equestrian paralympians.
Last Updated: 26/08/12 9:11pm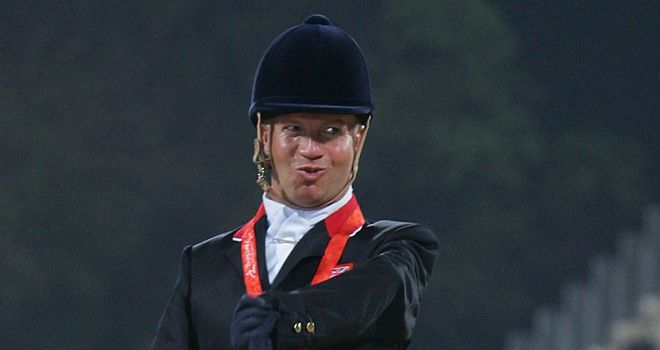 Nine-time Paralympic gold medallist Lee Pearson believes the success of their non-disabled equestrian counterparts at London 2012 can prove a catalyst for more British success this summer.
Team GB's equestrian riders secured a record-breaking medal haul at the Olympics, with the dressage stars Charlotte Dujardin, Carl Hester and Laura Bechtolsheimer rewriting Games history.
Not only did they win team gold, but 27-year-old Dujardin memorably took the individual title and Bechtolsheimer collected a bronze.
Britain had failed to seriously threaten a podium finish at previous Olympics, whereas their Paralympic counterparts have been at the forefront of the sport since its introduction in 1996.
Pearson has often been the star of the show and comes into his fourth Games spurred on by the success he witnessed a few weeks back at Greenwich Park.
"I think it inspired all of us to do even better," he said. "We have kind of led the way as far as equestrian is concerned, but they have been getting better and better and better within all the disciplines.
"Now they have done so well it is kind of put us under pressure, but the medal tally we're hoping to get is seven to nine medals.
"We have been number one in the world since 1996 at every major championship and you need goals to keep you moving forward, get you stronger and get you more focused.
"I am kind of now hoping that we're going to be as competitive, as successful as our able-bodied counterparts and it just makes us more determined to do as well as we can in the arena.
"You can't rest on your laurels being number one in the world. You have to try even harder to stay at the top.
"All these targets and the success of the able-bodied makes us work even harder."
Pearson will be looking to maintain his 100% record of nine from nine gold medals at London 2012.
If he secures another three this summer, the 38-year-old will break the British Paralympic record of 11 held by swimmer David Roberts and athlete Dame Tanni Grey-Thompson.