Dressage dreams
Great Britain's equestrian dressage team will begin their quest for glory at Greenwich Park on Thursday.
Last Updated: 29/08/12 5:04pm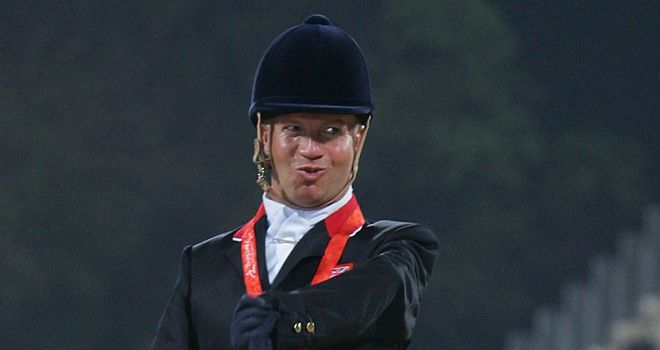 Great Britain's equestrian dressage team will begin their quest to preserve one of the finest unbeaten records in British sport at Greenwich Park on Thursday.
Spearheaded by nine-time gold medallist Lee Pearson, the British quartet are firm favourites to capture a fifth successive Paralympic Games team title.
Pearson and Sophie Christiansen competed in Beijing four years ago, while they are joined by 2004 triple gold medal winner Deb Criddle and Paralympic debutant Sophie Wells.
Wells' fellow debutant Natasha Baker rides as an individual, with the double European champion contesting two golds that are up for grabs in her classification grade. She also rides the team test, but her score will not count.
Britain has won more than 30 Paralympic dressage medals, and the anticipated 23,000 capacity crowds each day at Greenwich will expect them to deliver.
Costly
British equestrian team leader Will Connell said: "There is a feeling of anticipation and really hoping that everything goes well and the horses perform as they can do.
"The crowd can have an effect. The Paralympic horses will be less used to large crowds than some of the Olympic horses, and a small error could be very costly, so it's fingers crossed.
"The build-up has gone very well. We are lucky with the world-class funding programme that we can have regular squad sessions, and there have been some really good performances over the spring and summer months."
Pearson, 38, will become the most successful modern-day British Paralympian if he repeats his feat of the last three Games and claims a gold medal hat-trick in team and individual disciplines.
The magic figure of 12 Paralympic titles would be one more than either wheelchair athlete Dame Tanni Grey-Thompson or swimmer David Roberts achieved.
Christiansen, who made her Paralympic debut as a teenager in 2004, will contest Grade Ia, with 22-year-old Baker in grade II, Criddle in grade III and Wells among the grade IV competitors.
Forefront
British domination of equestrian dressage is underlined by the fact that since the inaugural 1996 Atlanta Paralympics their 18-strong gold medal haul alone is more than the total number of podium finishes achieved by closest challengers Germany.
Connell added: "Britain was at the forefront of para-equestrian dressage development, so we've been doing it a long time, and we have also got a great base in the Riding for the Disabled Association.
"Thirdly, what the funding does is to allow us to have the top coaches like Michel Assouline and full support staff, and we also have such supportive owners who help the riders get the very best horses. That's vital."
British team manager David Hunter said: "The four-person team we've selected is a strong team and also an experienced team.
"Three of the four riders are previous Paralympians. For Sophie Wells it is her first Games, but she comes here as current world and European champion for her grade.
"This decision allows Natasha Baker, for whom it is also her first Games, not to have additional pressure and to concentrate fully on her individual competitions."