More to come
Stef Reid is still buzzing after bagging long jump silver for Team GB at the London Paralympics but is already looking ahead to her next challenge.
By Rachel Griffiths - Follow me on Twitter @SkySportsRachG
Last Updated: 14/09/12 5:52pm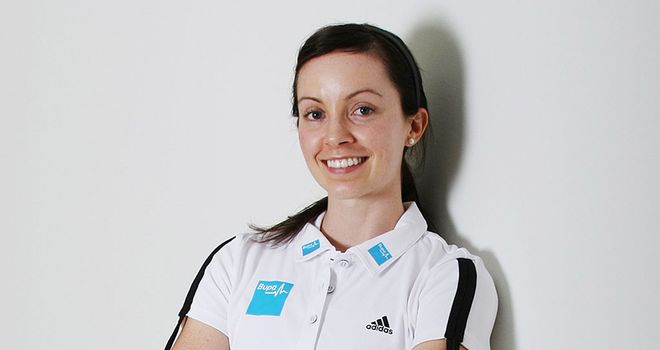 A truly incredible summer of sport may have drawn to a close but Paralympic silver medallist Stef Reid admits it's taking a while to come down from the ultimate high of representing Great Britain in front of a home crowd at the London Games.
The Paralympian was no stranger to success going into this year's tournament having won bronze in the 200 metres (T44) while representing Canada at the Beijing Games four years ago, and the 27-year-old was able to build on that triumph with silver for Team GB in the Long Jump (F44).
Reid, who was born to British parents in New Zealand and grew up in Toronto, shows no signs of slowing down in the wake of her medal success and has already set her sights on the next obvious step - gold at the Brazil Games in 2016.
But she concedes, after the honour of competing at this summer's tournament, London 2012 is not something she will forget in a hurry.
Reid told Sky Sports: "The Games were absolutely fantastic. It's still hard even now to analyse because you're still in it and it's still so overwhelming.
"I did what I went out there to do. I got personal bests on two of the three races. I'm so thrilled, I'm just really proud of what I did.
"Competing in front of a home crowd is a million times more fun. It really was, truly, an honour.
"You can hear it from the other athletes, they were just completely in awe of the home crowd support that we had. We literally had the best of everything. Our kit was so highly sought-after we would catch people trying to sneak into our flats just to take the GB shirt.
"I honestly wish that everybody could experience what it's like to have 80,000 people cheer for you, at some point in their lives.
"I had five appearances in the Olympic Stadium and as it got down to the last one, at the end of the 200 metres, I kind of just stood on the track and hung out for a bit. I was just looking around and remembering it until somebody finally kicked me off and said 'you need to go now'."
Targeting gold
While Reid has earned deserved plaudits for her silver medal, which she achieved while setting two new Paralympic records, she admits it stings to have come in second-best after missing out on gold by a whisker.
And the Rio Games are already in her mind as she aims to make her medal tally three from three.
She admitted: "It's really funny actually, the more the days go by, the less satisfied I am with the silver.
"I'm already plotting how I'm going to get gold in Rio. But it's good, I told my coach that and he was thrilled, like 'good, that's what I want to hear'.
"That's the way it should be. I'm proud of what I did, but I'm ready to move on now and do better."
Reid, who lost her right leg below the knee in a boating accident aged 16, missed out on gold to Kelly Cartwright at the Games despite actually recording a distance 90cm further than the Australian.
The nature of the combined class event meant points decided the final standings rather than distances, with F44 athlete Reid finishing an agonising seven points adrift of Cartwright, a double above-the-knee amputee and therefore in the F42 class.
But Reid insists she feels no sense of injustice in losing out on gold and believes the classification system will only improve as the Paralympics continues to evolve.
She explained: "Going into the competition, I knew they were combining and I knew what the rules were. The truth is, I could have won it had I jumped a few centimetres further.
"It's not an ideal situation but I'm still really happy with how things went.
"The reason they're combining classes is because the organisers are committed to making a competitive and watchable final.
"They've had problems in the past with different disability groups where they've only had three athletes, and you cannot hold a final with three athletes, it just doesn't look good. So what they're done, particularly in the field events, they've combined some classes.
"We were happy to play. It's not a perfect system; the Paralympics are still evolving and we're still working things out like classification and that's okay. It is definitely going to take time and we're learning more and more about the possibilities every day. It's an evolution and it really is an honour to be a part of it with the other athletes and be a trail-blazer."
As the Paralympics evolve, Reid feels people's attitudes towards the tournament are also changing for the better, and believes this summer's Games have provided a huge breakthrough in how the public are regarding sport.
"This was the first time the Paralympics was really brought into the mainstream public eye and what that has done as a result, the interest, it's really transformed the attitude, the social culture of a nation and the way that they will now regard people with physical disabilities," said Reid.
"More than anything else, I think what was put on display was the power of sport to uplift and change a nation.
"It speaks volumes, especially in terms of where we value sport in our society, and the decision perhaps, when it comes to budget, what's the first thing that goes. Generally it's things like sport and music, but we've just shown that, as human beings, these things are important and they matter.
"The chance to show courage on the playing field and show qualities like perseverance and determination, it managed to uplift a nation and we need to re-evaluate what we think is important in terms of education and just bettering ourselves as human beings."
Reid, who works as an ambassador of the Bupa and UK Sport Partnership, was also able to celebrate a remarkable comeback at the Games after suffering a stress fracture to her back last autumn and says keeping on top of her fitness is one of the most important aspects of her career.
Massive
"Staying injury-free is massive. My body is my tool and if I can't run then I can't do what I've been training my whole life to do," she said.
"Probably one of the biggest priorities, in track and field particularly, just because it's so hard on your body, is staying injury-free. You have to walk this really, really fine line between pushing your body to the edge but not going past it so it starts to break down.
"Fortunately we're so lucky here in the UK that we have an amazing medical staff and thanks to an amazing partnership with BUPA, we can have access to things like MRI scans. We're not having to guess if it's a muscle pull, or a strain, or is there a tear in it. Any questions and we get things diagnosed immediately and then we can move forward. We're incredibly lucky to have access to those kind of facilities."
Reid is already planning for the future and the Paralympian, whose father is from Glasgow, is in the process of declaring for Scotland to compete at the 2014 Commonwealth Games in her dad's home city.
With the World Championships and the Rio Games also on the horizon, Reid knows it's an exciting time to be at the height of her career.
She added: "It's been an incredible year in the UK, particularly to be a track and field athlete, with the Olympics and the Paralympics, and now there's the 2014 Commonwealth Games in Glasgow.
"My timing is spot on. I'm just so glad to be at the point I'm at in my career, in terms of age and progression.
"Immediately next year we're going to have the World Championships in France, so that's obviously on our radar, then after that the Commonwealth Games and beyond that, should everything work out, Rio 2016."
Stef Reid is an ambassador of the Bupa and UK Sport Partnership. Over the past decade, Bupa has covered more than 29,000 treatments for Britain's elite athletes. For more information visit Bupa's official website.