A shining star
Living for Sport mentor Serita Shone talks about her miraculous recovery from an horrific bobsleigh crash.
By Oli Burley - @SkySportsOli
Last Updated: 29/10/12 4:16pm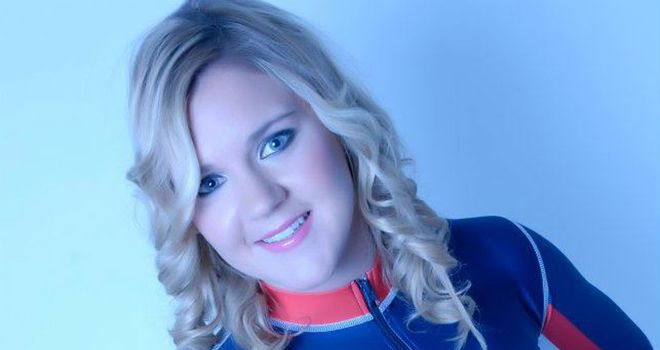 Serita Shone is back on the bobsleigh push track - just one year after suffering life-threatening injuries in an horrific crash.
The Great Britain brakewoman and Sky Sports Living for Sport mentor feared she might never walk again after fracturing two vertebrae while training for the 2011 British Championships in Germany last October.
But after successfully undergoing spinal surgery, 23-year-old Shone is now aiming to get back on the ice at Christmas with a view to competing at the 2013 Junior World Championships and beyond that the 2014 Winter Olympics.
Moreover, she hopes her story will inspire young people to achieve their dreams...
skysports.com: Your recovery has been miraculous - but how do you feel about it?
SERITA: It has been long and tedious - and pain-staking at times too! I achieved my short-term goals well but would have liked to have realised my longer-term goals more quickly.
skysports.com: What kept you going through that rehabilitation process?
SERITA: There were a couple of things; firstly, my desire to be an Olympian and, secondly, I wanted to prove the people who thought I couldn't do it wrong. If you really want to achieve something, even serious setbacks like my accident shouldn't stop you; I didn't want to be a person who was on the brink of making it but who never quite got there.
skysports.com: Did you take fresh inspiration from London 2012?
SERITA: Definitely! Before I took up bobsleigh I represented Great Britain at the heptathlon. I started my international career with Katarina Johnson-Thompson and I was lucky enough to be in the Olympic Stadium on the first day of the heptathlon. When Katarina and Jess Ennis came out onto the track everybody in the crowd erupted. It was an incredible atmosphere and it really brought home to me how important sport is for people - regardless of how into it they are. Watching people achieving their dreams and inspiring a nation at the same time is incredibly powerful.
skysports.com: How do you think your story can inspire young people taking part in Living for Sport?
SERITA: My story is a bit different from most in the sense that - up to this point - it has ended more in failure than success! That allows me to put things into perspective and show how life can change in an instant. I'm quite honest and open when I talk about the crash, and stress how important it is to be as prepared and ready as you can be for every eventuality. I hope my story also shows that it is possible to recover from any setback; if young people can draw on my experience and use it to help them overcome issues in their own lives, that's fantastic.
skysports.com: You didn't even let your injury interrupt your studies, did you?
SERITA: Thankfully Leeds Metropolitan gave me an extension on my Masters dissertation otherwise I would have been in real trouble! But I managed to get a merit overall and I'm now a registered sports nutritionist.
skysports.com: How else did you spend those difficult first months of your recovery?
SERITA: Most people cringe when I say this but one of the first books I read was Katie Price's autobiography; it wasn't necessarily inspiring but it did help to take my mind off things and made me realise how different life can be for other people. It took me away from my reality.
skysports.com: What's the best piece of advice you've received in the last year?
SERITA: 'Take each day as it comes and don't rush. Don't get upset if things don't happen as quickly as you want them too, even if that's a natural response; it doesn't mean you're not going to achieve what you want to, it just means your body needs more time.' It was good advice because it helped me to slow down at times and think 'ok, this doesn't mean I'm failing - I just need more time'.
skysports.com: As a self-confessed adrenalin junkie that must have been particularly hard to accept.
SERITA: It was because I don't like doing anything slowly! I'm always running around so it was odd to do things entirely differently from how I tend to live my life! It was also depressing at times, but funnily enough at others it was also a relief because I did start to feel a bit 'normal'!
skysports.com: Do you see your sport differently since your accident?
SERITA: I think so. I now understand the risks involved in it. It's not that I didn't take it seriously to begin with but when you start something new you don't necessarily understand the ins and outs of things. Now that I do, I think that I'll give it a bit more respect and not try to push things too hard, too soon because I know what the consequences can be.
skysports.com: Does that mean your plans to go to 'driving school' are on hold?
SERITA: No - they've just been pushed back from November to Christmas but it is still on the cards. Now I know that things can go bad, I can see that I'm not a failure if I don't start right at the top for the first however many runs. It just means I'm being careful and building up my skill base before I push the boundaries again.
skysports.com: You've raced karts since you were eight, so will driving a bobsleigh come naturally?
SERITA: It will be different but there are a lot of transferable skills I can use, such as the art of making decisions at quick speed. I'm hoping that experience will stand me in good stead and that it won't prove too difficult!
skysports.com: I know you are a massive F1 fan. With three races left, do you think Sebastian Vettel has got the title sewn up?
SERITA: Vettel is a very good driver - as he proved again in India - but I'd like to think that Fernando Alonso is more emotionally mature this time around so he can hold the fight a bit better. I'd like to see Alonso win. I started following Michael Schumacher when he was at Ferrari and although I follow him at Mercedes, Ferrari is still my second team so I would like to see Alonso win again; I think he deserves it because he's had a bit of bad luck along the way. The fight is on and I wouldn't want to predict which way it is going to go right now!
Find out more about Serita at www.seritagbbobsleigh.co.uk or follow her on Twitter. Stay up-to-date with the latest news on Sky Sports Living for Sport on Twitter or by visiting the website.