Charlotte Dujardin wrapped up a fine year by winning the World Cup freestyle
Charlotte Dujardin brought the curtain down on the greatest year of her career with victory at Olympia on Tuesday.
Last Updated: 18/12/12 11:21pm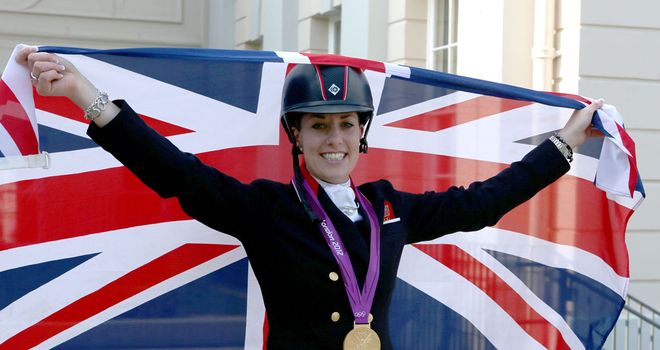 The British star and her London 2012 horse Valegro proved unstoppable with a performance that earned them a score of 87.975%.
Her two gold medals at Greenwich Park apart, Gloucestershire-based Dujardin also set two world records and three Olympic records during an unforgettable eight months when she conquered the dressage world.
The 27-year-old won a standing ovation from an 8,000 crowd that hailed the greatest dressage combination seen since Dutchman Edward Gal and his brilliant black stallion Totilas were in their pomp more than three years ago.
And Carl Hester, her mentor, trainer and Great Britain Olympic gold medal-winning team colleague led the tributes to Dujardin following a final competitive ride on his London horse Uthopia before the 11-year-old stallion is sold.
"Charlotte never ceases to amaze," said Hester, who finished third behind Dujardin and Germany's Isabell Werth.
"She is undoubtedly one of the best riders in the world because of her feel, which is to do with timing. Timing is everything, and she has it.
"She seems to be able to stop things going wrong before they do, which says an awful lot about feel, but it also goes to the heart of dressage as a sport - it's about a partnership.
"That five years together pays off in endless situations. The horse has absolute confidence in Charlotte. The horse could go down the M25 on the buckle (loose rein) with her, because it has that sort of trust.
"The horse is one of the best dressage horses of all time - it has to be."