Quiz of 2012
Test your knowledge from a memorable sporting year with our 2012 quiz.
Last Updated: 31/12/12 10:08am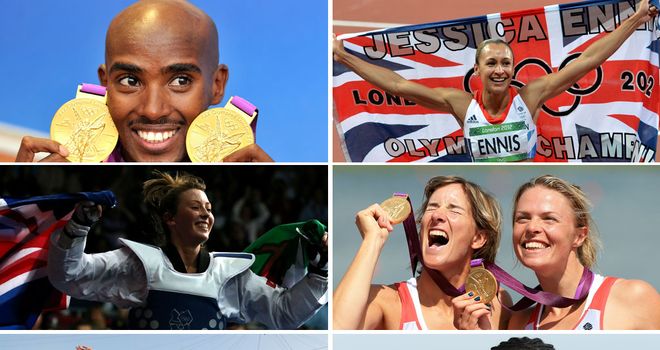 Another action-packed year of sport has come and gone with the 2012 London Olympic Games taking centre stage during the British summer.
Below we have compiled 100 questions across various sports to test just how much you have digested from the past 12 months.
Good luck...!
OLYMPICS
1) Who was the last torch bearer to carry the Olympic flame into the stadium ahead of the opening ceremony of the London Games?
2) Which member of Team GB read the Athlete's Oath?
3) How many gold medals did Team GB win in total at London 2012, finishing third in the table - 29, 30 or 31?
4) Name the athletes who won Team GB's first and last Olympic gold medals?
5) Korean Im Dong-Hyun, who is blind in one eye, set a new world record in which sport on the opening day of London 2012?
6) Who finished second to Jamaican sprinter Usain Bolt in the final of the 100m and 200m?
7) Which lightweight boxer won Ireland's only gold medal at London 2012?
8) Olivia Federici and Jenna Randall represented Team GB at which Olympic aquatic event in London?
9) Sir Chris Hoy became Britain's most successful Olympian when he claimed a six gold in which track event at the Velodrome?
10) In which sport did South Korea's Shin A Lam grab the headlines for sitting down for an hour and crying her eyes out?
11) Name the three Team GB athletes who all claimed gold medals on "Super Saturday" in the Olympic Stadium.
12) Team GB women's hockey side claimed a bronze medal - but the men were thumped 9-2 by which nation in their semi-final at the Riverbank Arena?
13) Which Arsenal Ladies player scored in all three of Team GB's women football group wins, including a 1-0 victory over Brazil?
14) Name the captain of Team GB men's Olympic handball squad.
15) Ed McKeever won gold for Team GB in which sprint canoe event at Eton Dorney?
16) Who added Olympic gold to his world number one ranking in the double trap shooting at Royal Artillery Barracks?
17) After his success at London 2012, how many Olympic gold medals does sailor Ben Ainslie now hold - three, four or five?
18) Who beat Britain's bronze medalist Tom Daley to claim gold in the men's 10m platform?
19) Which Team GB boxer won an historic gold medal in the women's flyweight division?
20) Robert Grabarz won a bronze medal for Team GB in which field event?
21) Who did host nation Great Britain beat to record their only victory in the men's basketball competition at the North Greenwich Arena?
22) Carl Hester on Uthopia, Laura Bechtolsheimer on Mistral Hojris and Charlotte Dujardin on Valegro claimed gold for Team GB at which equestrian event in Greenwich Park?
23) Who won bronze for Team GB in the cycling time trial behind Tour de France champion Bradley Wiggins?
24) Name the scorer of Team GB's first goal for the men's football side against Senegal at Old Trafford.
25) Who beat defending Olympic champion Christine Ohuruogu to win 400m gold in London?
26) Louis Smith and Max Whitlock claimed silver and bronze medals in the pommel horse for Team GB, but can you name the other three members of the gymnastics squad which secured an historic bronze in the all-round event?
27) Who won Britain's first Olympic judo medals for 12 years in London?
28) Stephen Kiprotich of Uganda claimed gold in which distance race?
29) Name the crew of the coxless fours who won the only men's rowing gold for Team GB at Eton Dorney.
30) Samantha Murray won silver for Team GB in which event on the final day of London 2012?
31) American Michael Phelps took his Olympic medals tally to a record 22 with four more golds at London 2012 - but which young South African beat him in the 200m butterfly?
32) Name the British weight lifter who set a new national record as she placed 12th in the women's under-58kg clean and jerk.
33) Ukrainian-born Olga Butkevych was a controversial selection for Team GB in which Olympic sport for London 2012?
34) With whom did Olympic tennis champion Andy Murray win a silver medal in the mixed doubles, held at Wimbledon?
35) Double Beijing gold medalist Rebecca Adlington won two bronzes in the pool, but which British swimmer was the only other to finish on the podium at the Aquatics Centre?
36) Which Team GB Taekwondo fighter was controversially selected ahead of world number one Aaron Cook and went on to win an Olympic bronze medal?
37) How many of their five pool matches did Great Britain's Olympic volleyball team win at Earls Court?
38) Name the brothers who won gold and bronze for Team GB in the triathlon.
39) Which country won gold in the Water Polo?
40) Paul Drinkhall represented Team GB at which Olympic event in London?
41) What did China badminton players Yu Yang and Wang Xiaoli do to spark one of the biggest controversies of the London Games?
42) How many Paralympic gold medals did swimmer Ellie Simmons win - two, three or four?
43) Name the sprinter who beat South African Paralympics star Oscar Pistorius to gold in the T44 200m.
44) Who was the youngest gold medalist for Team GB at London 2012 Olympic Games?
45) Which security firm were unable to fulfil their quota ahead of London 2012, which led to the Armed Forces being drafted in?
46) T54 wheelchair athlete Dave Weir claimed how many golds for Britain at the Paralympics - three, four or five?
47) In which event did Lizzie Armitstead win Team GB's first medal at London 2012?
48) Which nation won gold in the wheelchair rugby, also dubbed 'Murder Ball'?
49) Zara Dampney and Shauna Mullin competed in which Olympic event for Team GB?
50) Name the mascots for London 2012.
FOOTBALL
51) Who missed penalties as England went out of Euro 2012 to Italy in Kiev?
52) Name the four champions of England domestic football for 2011/2012.
53) Which team finished bottom of Scottish Division Three with a minus 50 goal difference?
54) Name the two Spanish sides who contested the 2011/2012 Europa League final in Bucharest.
55) Which striker claimed the Golden Boot at Euro 2012?
56) Where was the 2012 Champions League final between Chelsea and Bayern Munich played?
57) Who did Liverpool beat on penalties to win the 2012 Carling Cup final at Wembley?
58) Which team won the 2012 Wales Premier League title?
59) Who scored the Republic of Ireland's only goal at Euro 2012?
60) Name the beaten semi-finalists in the 2012 FA Cup.
CRICKET
61) Why was England batsman Kevin Pietersen sanctioned by the ECB during the summer of 2012?
62) Which Somerset batsman finished top run scorer in the County Championship?
63) Name the side which won both the 2012 Clydesdale Bank 40 and Friends Life t20 titles.
64) Who finished bottom of County Championship Division Two?
65) Which team won the 2012 Indian Premier League?
RUGBY UNION
66) Which two Irish sides contested the 2012 Heineken European Cup final at Twickenham?
67) Who finished bottom of the 2011/2012 Aviva Premiership table?
68) Who beat Cornish Pirates to win the 2012 RFU Championship final?
69) Which nation completed the Grand Slam to win the 2012 RBS Six Nations title?
70) Who joined New Zealand, Australia and South Africa in the newly-formed 'Rugby Championship' for 2012?
RUGBY LEAGUE
71) Who won the Lance Todd Trophy as man of the match in Warrington's Challenge Cup final win over Leeds?
72) Who succeeded Jamie Peacock as England captain in 2012?
73) Who won the Man of Steel award for 2012?
74) Which club finished bottom of Super League?
75) Name the team beaten by Leeds Rhinos in the Stobart Super League Grand Final at Old Trafford?.
FORMULA 1
76) Which drivers won the opening two races of the 2012 Formula One season in Australia and Malaysia?
77) Who took the chequered flag at the British Grand Prix in July?
78) British driver Lewis Hamilton announced in September he would be leaving McLaren to join which team for 2013?
79) Who became the first Venezuelan to record a Formula One Grand Prix, when winning in Barcelona?
80) Where was the "Circuit of the Americas" as Formula One returned to the United States in November?
TENNIS
81) Whom did Andy Murray beat to win his first Grand Slam title at the US Open in September?
82) Name the three other men's major winners in 2012.
83) Who won Grand Slam titles in the women's singles this year?
84) Which nation beat Spain to win the 2012 Davis Cup?
85) Andy Murray was the first British player since who, 74 years ago, to reach the Wimbledon singles final?
GOLF
86) Which German knocked in the winning put to complete Europe's 'Miracle at Medinah' when they came from 6-10 down on the final day to retain the Ryder Cup?
87) Name the four major winners in 2012.
88) Which British golfer finished top of both the European Order of Merit and US PGA Tour?
89) At which course was the 2012 Open held?
90) Name the Korean golfer who won the 2012 Women's British Open at Royal Liverpool Golf Club?
GENERAL
91) Which two British boxers were involved in an ugly brawl at the post-fight press conference following a world heavyweight title bout in February?
92) Whom did Ronnie O'Sullivan defeat in the final of the 2012 Betfred.com World Snooker Championship in Sheffield?
93) Name the winner of the 2012 Grand National.
94) Which darts player successfully defended his Ladbrokes.com PDC World Darts Championship at Alexandra Palace in January?
95) Name the Aprilia rider who won the 2012 Superbike World Championship title.
96) British boxer Ricky Hatton came out of retirement to fight which Ukrainian in November?
97) Which Dutchman beat Tony O'Shea to claim the 2012 BDO World Championship darts title at Frimley Green?
98) Name the Yamaha rider who claimed the 2012 MotoGP title.
99) Which two teams contested the 2012 Super Bowl XLVI game at the Lucas Oil Stadium in Indianapolis?
100) Which Aidan O'Brien-trained horse won the 2012 Epsom Derby?
Click HERE for the answers