Sailing legend Ben Ainslie knighted after winning gold for the fourth straight Olympic Games
Ben Ainslie has been knighted after securing an unprecedented fourth successive Olympic sailing gold medal.
Last Updated: 29/12/12 10:32am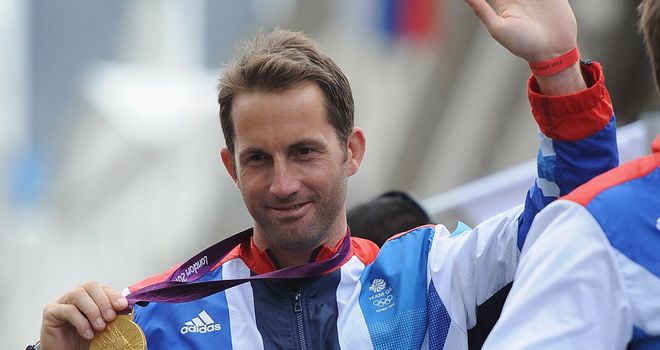 Ainslie came from behind to win the Finn class for the third straight Games and put his name in the record books at Britain's latest great mariner.
He was given the honour of being first Olympic torch bearer on British soil at Land's End, and then carried the Union Flag at the closing ceremony after London 2012, a Games that looked for a long time like being a disappointment.
Ainslie's class turned into a head-to-head clash with Denmark's Jonas Hogh-Christiansen, and he found himself beaten by his main rival in the first six races.
Hogh-Christiansen and Dutch sailor Pieter-Jan Postma later teamed up against Ainslie, but all that did was rile the Briton so much that his performance level rose and he was able to secure a series of top results to snatch gold.
Ainslie says he is now finished with the Olympic Games, announcing his retirement at the age of 35 and setting his sights on bringing the Americas Cup back to Britain for the first time since 1851.
And who would bet against Ainslie, whose career began with a silver medal in the laser class in Atlanta in 1996 as a teenager.
Four years later he took gold in Sydney in the same class before bulking up his body for the challenge of the bigger Finn boat that he went on to star in.
He won gold in the Finn in Athens and overcame illness to defend his title in Beijing to become the most successful British sailor in Olympic history, adding gloss to that record on home water in Weymouth.
"This is an incredible honour," he said. "When I set out Olympic sailing 20 years ago, I never would have dreamt this would happen.
"I couldn't have achieved this honour without the support of all the people who have helped me throughout my career and so I hope they can also take some pride in this moment."