Olympic Panel - Day 11
Throughout the Games, the Sky Sports News Olympics Panel will bring you analysis across a wide range of sports. Here's what our experts had to say on the stories coming out of London today...
Last Updated: 08/08/12 8:52am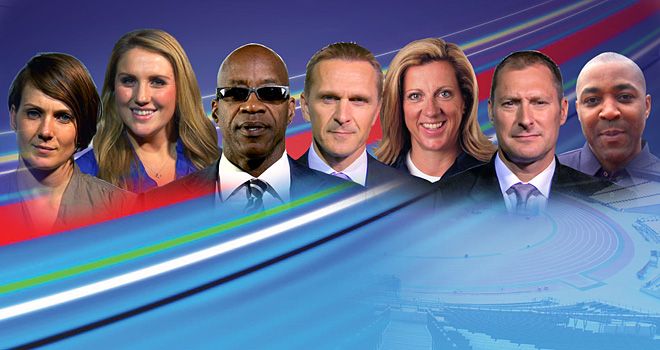 Brian Smith on Sir Chris Hoy's sixth gold
"He's the best ever cyclist when it comes to track cycling. There's no doubt about it because he always comes up with the goods. In Athens, he went for one event, which was the kilometre but after that they stopped that event and so he had to change and decided to concentrate on the sprint. He won three medals at Beijing. He couldn't defend all three titles here in London as he was beaten by Jason Kenny. So he had the keirin and the team sprint and, again, never doubt him. To see him win the keirin is absolutely magnificent."
Brian Smith on Laura Trott's omnium title
"Nobody was talking about Laura Trott before the Olympics! Of course, she has done well in World Championships but it was all about the team pursuit and she won gold. She went out there and delivered. For a 20-year-old to go there and follow that by winning the women's omnium is absolutely fantastic."
Brian Smith on Victoria Pendleton's Sprint silver
"This Games has been an emotional rollercoaster for Victoria. She's had to get herself back up after the Team Sprints with Jess Varnish, when she got disqualified. She came back the next day and won the Keirin Gold. For me she was the fastest on the track in the Sprint - she set a world record in qualifying. But after she won the first round against Australia's Anna Meares by one thousandth of a session, she was relegated for slightly moving outside of the sprinter's red line. In the second round it looked as if it had all gone wrong with about 200m to go. Mentally she just kind of lost it; she wasn't strong enough to do it.
"Her physical abilities are second bar none, so it is disappointing, but she's had a magnificent career. She is the best sprinter in the world; she can hold her head up high and she has proven that she has been the best in the history of women's sprinting. For me, Queen Vic is still Queen Vic. She is going to be sorely disappointed but she has finished on a high - it is a medal in the London Olympics. You can't put that down."
Hollie Avil on Brownlee brothers
"It is fantastic, Great Britain have never won a medal in triathlon before so to get two today is just brilliant. I think most people know that Alistair was badly injured at the beginning of this year so to do what he did today was just incredible and he is a real inspiration. Jonny is pretty humble and he will be over the moon with the bronze medal. He did so well today too - he had a 15 second penalty which he took in the last lap.To still get a bronze medal is pretty impressive."
"Alistair showed his real strength in the 10k run, he pushed really hard and he also showed his mental toughness as well. Gomez was with him for a large part of the run and to see his brother fade in the run may have panicked him a bit as they do run together, but he showed his strength."
Darren Campbell on a disappointing night for Team GB
"It's the Olympic stage and no Olympic medals are given out before the start of the competition. As soon as you step into the arena the slate is wiped clean and you have to start again. In Dai Greene's case I do feel sorry for him. He had surgery and didn't start training until January, so he missed a lot of his base training. Under normal circumstances he would have started training in October. It was always going to be difficult, so it's wrong to criticise him. He'll come back stronger.
"In terms of Holly, it's her first Olympic Games and it would be harsh to criticise a young lady who has had a wonderful two years. She hasn't been pole vaulting for that long and on the biggest stage of all against fantastic athletes she got a little nervous. But you have to go through these experiences to learn and get better. I'm not going to criticise Holly either. Three months ago nobody would have thought she'd have made the final.
"Nerves got to Perri Shakes-Drayton. We spoke before about how the crowd can lift you or it can get on top of you and over the final three hurdles, as she realised the enormity of that gap, her shoulders got higher and her form wasn't flowing. For her to run a time like that was disappointing - but there will be no one more disappointed than her."
Edwin Moses on Dai Greene
"He got into the final and he was very lucky - the luckiest man in the stadium last night. I knew it was going to be a tough race for him and he would of have to run the perfect race. The man who did run the perfect race - Felix Sanchez - won the race tonight. It was Greene's first Olympic Games and it is a hardship and a burden to think you are going to win, He had the added pressure of home advantage but no one is guaranteed a gold medal and very few win the first time around. I think he will have another chance though.
"I am happy for Sanchez because coming into the Olympics I would not have thought that he could have won. He is the third person to have won the Olympic title back again - I won in 76 and the came back in 84; Angelo Taylor won in 2000 and then came back in 2008, Sanchez did it is 2004 and now again in 2012. Eight years is a long time but this event take experience and Sanchez demonstrated that he is an expert and a professional and he did exactly what he needed to do when the chips were down."
Sally Gunnell on Perri Shakes-Drayton
"I was in the stadium and she looked great for the first 200, but with 150 to go, when the American Demus came up, Perri just looked like she did not have anything more to give. Usually she has so much strength that she would have gone with her but she just looked like she had nothing more. It is such a disappointing time - 55.19 - she has run a 53.7.
"There was nothing technically wrong with her, sometimes you just really have to want it and be hungry. I look at the girls who will run here and I still think she could have won a medal - she is that talented. She was getting herself in shape at the right time too. I just think it goes back to the fact that you have got to focus and you have got to know what you are going to execute out there, you have to have a real strategy and not just go out there and hope. She is young though and she will be back!"
Sally Gunnell on Dai Greene
"I think he was shaken up after that semi-final, I think he felt he was going to ease through those and get into the final. He's obviously been thinking about it over the last year, about winning that gold medal and that is all he wanted. I think he found it hard to pick himself up and for me personally I just think he didn't cover that first 200.
"I know the others went out really hard and I know he tends to hold back a bit but he was just too far away with 100 metres to go. He did finish strongly and pulled back a few places on the home straight so the strength is there. It is such a shame because I reckon he could have got the bronze medal."
Sally Gunnell on Holly Bleasdale
"Holly can be quite up and down. To get into an Olympic final and perform you have to be quite consistent. We expected her to medal - were we asking too much of her to get an Olympic medal?
"It's a shame when you know you can jump those heights and you've got all that support behind you, and you can't feed it in. But there's no way to prepare for this expectation and I'm sure that is probably what her problem was."
Darren Campbell on Lawrence Okoye
"On that final throw I'd say yes, he's got the mentality to do anything. You could see how much it meant to him - and the crowd. He must have felt like he scored a try at Twickenham.
"He's such a nice guy and we all want him to do well. He was under pressure but he showed his mettle by stepping up to the plate and delivering with his final throw. Now he's got to go and enjoy the final."
Johnny Nelson on Anthony Joshua
"Anthony can be so, so good. People are saying is he as good as Lennox Lewis or can he be a Frank Bruno, has he got the brain and fluency of a potentially great heavyweight? Well, this guy's only had four years' experience as a fighter so he's still a novice really, boxing at Olympic level. There's been a lot of weight on his shoulders, too, because he's the guy people have been saying could get gold. But he's an all-round athlete and whatever comes of this he is absorbing the game. Anything he pulls out of the Olympics today will do him fine because he'll say: 'I've got no experience but look what I've done'."
Adam Smith on Anthony Ogogo
"He's the surprise package, a bit like James DeGale was in Beijing. He's had a terrible time: he's had shoulder injuries, he's got a mum who is ill in hospital - and all the burden is on his shoulders. But his work ethic and personality is wonderful to be around, he's a real vibrant kid and he's getting better and better. He's got a real spirit and it's carrying him through this tournament - and the two Anthonys, could - could - win gold.
Johnny Nelson on Nicola Adams
"What an atmosphere there was for her fight. She came in, lovely smile on her face, and boxed really well - and even slipped in the Ali shuffle in the last round! She boxed outstandingly well and I think she can get a gold. Mary Kom - her semi-final opponent - boxed just before her and putting the two together I think she can do it. I was really proud of her."
Look back at what our experts had to say on day ten
Look back at what our experts had to say on day nine
Look back at what our experts had to say on day eight
Look back at what our experts had to say on day seven
Look back at what our experts had to say on day six
Look back at what our experts had to say on day five
Look back at what our experts had to say on day four
Look back at what our experts had to say on day three
Look back at what our experts had to say on day two
Look back at what our experts had to say on day one