Olympic Panel - Day 12
Throughout the Games, the Sky Sports News Olympics Panel will bring you analysis across a wide range of sports. Here's what our experts had to say on the stories coming out of London today...
Last Updated: 09/08/12 8:21am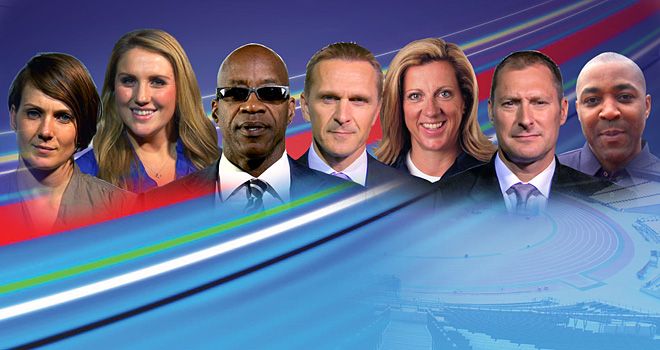 Darren Campbell on whether Usain Bolt will produce an electrifying 200m time
"Usain's semi-final looks very easy as nobody in that field has run under 20 seconds, but I think Bolt will try to conserve as much energy as possible and don't expect any fireworks from him.
"The best semi-final could be the one featuring Yohann Blake, France's Christophe Lemaitre and America's Wallace Spearmon.
"If Bolt goes for it in the final, we should see a time around 19.10, 19.30, but when he was asked about running under 19 seconds, he replied: 'It's on my mind'. However, that may only happen if we get some hot weather.
"Sprinters are like Formula One cars in that we perform better in the heat; you need your muscles to feel warm and if it's cold your muscles don't function the same way."
Jon Ridgeon on Mo Farah's chances of 5,000m gold
"Mo used a minimal amount of energy to cruise through to Friday's 5,000m final and he will become an Olympic icon if he can get two medals, just as Kelly Holmes did in Athens in 2004.
"Running the 10,000m is never easy and this is a super-fast and hard track and that takes more out of the distance runners' legs than a softer track. Mo would have been beaten up at the end of 10,000m but he has had a few days to recover and he is a super-fit guy.
"Plus, he is the ultimate professional athlete; he lived for months on end in Africa because that's where the best distance runners are and now he has moved his family to America.
"He knows how to prepare; I've seen lots of events this season where he has run a race and then when the crowd have gone home come back out on the track and run a training session.
"His coach, Alberto Salazar, believes he is now an even bigger favourite for the 5,000m than he was for the 10, but on paper at least, the 5,000m looks more competitive; there are some fabulous African athletes and some very quick finishers from America.
"Mo is going to have to run tactically and not leave it to the last 100m burn-up as there are probably a couple of athletes that are quicker than him in the home straight. He will probably take it out six hundred metres from the finish line and try to run the sting out of some of the other athletes.
"He could come anywhere between first and fifth but he is clearly in the shape of his life and could recreate some of that 'Super Saturday' atmosphere on Friday night."
Amanda Coulson on Nicola Adams making the women's flyweight boxing final
"Nicola Adams has achieved something remarkable: the first time female boxing is in the Olympics and she is in the final after beating Mark Kom in every round, and by some distance, in her semi-final.
"Nicola has gone to World Amateur Championships and won two silver medals and is European champion, but now she will fight for Olympic gold against China's Ren Cancan.
"This Games' female boxing has been of the highest level and you've heard people comment that you can't tell whether it's a boy or a girl in the ring. It was always a dream of mine to have female boxing included in the Olympics and for it to be happening now, and for Britain to have someone in the medals, is fantastic."
Jon Ridgeon on Anguilla-born long jumper Shara Proctor's medal hopes
"Shara is a genuine medal contender. Her longest jump ever is 6m 95cm but if she is inspired by the crowd I think she could go further. She was the longest qualifier with a jump of 6m 83cm but it will probably take a distance of around 7m to win a medal.
"The keys to the long jump are generating fantastic speed, hitting the board correctly - something the athletes have struggled with throughout these Games because the surface is so fast - and getting height as well as distance off the board. Getting the three disciplines right is the way to achieve the sort of distances you want.
"World number one Brittney Reese has jumped well over 7m so far this year but it took her three jumps to make the final. The American will start as favourite but it could be another exciting night for Britain."
Campbell Walsh on Tim Brabants struggling to figure in the canoe sprint final
"Tim ended up racing really well just to get into the final. If we look back four years ago he was absolutely dominant in this event. He was world champion in 2007, European champion in 2008 and generally did not get beaten ever. And if he didn't he was in second place in that period up to Beijing. He was dominant favourite and smashed everybody.
"But he had a year out - worked on his career as a doctor - and came back with a bang in 2010 with a silver medal in the world championships. But a serious injury put him back and he hasn't been able to get back to that form. And may be being 35 it is past his time now. You can be guaranteed that he worked his heart out and put everything on the water."
Jon Ridgeon on the women's 200m and men's 110m hurdles finals
"If you wanted a textbook example of someone who runs beautifully it is Allyson Felix. She is the most fluent sprinter and you could watch her all day. That fluency really counts and she is the fastest in the world this year.
"I think she will be good enough for gold in the women's 200m, Veronica Campbell-Brown, the defending champion, will take silver and the 2012 100m champion, Shelly-Ann Fraser-Pryce, will get bronze.
Click here for Darren Campbell's preview of the women's 200m final
"As for the men's 110m hurdles, now that Liu Xiang is out, Aries Merritt starts as favourite it. He is having a stunning season; he is the World Indoor champion and has run three or four races under the magic 13-second barrier.
"Merritt should get gold, Justin Richardson, the reigning outdoor world champion, should get silver, and while 2008 Olympic champion Dayron Robles is not in great from, he should get bronze."
Kelly Sotherton on Andrew Osagie's hopes in the 800m final
"He amazed himself at making the final with so much ease and I think if the race is slightly slower and more tactical tomorrow, and I think it probably will be, I think Andrew Osagie has every chance of snatching a medal.
"You'd put your money on David Lekuta Rudisha every day of the week and hopefully he'll get this race right because he deserves a gold medal as world record holder and world champion, but Andrew Osagie can win a medal here.
"You always get somebody in the Olympics from our team who wins a medal when you wouldn't have expected a medal from him."
Campbell Walsh on GB women's fifth in the kayak fours final
"They finished fifth which with all the GB success is easy to turn your nose up at, but it is an event which traditionally the British have not been very good at. Two of the girls came from talent ID and only got in a boat for the first time for years ago. They have been doing very well, fourth and fifth in the last two world championships so fifth is kind of what was expected.
"They were drawn in lane one which is known to be the worst lane at Eton Dorney as it is affected by the win a bit. The funding is in place, they are improving and the girls are all under 25 apart from one so in four years' time we will hopefully see them on the podium."
Kelly Sotherton on what might have been for Jess Ennis in the 100m hurdles
"Sally Pearson won in an Olympic record in 12:35 and it was a great race, but I'm wondering where Jess Ennis would have been in that race. She definitely would have made the final because another heptathlete, Jessica Zelinka, made the final.
"I would have loved to have seen her in there and she would have definitely been challenging for a medal. I can see why she didn't do it because she wants to enjoy the moment of winning the Olympic gold medal, but she could have started doing that now.
"I know she's so talented at the hurdles and if she was to give up the heptathlon and do the hurdles I know she could be as good as Sally Pearson. Maybe she should have had a bit of fun and gone and seen what she could have done."Look back at what our experts had to say on day 11
Look back at what our experts had to say on day ten
Look back at what our experts had to say on day nine
Look back at what our experts had to say on day eight
Look back at what our experts had to say on day seven
Look back at what our experts had to say on day six
Look back at what our experts had to say on day five
Look back at what our experts had to say on day four
Look back at what our experts had to say on day three
Look back at what our experts had to say on day two
Look back at what our experts had to say on day one