Hungary ousted by Italy
Italy knocked out the reigning Olympic men's water polo champions Hungary with a 11-9 victory in the quarter-finals.
Last Updated: 08/08/12 11:49pm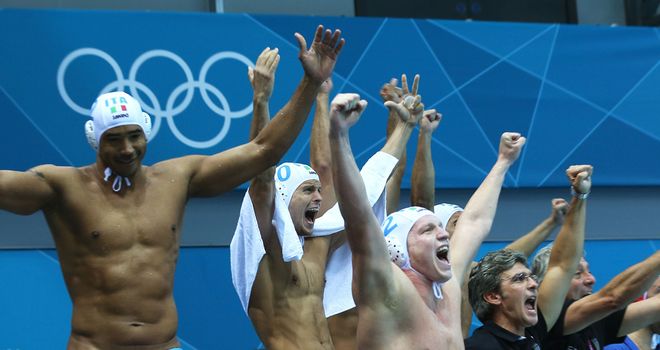 Italy knocked out the reigning Olympic men's water polo champions Hungary with a dramatic 11-9 victory in the quarter-finals on Wednesday night.
The Italians, themselves the world champions, overpowered the nine-time winners who have looked past their best at London 2012.
Hungary had been chasing their fourth consecutive gold medal, but three defeats from six games in the tournament have put an end to recent dominance.
Italy went ahead in the second period of the match, firing home a thunderbolt for a 5-4 lead, and were only occasionally troubled as they did not fall behind for rest of the game.
The loss spelt particular heartbreak for four legendary Hungary players - goalkeeper Zoltan Szecsi, Tamas Kasas, Gergely Kiss and captain Biros - who were seeking to win their fourth successive Olympic gold medals.
Norbert Madaras scored a hat-trick for Hungary, while Denes Varga and Kasas netted braces. Daniel Varga and Biros scored one each.
Pietro Figlioli, Maurizio Felugo and Christian Presciutti bagged hat-tricks for Italy, as Amaurys Perez and Alex Giorgetti scored one each.
Italy's win sets up a semi-final clash with Serbia, who scored six unanswered goals in the second half of their quarter-final against Australia to advance 11-8.
The team from Down Under shocked the reigning European champions and pre-tournament favourites by dominating the first two quarters.
But the Balkan side came back from an 8-5 losing position in the third period to dump the Australians out.
Croatia cruise
Meanwhile Croatia cruised into the semi-finals tonight with a classy 8-2 win over the United States.
Five unanswered goals from the Balkan side in the first half put the contest beyond doubt long before the final whistle.
Damir Buric, Miho Boskovic and Paulo Obradovic netted a brace each, while Sandro Sukno and Samir Barac scored one apiece.
Croatia - the only team with a 100% record in the tournament with six wins from six - will face neighbours Montenegro to battle for a place in the final.
Boris Zlokovic was the hero for Montenegro as his four goals helped them edge Spain 11-9 to progress to the last four.
The Spaniards fought back in the final quarter, but strong second and third periods proved decisive for the Balkan team, who hung on for victory.
Montenegro will now hope to improve on Beijing, where they lost a semi-final to eventual winners Hungary before being beaten by arch rivals Serbia in the bronze play-off.