Simmonds eyes more glory
Ellie Simmonds is back in the water on Monday as she tries to win her second gold of the 2012 Paralympics.
Last Updated: 03/09/12 9:43am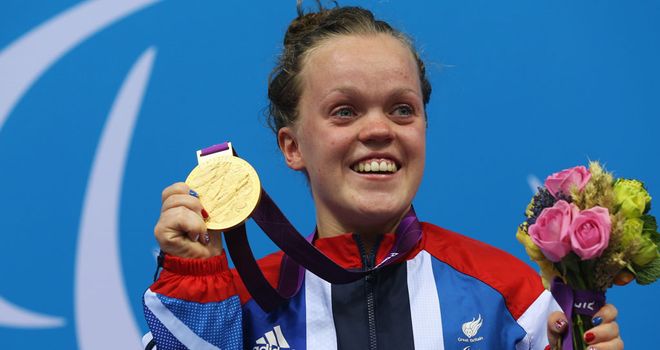 Paralympic swimming champion Ellie Simmonds is back in the water on Monday as she tries to win her second gold of the London 2012 Paralympic Games.
Simmonds, 17, who has dwarfism, starts her campaign for the SM6 200m individual medley at the aquatics centre facing strong opposition.
Simmonds, a two-time gold medal winner from the Beijing Games at the age of 13, is in a heat with ParalympicsGB team mates including Natalie Jones, 27, the bronze medallist in the event from Beijing 2008, and Liz Johnson, 26.
Johnson, who took the oath on behalf of all athletes at the Paralympic opening ceremony, is one of Britain's most successful Paralympic swimmers. She won gold in the SB6 100m breaststroke at the Beijing Paralympics.
Simmonds' father Steve is looking forward to the race, particularly after the hard-fought battle which saw her clinch gold in the 400m freestyle ahead of US swimmer Victoria Arlen.
Compete
"I cannot wait. I think she is going to sparkle," he said. "But results are not guaranteed at the Paralympics.
"It is a completely different kettle of fish. It is four different strokes and seven people in the water with people who are good at different strokes that she is not good at.
"I like seeing her compete."
World record
Her appearance comes as the nation embraces the Games, which is expected to welcome its one millionth visitor on Tuesday.
Record TV audiences have prompted Channel 4 to clear its day-time schedule to boost coverage.
Nearly three million people tuned in on Saturday night to see darling of the pool Simmonds smash the world record to win gold in a sensational 400m freestyle race.
Around 10,000 extra tickets are being bought every day as soon as they go on sale, as Paralympic venues experience unprecedented numbers of visitors.
Medal tally
A LOCOG spokesman said: "The whole of the UK has taken the Games to its heart. As soon as tickets have been released, they have been snapped up."
Sunday saw another hugely successful haul for Britain in cycling, rowing, dressage, swimming and athletics.
Paralympians are well ahead of schedule in the targeted medal tally of 103 - having almost reached the half-way point after just four days.
Britain's medal tally currently stands at 54, with 16 gold, 24 silver and 14 bronze medals.