Incredible journey
David Smith was celebrating his proudest moment after winning gold for Great Britain in the LTA mixed coxed four.
Last Updated: 03/09/12 10:00am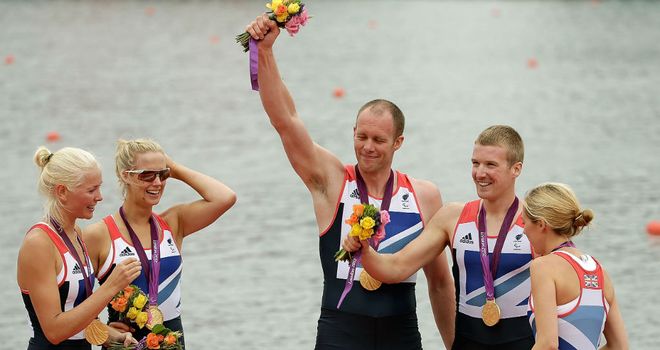 Just two years after learning to walk again, David Smith was celebrating the proudest moment of his life after winning gold for Great Britain in the LTA mixed coxed four.
Smith, James Roe, Naomi Riches, Pam Relph and cox Lily van den Broecke held off a fierce challenge from chief rivals Germany to win Britain's only medal of the Paralympic regatta.
For the Scotsman, it was the culmination of a remarkable journey.
Smith was born with both feet facing backwards. After childhood surgery to correct the problem he went on to compete for Great Britain at able-bodied karate and bobsleigh.
All the time, Smith was battling debilitating back pain and it ultimately cost him his dream of competing at the 2006 winter Olympics, when he fell agonisingly short of qualifying.
In 2009, with medics unable to diagnose the pain, Smith retired from bobsleigh but moved into Paralympic sport, a decision he believes saved his life.
Boat
It was shortly after joining GB Rowing, in May 2010, that the source of his decade-long discomfort was discovered - a tennis ball-sized tumour in his spine.
Smith had the tumour removed but days later woke up paralysed after a blood clot formed in his spine - and yet within six months he was back in a boat.
When Smith's body screamed out in pain as Britain battled with Germany for the gold medal, he reflected on the path that took him to the Paralympic final.
He listened to the roaring crowds at Eton Dorney and that carried him and the British crew to glory.
Hardest time
"In 19 years of sport, this is the greatest thing that has ever happened to me. I am so proud," he said afterwards.
"This has been the hardest two years of my life. Nothing could be as hard as learning to walk.
"That race hurt from the first stroke. When I heard the noise of the crowd I thought of all the things I had been through.
"I was in so much pain but I visualised that gold medal and thought 'push, push, push'.
"I have a gold medal at London. Nothing else matters."
Closeness
Relph has acute arthritis, which led to her being discharged from the army, while Riches and Roe are both visually impaired.
"We are such a close bunch of people. We have a real bond together. When I was down they pulled me through. We all did that for each other," Smith said.
The final day of the regatta had threatened to fall flat after Tom Aggar lost his Paralympic title and his five-year unbeaten streak, finishing a surprise fourth in the AS men's single sculls final.
Nick Beighton and Samantha Scowen then produced a performance to be proud of in the TA mixed double sculls final but came so close to the medals that fourth place was ultimately hard for them to swallow.