Russia's double walk gold
Elena Lashmanova set a new world record to win the women's 20km walk while Sergey Kirdyapkin won the men's 50km event.
Last Updated: 11/08/12 7:17pm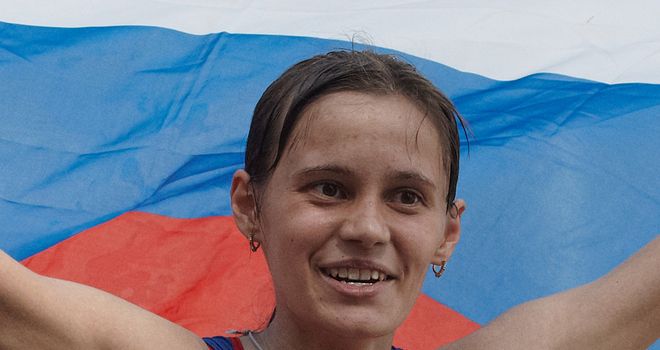 Russia's Elena Lashmanova set a new world record to take gold in a thrilling finish to the women's 20km race walk on The Mall while compatriot Sergey Kirdyapkin won the men's 50k event earlier in the day.
The 20-year-old passed fellow Russian and defending champion Olga Kaniskina in the final kilometre to take victory in one hour 25.02 minutes.
Kaniskina went off quickly and looked a certain winner as she continued to pull clear, leading her fellow Russian by 43 seconds at the 12km mark.
But Lashmanova had timed her race to perfection and closed that gap to 36 seconds by the 14km mark, 24 by the 16km point and 17 with 2km to go before reeling her rival in on the last lap.
Kaniskina, the three-time reigning world champion, took silver, seven seconds back, with China's Qieyang Shenjie taking the bronze.
Great Britain's Johanna Jackson suffered bitter disappointment as she was disqualified before the halfway mark.
The Commonwealth champion went through the 8km checkpoint in 30th place only for her race to end shortly afterwards.
Olympic record
Earlier, Kirdyapkin won the 50km walk in an Olympic record time.
The former world champion finished in three hours, 35 minutes and 59 seconds, almost a minute clear of Australia's Jared Tallent, who took silver for the second Games in succession, with China's Si Tianfeng claiming bronze.
Ireland's Robert Heffernan was fourth in a national record of 3hrs 37mins 54secs, just holding off Russia's Igor Erokhin on the line as both athletes were given the same time.
Si looked on course for victory when he wiped out a 20-second deficit and went clear of the field at the 35km mark, but when he faded Kirdyapkin took over at the front and was never in danger of being caught.
Italy's Alex Schwazer was unable to defend his title after being excluded from the Games following a doping violation.
Heffernan finished ninth in the 20km walk seven days ago and was also fourth in both walks at the European Championships in Barcelona in 2010.
The 34-year-old said: "I wanted to win an Olympic medal, it's been my dream. I did everything I could, it's hard to take to finish fourth. The last four years have been aimed at winning a medal at the Olympics so it's tough.
"The first 30km was just making sure I was refuelling, making sure I had the reserves to challenge on the last 20km. I had to be mature because you can get carried away by the unbelievable crowd.
"I stuck to the plan and it's just unfortunate I did not win a medal. There's nothing more I could have done."
Britain's Dominic King was 51st in 4:15.05, last of the competitors not to drop out or be disqualified.