Mo Farah plans to focus on marathon after World Championships
Mo Farah intends to put most of his efforts into marathon running after the World Championships in Moscow.
Last Updated: 27/07/13 9:15pm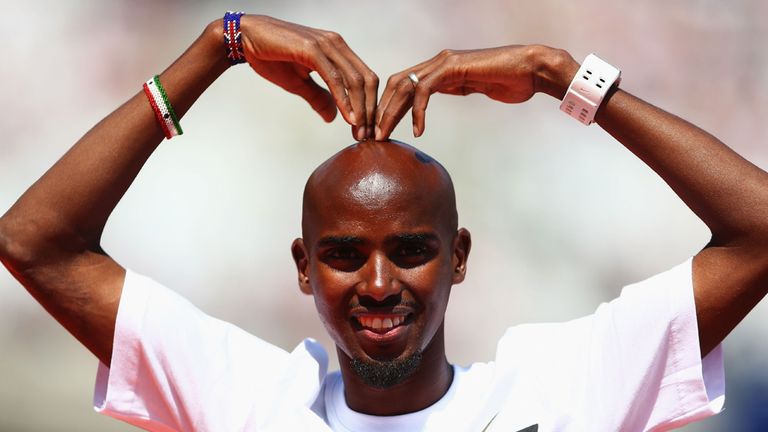 The double Olympic champion cruised to victory in the 3,000m at the Anniversary Games on Saturday in London and looked in great shape two weeks before going for gold in the 5,000m and 10,000m races in Moscow.
But with the 2016 Rio Games also on the horizon, the 30-year-old Londoner is intent on giving his best shot to the longer distances on the road, although he will also try to incorporate some track events into his schedule.
"I'll be doing the Great North Run half-marathon (in September) and then I'll take a break, hopefully somewhere nice, and then get ready for the marathon," Farah told Sky Sports News.
"If I'm good at the marathon and it works well, you could see me in the marathon (in Rio). If it doesn't work out, you could see me back on the track."
Just 12 months after his sizzling runs at the Olympic Stadium, Farah returned to delight the British fans with a devastating finale in the 3,000m to clock a personal best seven minutes 36.85 seconds, five seconds ahead of second spot and just outside David Moorcroft's 31-year-old British record.
Farah will now travel to St Moritz ahead of the Worlds in Russia where he will again compete in the two long distance track events.
"It's great to be back," said the Oregon-based athlete who ran half the London Marathon in April as part of his preparations for running the full course next year.
"It was a good race and the crowd were great. There're so many people here to support us.
"It's good to be back and win here again, I have so many nice memories of racing here. I wanted to make them proud. I'm in great shape, so it's going well for Moscow."