World swimming championships: World record for Katie Ledecky, gold for Ruta Meilutyte
Katie Ledecky smashed the previous 1500m world record by six seconds whilst taking gold at the World Championships.
Last Updated: 30/07/13 7:18pm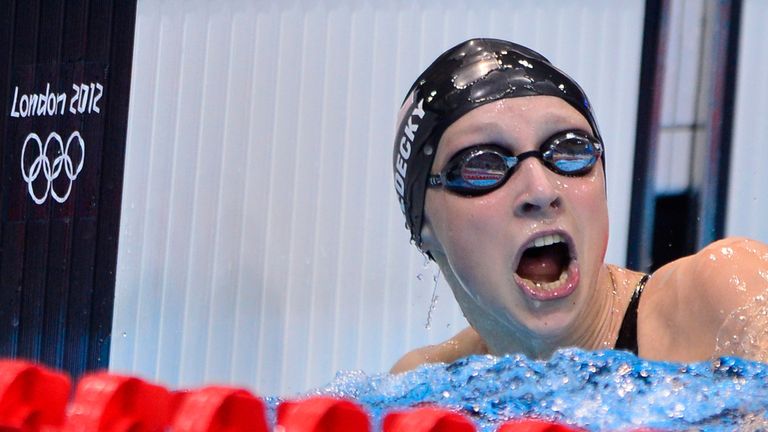 Ledecky followed on from Lithuanian Ruta Meilutyte as the flying teenagers continued to star at Palau Sant Jordi - with the American slicing a full six second off Kate Ziegler's previous 1500m world record set in 2007.
Coming home in to come home 15 minutes 36.53 seconds, Ledecky pulled away in the final 100m to see-off defending champion Lotte Friis, who also broke the old world record, with Lauren Boyle coming home in third.
"It was really tough, my hardest race ever," said Ledecky, who will next go gunning for Rebecca Adlington's world record in the 800m. "I knew we were going pretty fast and I figured that whoever came out on top was probably going to get the world record.
"I had to be careful not to push it too early or push it too late and just touch the wall first."
Plymouth-based Meilutyte was also back in the pool and although she did not get another world record she did collect the gold as she won the women's 100m breaststroke title.
At the grand old age of 18, Missy Franklin is now really finding her feet and she claimed the second golf of the World Championships by taking the 100m backstroke title, which she collected before returning to the pool almost immediately to qualify for the final of the 200m freestyle.
Awesome
"It feels awesome. Emily, Aya and I were on the podium together last year so to be on the podium again is great," said Franklin, who is aiming to emulate Michael Phelps and win eight golds.
"I was really happy with my start. It felt as hard as it always does at the end, but I just kept pushing, I knew it was going to be tough and it was right near my best time so I'm really happy."
Olympic champion Matt Grevers doubled up by taking the world title in the men's 100m backstroke, while Frenchman Yannick Agnel also claimed the double as he led from start to finish to win the 200m freestyle title.
Ryan Lochte finished out of the medals in fourth with Great Britain's Robbie Renwick in sixth after qualifying in fourth place, leaving him disappointed with his efforts despite a season's best time.
"It was really difficult to not panic and I knew I had to work that second 100, it's the fastest swim I've done this season so it's a good swim for me. Coming sixth is a bit of a disappointment as it is all about medals," said Renwick.
"I gave it a good shot but at the end of the day it's sport. Coming sixth is not a bad result, I was sixth at the Olympics. I would have loved to have stepped it up again.
"Our drive in sport is to try and win medals at the top, I fell a bit short today. There are a couple of things I need to work on next season leading into the Commonwealth Games."