Olympic swimming great Michael Phelps has stepped out of retirement
Olympic great Michael Phelps has come out of retirement and will compete at a swim meet in Arizona next week.
Last Updated: 14/04/14 10:03pm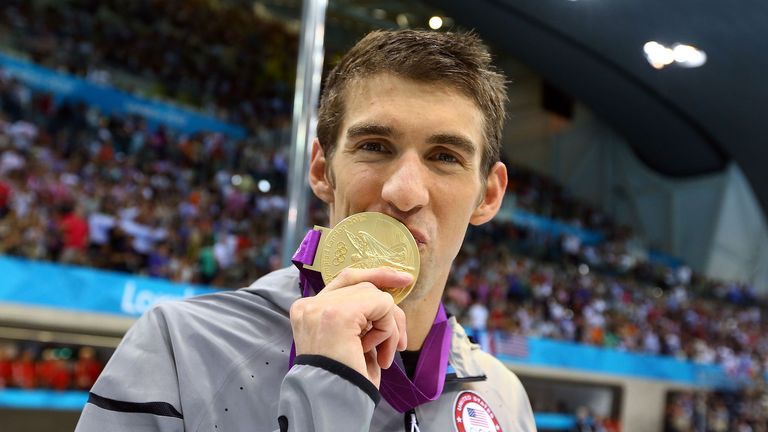 The 28-year-old, who captured 18 gold in a total of 22 medals over three Olympic summers since Athens 2004, is to compete at a USA Swimming meet in Mesa, Arizona, between April 24 and 26.
The US national governing body for the sport revealed that Phelps is to join fellow Olympians Ryan Lochte and Katie Ledecky in the Arena Grand Prix - his first competitive swim since announcing retirement after London 2012.
Phelps returned to training in autumn 2013 and re-entered the country's drug-testing programme later that year, completing the US Anti-Doping Agency's mandatory six-month waiting period for competitive eligibility earlier this year.
Nicknamed the Baltimore Bullet, Phelps shot to fame in the 2003 when he claimed four gold and two silver medals in his first ever World Championships in Barcelona.
A year later, Phelps dominated the men's events in his first Olympics, winning gold in the 100m and 200m butterfly and individual medley races as well as gold in the 4x100m and 4x200m relay.
In Beijing four years later, Phelps won gold in all of his competitions, eight in total, breaking Mark Spitz's record for individual golds in a single Olympics and smashing world records at will.
He won four gold and two silver before supposedly finishing his career after London 2012.
But Phelps now looks set to compete over the coming months with a view to taking part in the 2016 Olympics in Brazil.
His coach Bob Bowman said last month: "He looks like he is definitely in shape.
"If he swims a meet in the next couple months and does well, he will probably give it a shot in Irvine (at the United States Championships). But he doesn't have to do that to have a shot at the 2016 Olympics."